Tuesday, August 11th 2020, 12:05 pm - After an oil spill into water, cleanup crews use booms, skimmers and sometimes even fire to remove the spilled oil from the water's surface. None of this is possible if the oil sinks.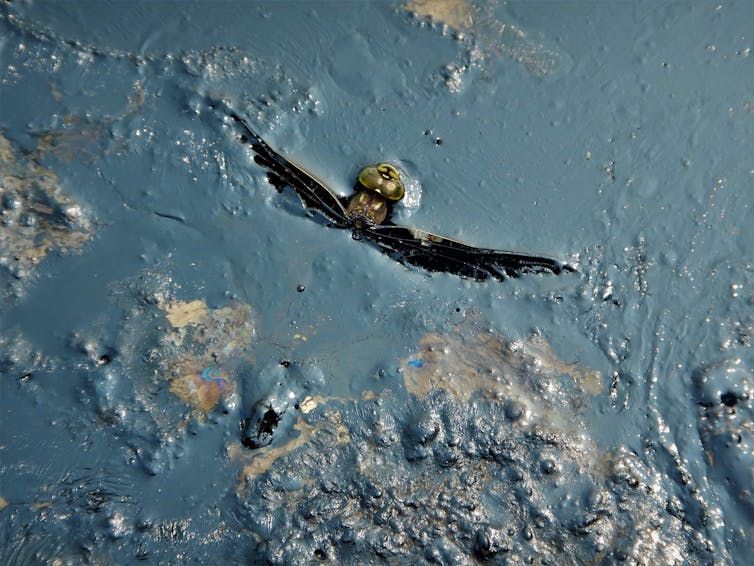 A captive adult dragonfly trapped in the sticky surface slick of Canadian diluted bitumen from a controlled experimental oil spill in a boreal lake located in Northwestern Ontario during the summer of 2018. (Jeffrey Cederwall)
Article by: Jeffrey Cederwall, Queen's University, Ontario and Sawyer Stoyanovich, L'Université d'Ottawa/University of Ottawa
Canada sits on the third-largest oil reserve in the world. Most of it is in the Alberta oilsands, where companies extract bitumen, a crude oil with the consistency of peanut butter.
To get the oil to pass through pipelines, petroleum engineers mix the oil with lighter components — usually byproducts of natural gas production — to dilute and liquefy the bitumen. This mixture is called "diluted bitumen" or dilbit for short.
Alberta is landlocked. To reach refineries and the international market, dilbit is transported through a network of pipelines and railways over vast stretches of land, riddled with lakes, rivers and wetlands.
But oil pipelines can leak or rupture, and spill their contents into the environment. In July 2010, for example, an Enbridge pipeline in Marshall, Mich., spilled at least three million litres of dilbit into the Kalamazoo River, of which an estimated 680,000 litres sank.
The issues of inland spills aren't new. They are more common than marine spills but often overlooked or unreported. Generally, we know much less about how oil spills affect freshwater ecosystems than the ocean and, when it comes to dilbit spills, we know even less.
To find out, our research team carefully spilled dilbit into mini-lakes to uncover the real-world responses of the oil and its impact on aquatic life.
WATCH BELOW: 10 YEARS AFTER THE BP OIL SPILL MARINE LIFE IS STILL BEING IMPACTED