Tuesday, May 3rd 2022, 8:53 pm - The wettest period of weather in B.C. in quite some time will deliver nearly a month's worth of rain to the coast this week.
May is just getting started but an extraordinary amount of rainfall for this month is forecast for the B.C. South Coast this week. The unsettled weather will last for several days, made worse by the colder than normal temperatures that will be hanging around into next week.
Multiple Pacific lows moving in this week could tip rainfall totals in some locations close to their overall monthly rainfall amounts for all of May, and this is only the first week of the month.
---
Canada's May Outlook: Longing for consistent warmth? You may have to wait until June
---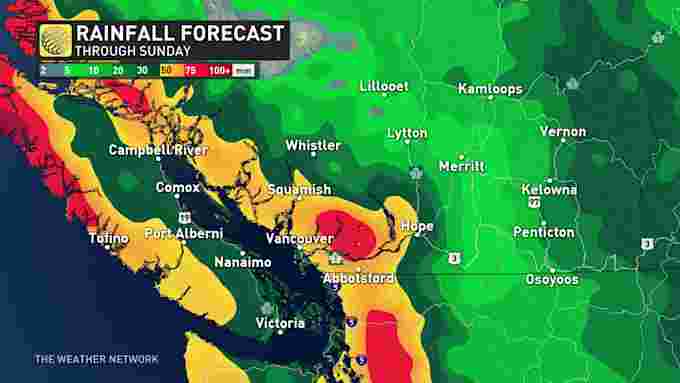 Vancouver's average for the month, for example, is about 65 mm, and the city could reach close to that just this week -- with 50 mm in the forecast as of now.
Widespread totals of 40-80 mm of rain through the weekend may be possible in the Lower Mainland, with local amounts exceeding that possible in higher terrain. Meanwhile, 100+ mm is possible for northwestern sections of Vancouver Island.
For the alpine regions, heavy snow is anticipated with freezing levels sitting at 1300-1700 metres. Some of the mountain peaks may see 30-60 cm of snow accumulate through the weekend, an impressive amount for this time of the year. Mountain passes will also need to be on the lookout for snowfall, as well.
APRIL WAS A SOGGY MONTH
April was quite the wet month for many parts of the coast. Nanaimo had its wettest April on record, in fact, out-raining the 1937 tally of 150.3 mm. Victoria experienced its fifth wettest April with 91.6 mm received and Comox had its third with 130 mm recorded.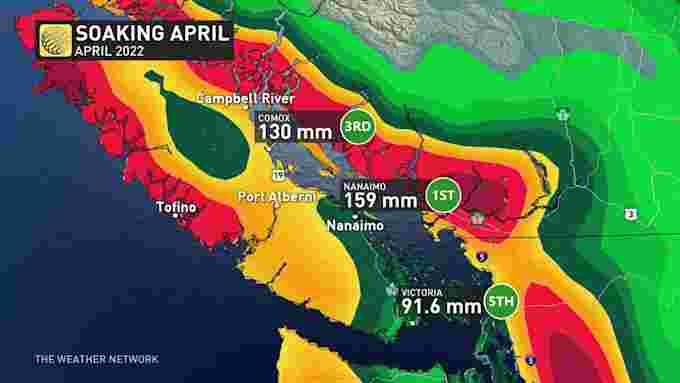 Looking ahead, two more mid-week systems and one possibly late week or the weekend are currently forecast to deliver rainfall totals that will be close to monthly accumulations for May standards.
As well, cooler than seasonal temperatures will continue to dominate into next week.
VANCOUVER ISLAND, EARLY MAY HAS VIBES OF EARLY MARCH
Stay tuned to The Weather Network for the latest forecast updates for B.C.