Thursday, September 22nd 2022, 11:00 am - Fall arrives Thursday and right on cue, so do the tumbling temperatures. Get ready for overnight lows near zero.
Welcome to fall, Ontario!
Southern Ontario saw off the final full day of summer in style, with muggy heat fueling strong thunderstorms across parts of the province throughout the day. The cold front responsible for the storms also brought quite the refreshing change for Thursday, the first official day of fall.
---
Visit our Complete Guide to Fall 2022 for an in-depth look at the Fall Forecast, tips to plan for it and much more!
---
A trough swinging across the eastern half of Canada has allowed for cooler, drier air to plunge into Ontario -- marking the first day of an extended period of much chillier weather.
Daytime high temperatures across the region will only reach the upper teens on Thursday afternoon, a far cry from feels-like values in the 30s just one day earlier. This will also be the coolest stretch of weather for the region since the May long weekend, with cooler than seasonal conditions expected to last through the end of September.
But remember, temperatures are not exceptionally cold for this time of year. This may just feel like a shock to the system after being spoiled by such warm weather during the first three weeks of September.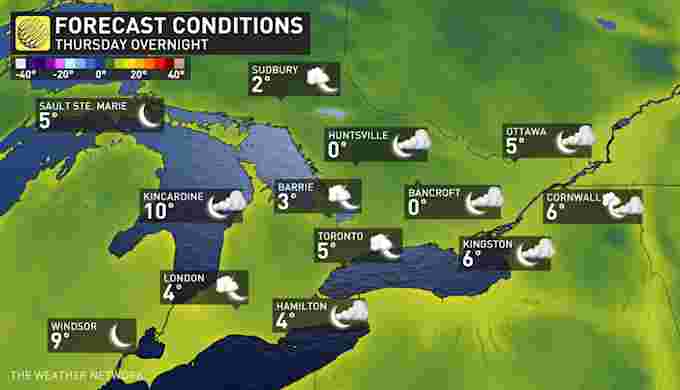 "For many places outside of the urban areas, we will see our first frost and freeze of the season as well," says Dr. Doug Gillham, a meteorologist at The Weather Network. "Friday and Saturday morning will be especially chilly, but then temperatures will recover to near seasonal during Saturday afternoon and Sunday."
A couple of rather chilly days are expected next week, with a risk for frost and temperatures more typical of mid-October rather than the final week of September.
WATCH: The polar vortex is waking up, what does this mean for Canada's winter?
The jet stream pattern which is responsible for allowing the chilly weather to surge south into the region is actually due to the storm tracks taken by two super typhoons in the western Pacific Ocean last week and into the weekend. These storms helped to amplify the wavy jet stream pattern in way that caused the dip in the jet stream to come into Ontario and Quebec.
"Keep in mind however, that we are not in a free-fall to winter," Gillham adds. "We expect that milder temperatures will return for most of the month of October."
While there won't necessarily be another extended period of summer-like weather to come, the region will see more 20-degree days before winter arrives.
Check back for the latest on conditions across Ontario.