Tuesday, April 5th 2022, 5:50 am - Everyday hero and restaurant owner David Brown is beloved by his community for his 'fearless' generosity. Recently, Brown is being celebrated for encouraging customers to shop elsewhere.
This spring season is a revival for many Canadians and business owners alike.
As warmer weather hits and businesses reopen, many people are eagerly venturing outdoors, exploring the hidden gems within their communities.
Fearless Meat, in Toronto, Ont., is one of them.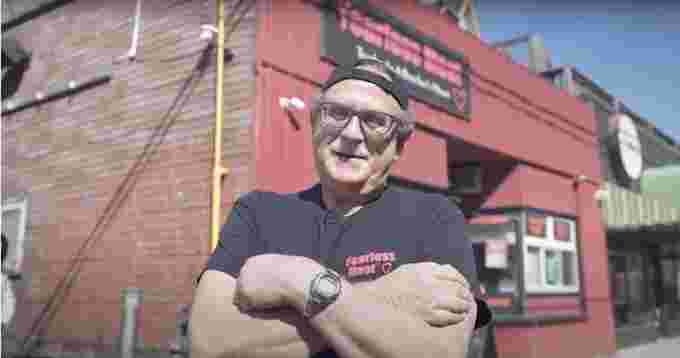 Fearless Meat restaurant owner, David Brown, offers free meals to vulnerable populations. (Provided)
"It's very important to give back to the community," expressed Brown.
A butcher for more than 50 years turned restaurant owner in 2018, Brown honours a strong family history of helping others.
"Butchers have a long tradition of giving back to their communities and the days before the food banks, butchers were the local food banks and I take that tradition very seriously."
And the tradition continues at Fearless Meat restaurant, located on Kingston Road in East York, where Brown and his team offer free 6 oz beach burgers to the most vulnerable populations.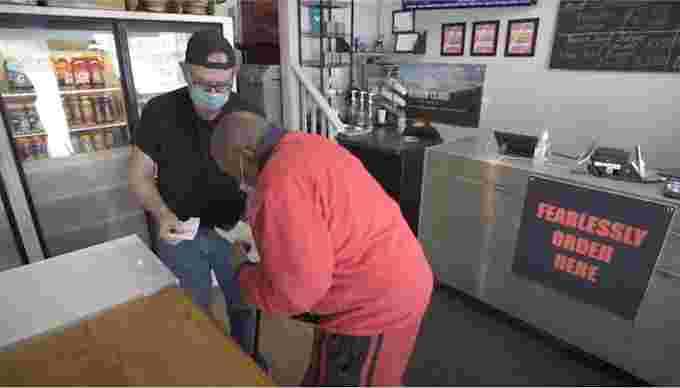 Brown offers a food sample to a customer. (Provided)
"We help veterans, seniors and pensioners, people that are hungry and homeless." explained Brown. "We don't judge people. We take their word for it. I think it's just very important that people feel welcomed and respected when they come in for this."
Over the years, Fearless Meat has become a community staple known for helping others, including business owner Andy Sue, who works right down the street.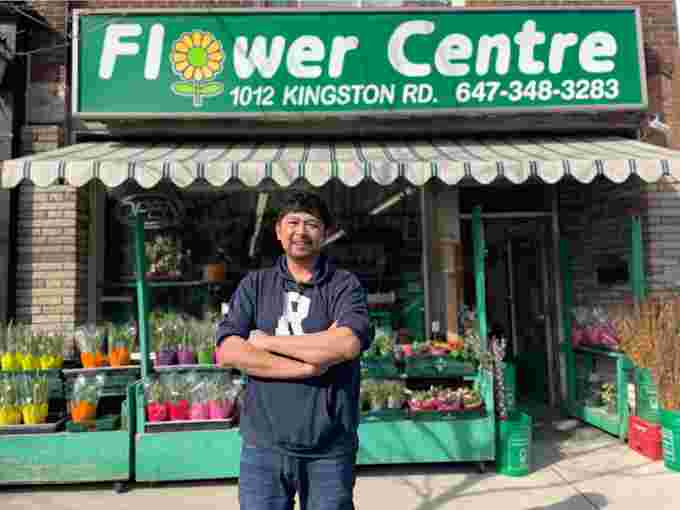 Andy Sue, stands outside his shop, Flower Centre. (Provided)
Sue has been managing his family's 50-year-old business, Flower Centre, for the last decade, but just recently became friends with Brown.
"It's a funny story, we had a bit of an incident here at the store and Dave came to the rescue one day,' expressed Sue.
"There was a woman that came into my business the week of the Chinese Lunar New Year, she verbally accosted me, I would say is the best way to describe it. It's still haunting me to this day."
After hearing word of the incident, Brown leapt into action to help.
"I'm thinking what can I do to help out here, help out Andy and also the Chinese community."
On a Thursday night Brown posted a simple request on a Facebook community group which quickly turned into the Flowers for Burgers campaign.
"Anybody that comes into Andy's flower shop on the Friday, Saturday and Sunday buys anything even if it's just a Petunia can bring the receipt into Fearless meat on the Sunday and we will give them one of our six ounce signature beach burgers, absolutely free," said Brown.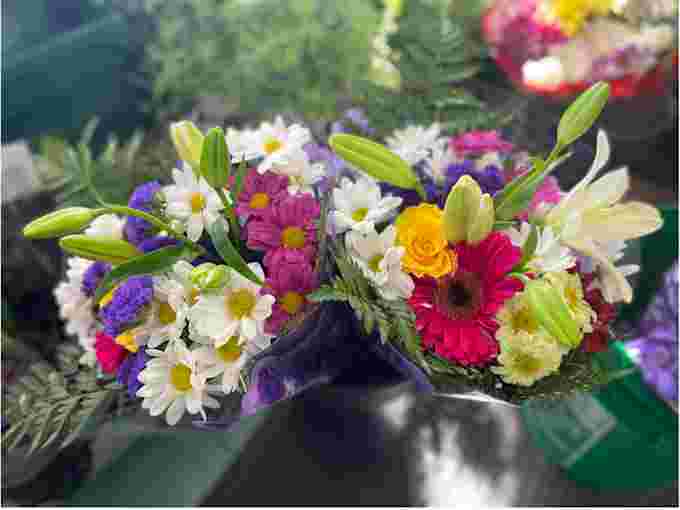 Flower Centre is located on 1012 Kingston Road, Toronto, Ont. (Provided)
The community certainly heard Brown's call for action, as Sue sold out of flowers in just one weekend.
"It was the busiest day we've ever had," expressed Sue. "To say that you could feel the love in the air is an understatement. It was tangible…The world could use millions of Dave's right now."
"In my own way, I feel like I made a difference," added Brown.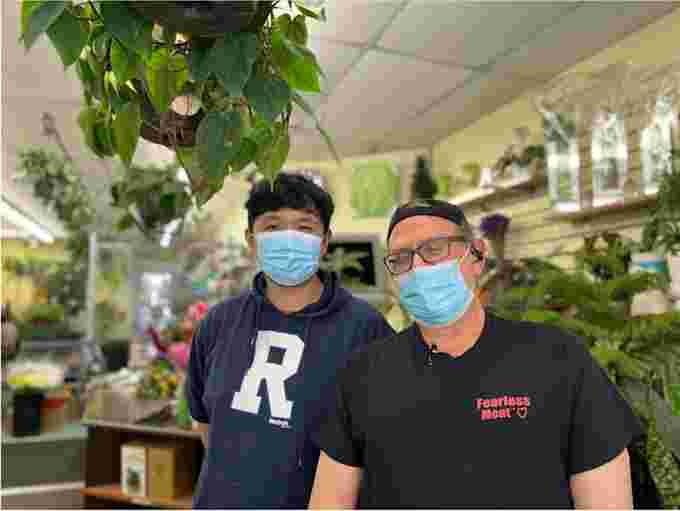 L-R: Flower Centre owner, Andy Sue, expresses gratitude to restaurant owner, David Brown, for fighting discrimination with flowers. (Provided)
Sue thanks his community for their continued support during and long after the Flowers for Burgers campaign came to an end.
Brown continues to give free meals as tender as his own heart to those in need.