Tuesday, April 26th 2022, 11:11 am - After mild temperatures and thunderstorms in southern Ontario, spring will hit the pause button by mid-week as temperatures plunge below zero and the threat for snow creeps in.
Just as much of southern Ontario finally got a real taste of pleasant spring weather to start this week, that spring in your step will soon be replaced with more signs of wintry weather by Wednesday. It's the one step forward, two steps back that has described much of this season across the region so far. A noticeable cooldown is on the way after a cold front moves through later Tuesday, bringing March-like weather by mid-week. Temperatures will be 10 degrees colder than seasonal and there will be the chance for some scattered flurries as well. Frost advisories were issued for Toronto, Niagara and the Windsor region Tuesday morning. The good news is temperatures will rebound to near-seasonal values by the end of the week, with lots of sunshine. More on the major temperature dip that's coming, below.
MUST SEE: First look: Will more consistent warmth lock in as Canada heads into May?
MID-WEEK: TEMPERATURES TUMBLE 10 DEGREES BELOW SEASONAL WITH THREAT FOR SNOW
After a warm start to the week, a trough will bring much cooler air and temperatures struggling to hit the double-digit mark on Tuesday. Conditions during the day will be overcast for the region, with the chance of an isolated shower in the afternoon, but not a washout by any means.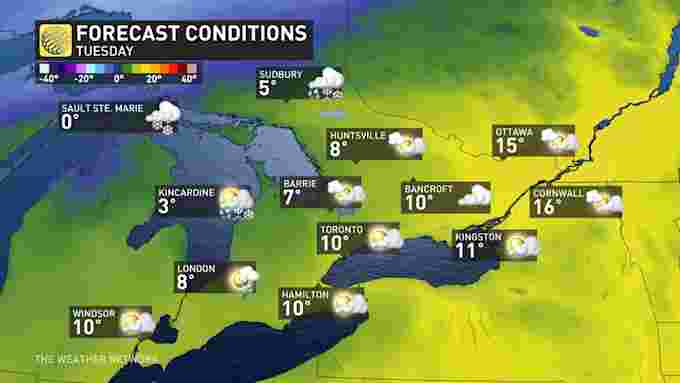 By Tuesday night, a quick burst of Arctic air moves into the lower Great Lakes region with temperatures falling around the freezing mark. That prompted Environment and Climate Change Canada (ECCC) to issue a frost advisory for the City of Toronto, Niagara and the Windsor - Essex region.
"Cover up plants, especially those in frost-prone areas. Take preventative measures to protect frost-sensitive plants and trees," ECCC says in the advisory, adding that the threat for frost will persist Wednesday night into Thursday as well.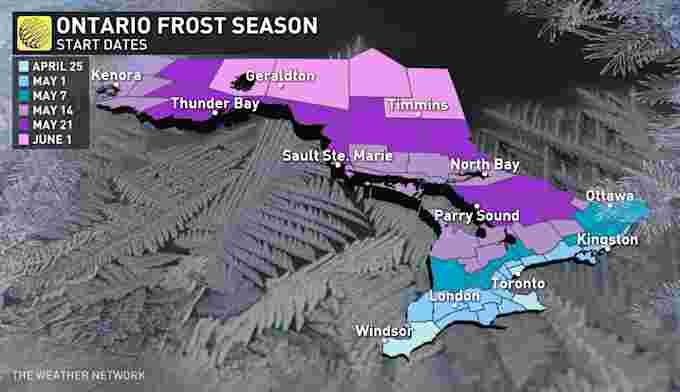 In addition to the frost, we could see the potential for snow across central and southern Ontario throughout Tuesday overnight, especially near Georgian Bay and Lake Huron.
The flurries will become widespread Wednesday morning, then dissipating through the afternoon. No accumulations are expected, but surfaces may be a bit slippery so exercise caution.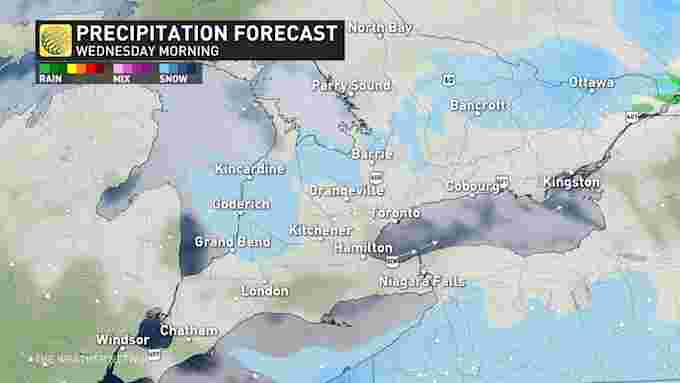 Temperatures could be up to 10°C below seasonal by Wednesday, taking us back to March-like weather. In fact, the upcoming streak of below-seasonal air will put parts of southern Ontario on par with the regions closer to the Arctic Circle. Kincardine, for example, can expect a high of just 0°C on Wednesday.
MUST SEE: Toronto has yet to hit 20 C this spring, here's when it could happen
The end of the week will finally feature a few days with abundant sunshine and a warming trend back to near seasonal for southern Ontario. However, an easterly wind will develop off Lake Ontario this weekend, a familiar trend this spring, so that will hold temperatures back a few degrees around the west end of Lake Ontario including the GTA.
This spell of below-seasonal conditions looks to continue through the beginning of May, with no signs of consistent warmth locking in any time soon.
Stay with The Weather Network for the latest conditions across Ontario.