Thursday, September 22nd 2022, 11:27 am - "World-class conditions" for generating geothermal energy have been found at Mount Meager in British Columbia.
Scientists and policymakers are exploring all possible renewable energies that will help Canada lower its greenhouse gas emissions and eventually reach net-zero emissions by 2050.
It might come as a surprise, but Canadian volcanoes could one day play a role in lowering national emissions, according to Steve Grasby, a research scientist from Natural Resources Canada (NRCan).
Although many are unaware there are volcanoes in Canada, the country is home to five potentially active volcanic areas: one overlaps the Yukon-Alaska border and four are located across British Columbia.
The most recent Canadian eruption occurred 150 years ago at Lava Fork in northwestern B.C.
Grasby and fellow researchers are focused on analyzing Mounts Cayley and Meager, which are located along the South Coast near Pemberton.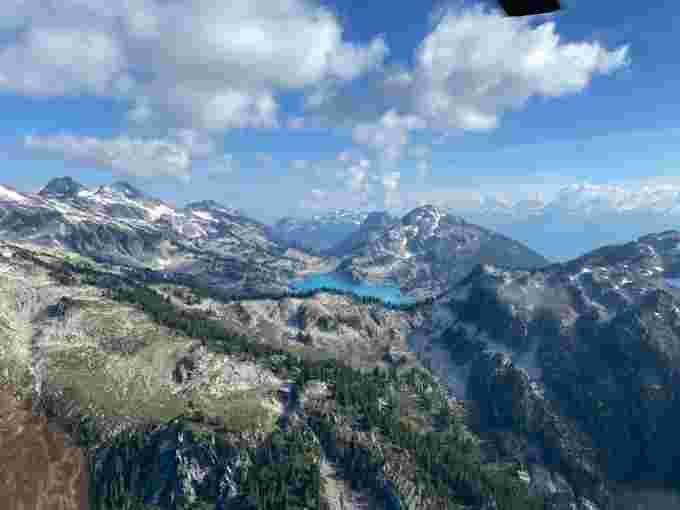 View of Mount Cayley from research helicopter. (Steve Grasby/ Research Scientist/ Natural Resources Canada)
Their analysis indicates there is a "high potential" for extracting geothermal energy from volcanoes in Canada, particularly from Mount Meager. The team has detected volcanic gases being released, which indicates that it is "more of an active volcano than an inactive one."
"A well has been drilled at Mount Meager and temperatures up to 250°C have been discovered at about 1.5-kilometre depth. These are really world-class conditions with these very high-temperature waters at a pretty reasonable depth," Grabsy told The Weather Network.
Harnessing energy from volcanoes
Extracting geothermal energy begins with drilling a well, pumping water into the ground, and then drawing it back to the surface. Rocks within the volcano are extremely hot and heat the water as it flows past them.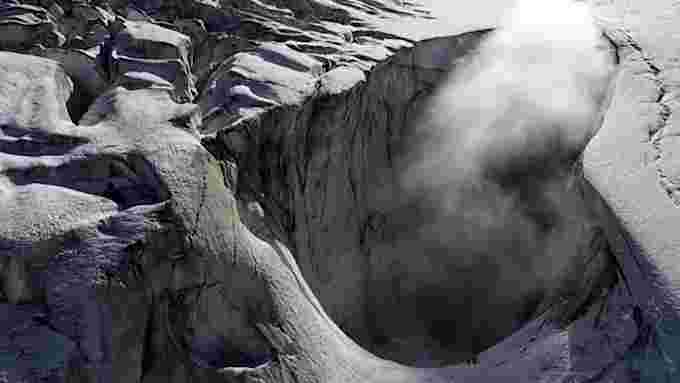 A drone flies over one of Mount Meager's three fumaroles. The footage shows how much ice is melting, allowing gas and steam to escape from the volcano. (Aeria Solutions)
As the hot water returns to the surface it transitions into steam due to the drop in pressure, which then spins a turbine to generate electricity. Energy can also be created by using the hot water to heat other fluids that transition into steam. Afterwards, the used water is safely pumped back into the ground, and the cycle continues.
If the water extracted from the well is less than 100°C it is not hot enough to generate electricity through the process mentioned above, but it can flow through pipes and be used for direct heating in homes, buildings, and industrial systems.
"The volcanic belts of western Canada and areas with hot sedimentary basins in Yukon, North West Territories, western Alberta, and southern Saskatchewan are all prime for electricity. Other regions across Canada have the potential for direct heating," said Grasby.
Although using volcanoes to generate electricity might seem futuristic, many countries have developed large-scale operations around this renewable energy and have been utilizing it on a national scale.
See also: Nuclear fusion powers the Sun and stars. Here's how we can generate it on Earth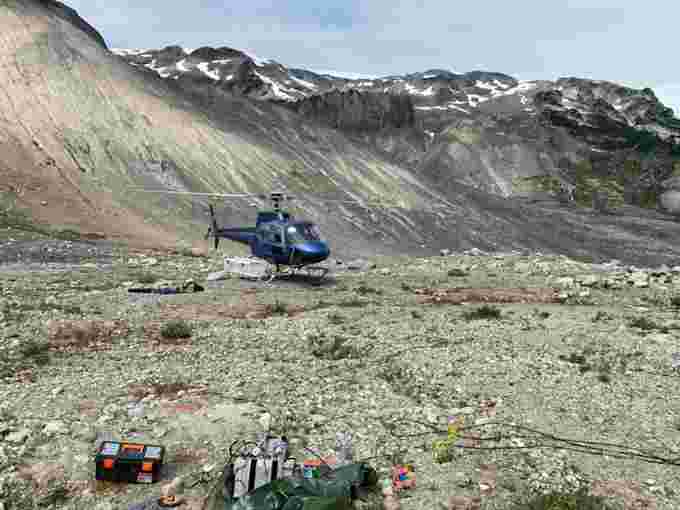 Helicopter at a magnetotelluric measurement site. (Steve Grasby/ Research Scientist/ Natural Resources Canada)
"Iceland, is a prime example, it produces most of its energy from its volcanic systems," said Grasby.
"The Pacific Ring of Fire is a whole range of volcanoes that go all around the Pacific Ocean, from the West Coast in North America, South America, and around the east coast of Asia. Canada is really the only country in the Ring of Fire that has yet to produce geothermal energy. We kind of stand out in the world for not yet making use of that resource."
Some of the most attractive aspects of geothermal energy include reliability, robust potential to generate high levels of electricity and heat, and zero requirements for storing excess energy generated, which is the case for other renewables like solar and wind.
Grasby noted that Canada is home to many other geologic environments that also have the potential to be utilized for geothermal energy, such as certain Prairie regions.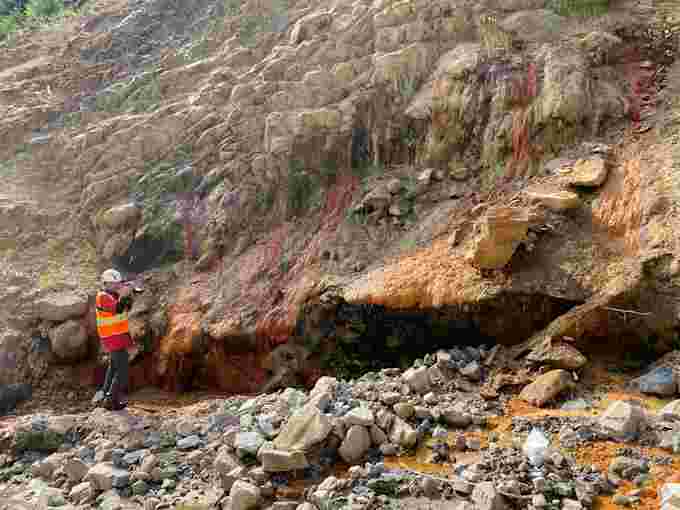 NRCan research scientist at the Turbid Creek thermal spring on the south flank of the Mount Cayley volcano. The bright colours are from minerals precipitating from the spring waters and algal and bacteria mats growing in the warm water. (Steve Grasby/ Research Scientist/ Natural Resources Canada)
For example, DEEP Earth Energy Production Corp, located in southern Saskatchewan, states that they have the potential to generate approximately 140 MW of geothermal power, which could offset the amount of emissions released by 85,000 cars annually.
Canada's 2030 Emissions Reduction Plan notes that investments in geothermal technology, as well as other renewable energies that are not yet commercially deployable, such as tidal energy and carbon capture and storage systems, will "allow Canada to be a world leader in these new technologies."
An example of federal support in expanding geothermal energy is the $5 million investment in Novus Earth.
This company is exploring the geothermal potential in Hinton, Alberta in hopes of one day combining geothermal energy, hydroponics, and aquaculture to grow produce and seafood in the province and in Canada's Arctic.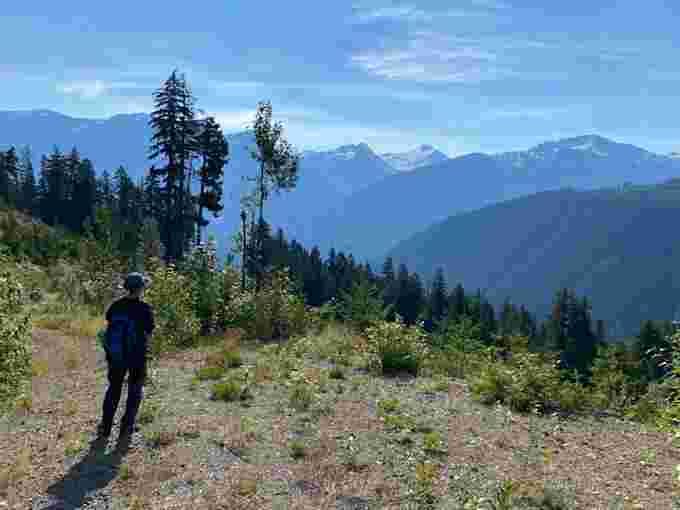 NRCan research scientist Wanju Yuan on the south flank of Mount Cayley looking south over the Squamish Valley. (Steve Grasby/ Research Scientist/ Natural Resources Canada)
When asked about potential opposition to building infrastructure on a volcano that could be active, Grasby explained that eruptions are notoriously difficult to predict and there is currently no clear understanding yet about the degree of hazards Canadian volcanoes currently pose.
"I think there'll be a lot larger problems if we had a volcanic eruption than just one geothermal plant being damaged. There'll be a much larger impact on the entire region. So I think that's a relatively minor concern," stated Grasby.
The next steps for NRCan researchers involve compiling data and analysis about the volcanoes to determine optimal drilling locations with high temperatures at relatively shallow depths.
"What we hope to do is to help reduce the economic risk of drilling wells so that we can share the techniques that we developed and information that we gather in the data. And then [industries] can use that information to make decisions along with regulators and First Nations to decide if this is something worth developing and drilling in the future," said Grasby.
Watch below: New type of nuclear plant opening by 2028 in Canadian first
Thumbnail image: Sharp peaks cover the top of Mount Cayley, marking the old central core of the volcano. (Steve Grasby/ Research Scientist/ Natural Resources Canada)