Monday, January 25th 2021, 8:46 pm - Near 10 cm of snow targets most of the Greater Toronto Area for Tuesday, locally higher amounts possible for some due to lake enhancement.
Travellers in parts of southern Ontario should be prepared for worsening road conditions Tuesday, as the northern edge of a Texas low will creep its way into the region with a healthy shot of snow for some areas and strong winds. Snow will push into the southwest in the early morning, reaching the GTA late-morning, steadily becoming heavier through the afternoon. While most of the Golden Horseshoe could pick up close to 10 cm, some in the western GTA could see locally higher amounts. Visibility is expected to be poor at times so caution is recommended. Snowfall warnings and special weather statements are in place. More on the timing and impact of this Texas low, below.
---
WEATHER HIGHLIGHTS:
Texas low begins to push snow into southern Ontario on Monday overnight
Most of GTA to see near 10 cm of snow Tuesday, locally higher amounts possible in western areas
Coldest temperatures of the season for many so far expected late week
---
TUESDAY: TEXAS LOW TARGETS GTA WITH SNOW
The snowfall will begin early Tuesday morning across southwestern Ontario, reaching the GTA around mid-morning, becoming heavier at times through the late-morning hours and into the afternoon, as well.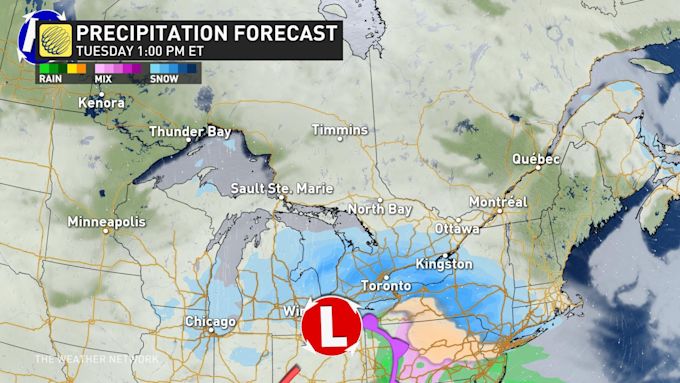 However, dry air aloft may push back accumulating snow by an hour or so. The potential for freezing drizzle near the end of system could limit overall snowfall numbers.
Snowfall accumulations will be near 10 cm across most of the GTA. Localized higher totals are possible due to lake enhancement between Hamilton, Milton and Toronto due to the east wind off Lake Ontario. Elsewhere across the Golden Horseshoe, including the Niagara region, snow totals will be 5-10 cm.
Lesser amounts are expected north and east of the Greater Toronto Area.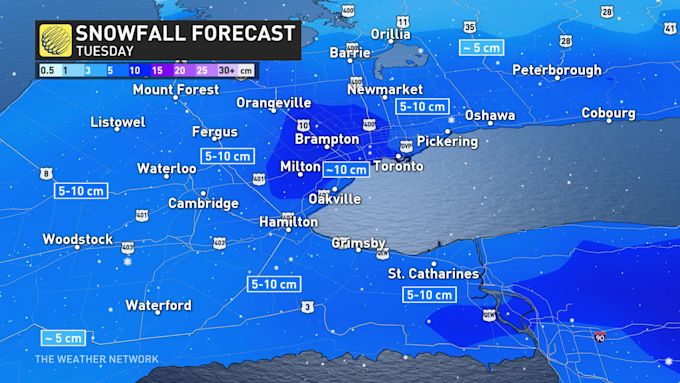 Snowfall warning is in effect for Halton-Peel, and special weather statements are in place for the cities of Hamilton and Toronto, as well as Dufferin region.
Some areas may end up seeing more snow than others because of lake enhancement, as an east wind may gust up to 60 km/h, providing an extra boost, as well as greater impact at higher elevations.
The snowfall, while not significant in many areas, will likely be enough to impact drivers across the region, particularly in the western end of Lake Ontario. As a result, it's best to plan ahead if essential travel is needed, and to adjust to the changing roads conditions with the accumulating snow.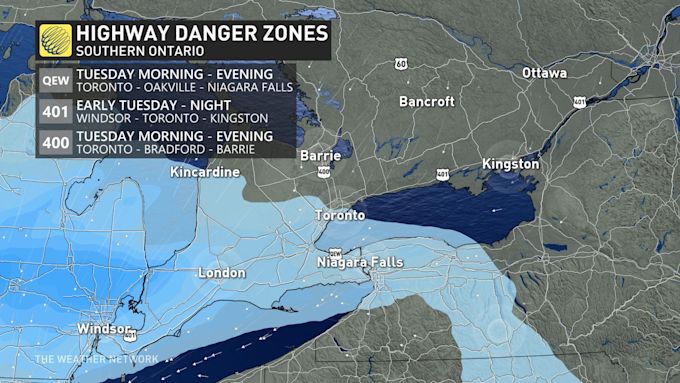 "Visibility may be suddenly reduced at times in heavy snow and blowing snow. There may be a significant impact on rush hour traffic in urban areas," Environment Canada warns in the snowfall warning.
The snow is expected to begin easing off in time for the Tuesday evening commute and will move out by the overnight hours.
LOOK AHEAD: CHILLIEST WEATHER OF THE SEASON SO FAR, POTENTIAL FOR MESSY SYSTEM
Beyond Tuesday's snow, southern Ontario will see fair weather and rather cold temperatures for mid- and late-week. In fact, the coldest temperatures of the season so far for many areas is expected for Friday and into Saturday.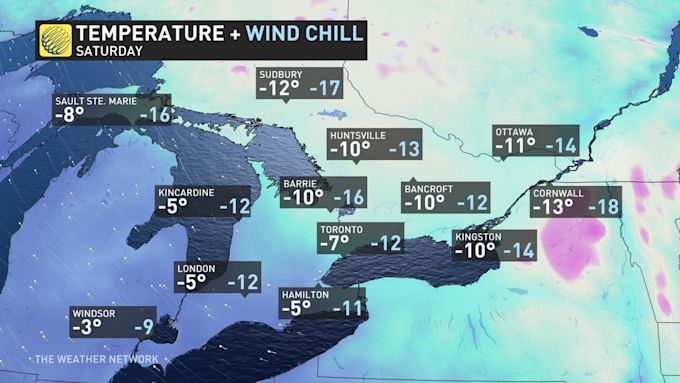 Looking further ahead, there is the potential for a messy system to track into southern Ontario Sunday and into early next week across the region. Because we're still far out, it is too early to have confidence in the exact storm track and impacts, but this has the potential to bring significant snow and possibly ice to the region.
"If the storm track is far enough to the north, then parts of southern Ontario will see a changeover to a period of rain. Overall, next week looks much milder than this week, but still some uncertainty as to how mild," sayd Weather Network meteorolgist Dr. Doug Gillham.
There may also be a potent and messy system mid- or late-next week, with the potential for rain for at least parts of the region.
Be sure to check back for updates as we continue to monitor the timing and impacts of the Texas low.