Sunday, September 15th 2019, 9:51 am - There is a widespread risk of thunderstorms for B.C. on Sunday
The multi-day stretch of rain will continue on Sunday for B.C. but the good news is that the showers will begin to taper off before the next low pressure system moves in. The Lower Mainland could see an additional 40 to 50 mm through Tuesday with this new system while the rest of the province could see between 20 to 40 mm. Details on the rainfall timing, and which areas are seeing the risk for thunderstorms on Sunday, below.
---
WEATHER HIGHLIGHTS:
Widespread risk of thunderstorms on Sunday
Showers will taper off before new rainy system tracks in
Stay on top of ALERTS in your area
---
WATCH BELOW: TIMING OF RAIN ON SUNDAY
The unsettled pattern in British Columbia continues as a pair of upper level lows will bring widespread rain to the coast and the Interior through mid-week.
Some spots could even soak up close to their entire average rainfall for September by the time the second system clears the region.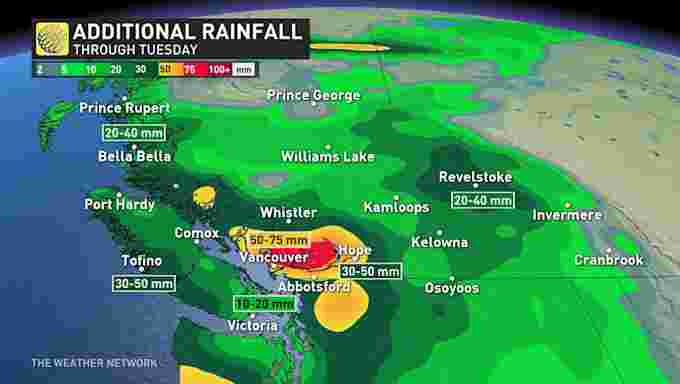 For areas in higher elevations, along the coastal mountains and Rockies, precipitation could fall as snow because of the low temperatures expected.
While the precipitation will ease throughout Sunday, there will be the chance of thunderstorms as a cold front tracks across the province, however the storms that do occur are expected to be non-severe. The main hazard with these thunderstorms is heavy rainfall within the storms.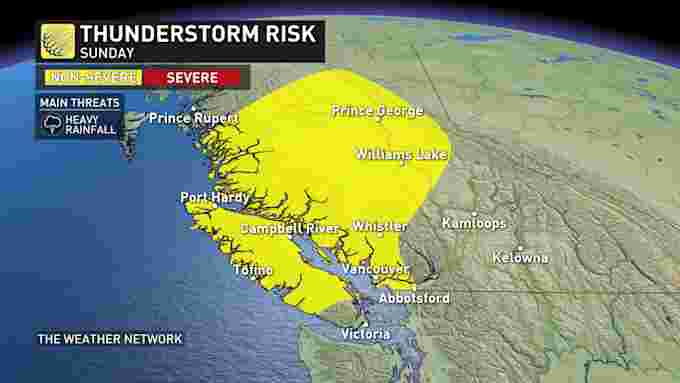 By Monday morning, the system will move out and give residents a break from the rain, but the next low will be knocking on B.C.'s door and will push onto the coast for Tuesday with more widespread rain.
This new system could bring an additional 40 to 50 mm to the Lower Mainland by Tuesday while the rest of the province could see between 20 to 40 mm.
A FALSE START TO FALL?
While this rainy pattern might look more at home later in the year, B.C. residents won't have to say goodbye to summer just yet. Warmer and drier weather is expected to return next week as a ridge of high pressure builds into the coast, though a return to an unsettled pattern is likely for the last week of the month.
WATCH BELOW: IMPRESSIVE LIGHTNING SHOW SPARKS B.C. BRUSH FIRES