Saturday, March 5th 2022, 8:08 pm - A powerful system sweeping across Ontario and Quebec will bring the risk for travel disruptions and power outages through the day on Sunday.
We're looking at a rough 24 hours across Central Canada as a robust low-pressure system treks across the Great Lakes. Powerful winds will sweep unseasonably warm air over southern Ontario. Heavy snow and freezing rain will continue over northern Ontario and stretch into Quebec. Temperatures will fall behind this storm just in time for another, bringing snow on Monday to areas that saw pleasant warmth on Sunday. More on the timing and impacts, below.
---
Visit our Complete Guide to Spring 2022 for an in-depth look at the Spring Forecast, tips to plan for it and much more!
---
NORTHERN ONTARIO, QUEBEC: HEAVY SNOWFALL EXPECTED, TRAVEL NOT RECOMMENDED
A low-pressure system moving into Ontario and Quebec on Saturday will bring a wide variety of weather with it through Sunday. We'll see heavy snow across northern sections of the province.
Snow will pick up again overnight Saturday and continue into early Sunday morning. The heaviest snow will fall along the northern shores of Lake Superior and to the east, with a swath of 15-30 cm expected from Chapleau to parts of central Quebec.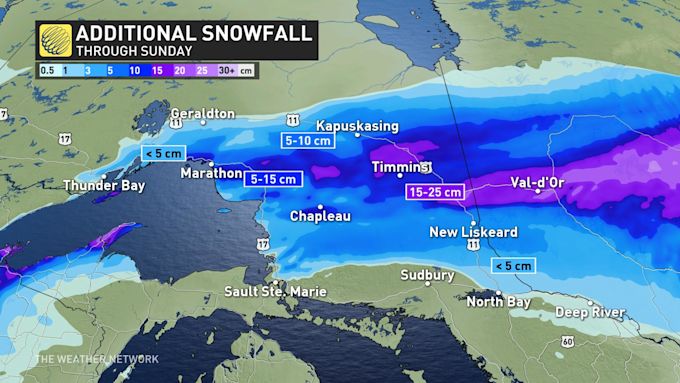 Some areas may see a period of freezing drizzle and/or ice pellets mixed in the evening and overnight period. Precipitation will then change back to snow Sunday morning. Ice accretion up to 15 mm is possible on untreated surfaces near the eastern shores of Lake Superior, with 2-5 mm potentially elsewhere across northern Ontario.
Winter storm, snowfall and freezing rain warnings are in place, along with special weather statements and winter weather travel advisories. Environment and Climate Change Canada (ECCC) recommends postponing non-essential travel until conditions improve.
"Rapidly accumulating snow could make travel difficult over some locations. Surfaces such as highways, roads, walkways and parking lots may become icy and slippery," ECCC says in the winter storm warning.
Snow will taper to flurries from west to east Sunday afternoon.
CENTRAL, EASTERN ONTARIO, QUEBEC: THREAT FOR SEVERAL HOURS OF FREEZING RAIN
Meanwhile, parts of central Ontario will see a band of freezing rain overnight Saturday before transitioning to rain showers by Sunday morning. Eastern Ontario and parts of southern Quebec will also see the freezing rain move in the overnight period Saturday, but the heaviest will fall Sunday morning. Freezing rain will then change to rain showers late morning.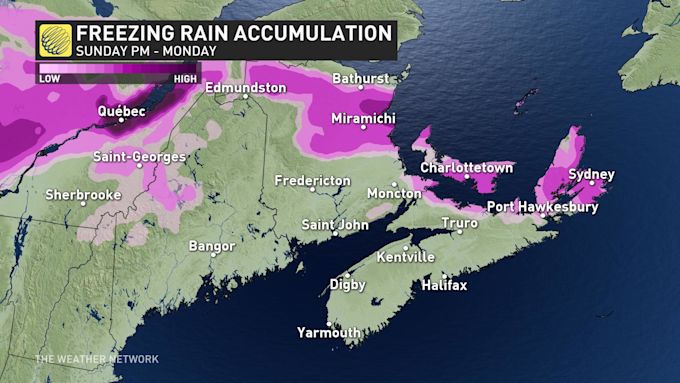 Significant ice accretion is possible in Quebec City, with the potential for 10-20 mm. Untreated surfaces such as highways, roads, walkways and parking lots may become icy and slippery. Take extra care when walking or driving in affected areas.
Freezing rain warnings and special weather statements are in place.
WATCH: WIDESPREAD POWER OUTAGES LIKELY AS DAMAGING WINDS MOVE INTO SOUTHERN ONTARIO
SOUTHERN ONTARIO: WARMEST TEMPERATURES OF THE YEAR SO FAR, BUT WITH GUSTY WINDS
As the centre of the low-pressure system will track through northern Ontario, much of the south will remain in the warm sector of this storm. While the warm air will eliminate the risk for snow and freezing rain this time around, that will change by Monday.
Rain is set to move into southern Ontario overnight Saturday into the pre-dawn hours Sunday morning, with periods of rain showers continuing as the day progresses. Because of the warm air filtering in ahead of the front, there is also the potential for a few thunderstorms.
A strong southwesterly wind will develop late Sunday morning or early afternoon as a cold front moves through southern Ontario.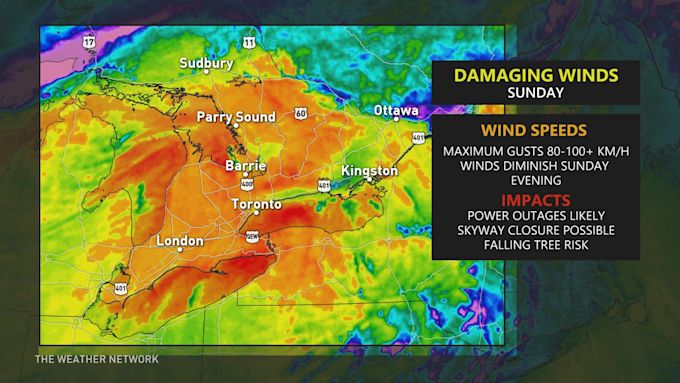 Intense wind gusts exceeding 90 km/h are possible, with locally in excess of 100 km/h in some locations that see thunderstorms develop along the cold front. Power outages are likely.
Before the cold front slices through, daytime highs will climb well into the teens for most areas away from the Huron shores. Many communities in southern Ontario are on track to experience their warmest temperatures since the middle of December.
Temperatures might even approach the 20-degree mark, with the stalling of the cold front across the Greater Toronto Area (GTA) in the early afternoon.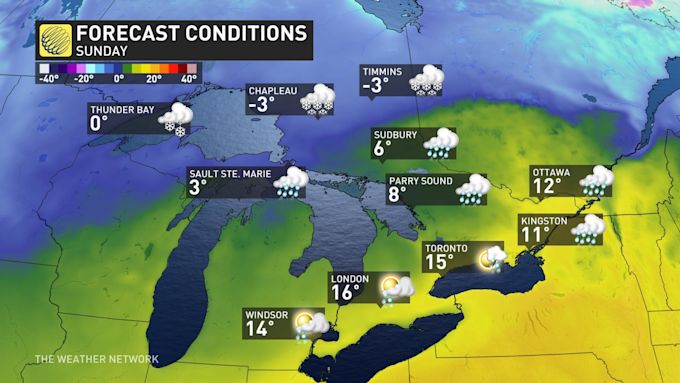 This taste of late April, however, will be extremely brief, snapping right back into reality as soon as Sunday night as cold weather pushes back into the region.
LOOK AHEAD: SIGNIFICANT SNOWFALL POTENTIAL FOR SOUTHERN ONTARIO EARLY NEXT WEEK
Significant snowfall is possible for southern Ontario and Quebec for Monday, though exact totals are still uncertain and will depend on the storm track. This system does have the potential to bring 5-10+ cm of snow to parts of the region, as well as a risk for freezing rain and ice pellets for some. At this point, the greatest risk of snow is north of the 401 corridor, with a potent wintry-mix across most of southern Ontario. Regardless, a lot of the snow should melt on contact with pavement.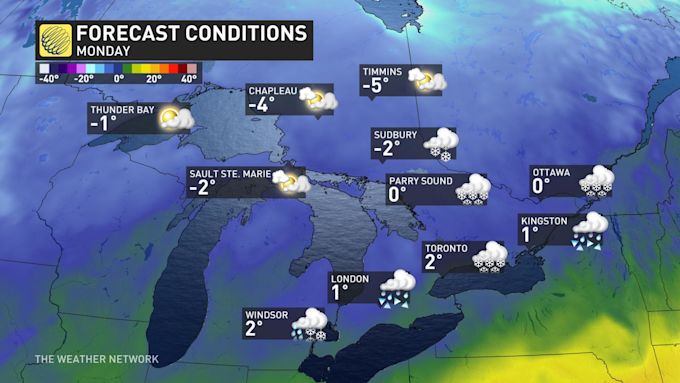 We'll see fair weather for a couple days mid-week with near-seasonal temperatures, then more unsettled conditions push in again late week. However, it's still too early to know if we will see significant snow or rain.
A blast of Arctic air is expected for next weekend with well below seasonal temperatures and strong winds, along with a threat for some snow. Very cold into the start of the following week, and then the frigid pattern should relax as we progress through the week.
Be sure to check back for the latest updates on the forecast in Ontario.