Wednesday, September 23rd 2020, 7:00 am - Toronto now has the largest fleet of electric buses in North America, which demonstrates both the demand for sustainable transportation and its viability.
The TTC has announced that it is now operating the largest fleet of electric buses in North America. There are roughly 35 electric buses that are already in service across Toronto and by the end of September, that number will jump to 60 after the final testings and commissioning activities are completed.
The transit agency's press release states that vehicles on our roads currently generate roughly one-third of all greenhouse gas emissions in Toronto. The city's climate action strategy, TransformTO, aims to reduce local greenhouse gas emissions by 80 per cent by 2050 and has a goal of transitioning 100 per cent of its vehicles in Toronto to low-carbon energy.
The TCC is currently operating three models of electric buses that were each made by a separate manufacturer. The performance of the different technologies will be monitored to determine which models would be the best option for future expansion. Considerations include their charging technologies, specifically in comparison to battery-powered buses, which will also be acquired by the transit agency.
The first steps towards adding electric vehicles to the TTC's fleet came in November 2017 when the procurement of 30 all-electric vehicles was approved by the TTC Board. Thirty additional vehicles were approved in June 2018, which resulted in the acquisition of 60 all-electric buses from BYD Canada Co. Ltd., New Flyer Industries Inc. and Proterra Inc.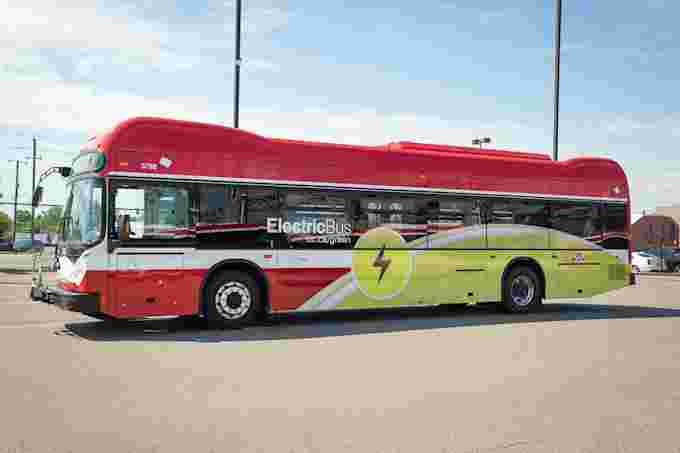 Credit: TTC
Toronto Mayor John Tory said that the TTC's achievement was made possible by a $140 million investment from the City of Toronto and the Government of Canada. The TTC's press release states that the Canadian government has a goal of having 5,000 electric buses in Canada's fleets over the next five years.
TRANSIT AND AIR POLLUTION
When asked how sustainable public transportation improves the lives of riders and surrounding communities, the TTC explained that the main benefit is reduced air pollution.
"eBuses have no tailpipe emissions, which is a clear win for the environment and the inhabitants of the specific areas the vehicles service. They are also much quieter than traditional diesel vehicles, another benefit that customers have noted and appreciate," the TTC said to The Weather Network during an interview.
"We are the third largest transit system in North America and, as the world shifts its focus to creating reliable green solutions, eBuses are the natural next step for the TTC and others."
Air pollution is a serious public health issue in urban areas due to fossil fuels powering a high volume of vehicles that emit chemicals and fine particulate matter. Over 80 per cent of Canada's population lives in urban areas and is exposed to air pollution from traffic, construction and factories and could potentially experience more climate-induced health problems as temperatures warm.
Difficulty breathing and complications with asthma and other lung and cardiovascular diseases are the main concerns as air pollution becomes more prevalent. The hazards from air pollution will be worsened by warming temperatures as "stagnation events" become more common. This event describes the stationary domes of hot air that can trap air pollutants in the lower atmosphere during the summer.
Hot, sunny days further exacerbate air pollution by creating optimal conditions for chemical reactions between nitrogen oxides and volatile organic compounds, which creates ground-level ozone, a primary component of smog.
In 2018, the oil and gas industry, Canada's biggest polluting sector, accounted for 26 per cent of all greenhouse gas. Transportation was just slightly behind at 25 per cent, which reflects how closely related these industries are. Sustainable public transportation is expected to expand as cities work towards meeting their carbon reduction goals, improve public health and reduce air pollution.