Monday, August 8th 2022, 8:52 am - Southern Ontario and Quebec could see thunderstorms Monday, with an increase for flooding in some areas due to possible torrential rainfall.
A semi-stationary, elongated boundary is what is to blame for the unsettled weather in southern Ontario and Quebec that has already brought more than 50 mm of rain in some communities. The rainfall and thunderstorm risk will continue Monday, keeping the threat of flooding intact for some locales. The good news is the heat and humidity will be gone on Tuesday. For details on the heat, humidity and thunderstorm risks for Monday, read below.
---
MUST READ: What to take on a day trip to the sunflower fields
---
Monday: Storms aided by moisture may bring torrential rain, flooding
The steamy, active weather pattern will continue Monday. Heat warnings remain in place for one more day in southern Ontario, as well as rainfall warnings that extend into southern Quebec.
Periods of rain and thunderstorms will continue along the boundary in parts of southern Ontario and southern Quebec through Monday before a low-pressure system sweeps through in the overnight, bringing an end to the extreme humidity and heat but also bumping up the storm risk for parts of southwestern Ontario.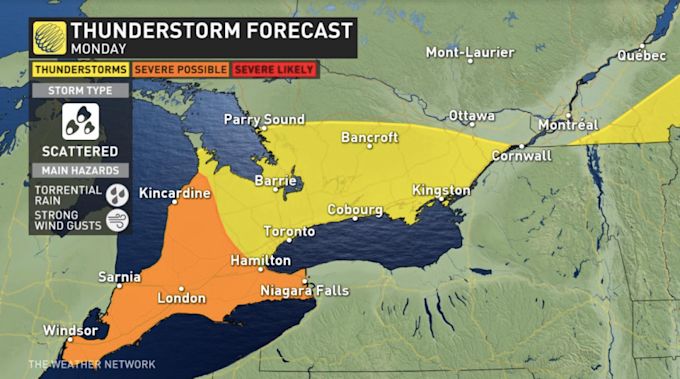 Isolated to scattered showers will continue in parts of southern Ontario through the morning and afternoon, then likely to become more numerous towards the evening as the centre of the low and its associated cold front track across the region.
Around dinnertime and into the evening, southwestern Ontario may see some storms tip closer to severe warning criteria, with torrential rain still being the main threat with the storms but locally strong wind gusts will be possible, as well.
The majority of the storm risk is in southern Ontario, but there could be some firing up in Quebec south of the St. Lawrence River, too.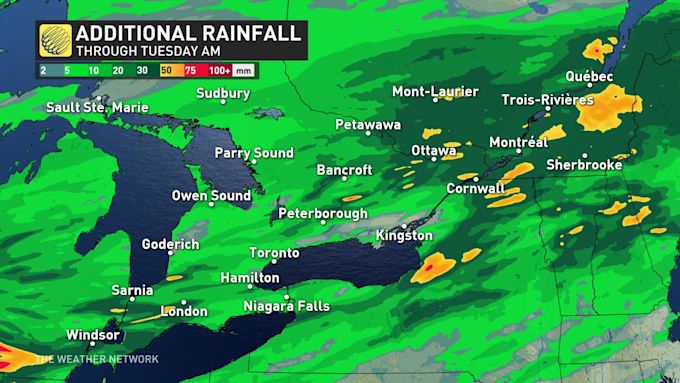 With ample amounts of moisture in the atmosphere, the storms have the potential to tap into it and produce torrential rainfall that could lead to flash and localized flooding. This rings particularly true in regions under the rainfall warnings.
"Heavy downpours can cause flash floods and water pooling on roads. Localized flooding in low-lying areas is possible," Environment and Climate Change Canada (ECCC) warns.
MUST READ: Your mid-summer guide to lawn maintenance products
Behind this system, the active weather wanes, and humidex values and temperatures will return to much more comfortable values on Tuesday.
WATCH: How a single Ontario storm can skew your perception of summer
Stay tuned to The Weather Network for the latest forecast details for southern Ontario and Quebec.
Thumbnail courtesy Lisa, taken in East Garafraxa, Ont.