Tuesday, September 27th 2022, 4:57 pm - Maritime Electric urges people to stay away from downed lines as power re-energized
About 62,000 people on P.E.I. were still without power Tuesday afternoon, more than three days after post-tropical storm Fiona ravaged the province.
Maritime electric spokesperson Kim Griffin said crews from the parent company Fortis have arrived to help with the restoration.
About 350 power poles have been damaged, she said.
MUST SEE: P.E.I.'s iconic Teacup Rock is gone after post-tropical storm Fiona
Griffin said it's more important than ever to stay away from downed lines as power becomes re-energized.
"That's my most terrifying thought through this event, and through this storm, is if this happened to anyone that was near power lines, so we are continuing to ask people to stay clear of them. We don't want them anywhere near them and our crews are trying to get in and clean up as quickly as they can in all the communities as they re-energize."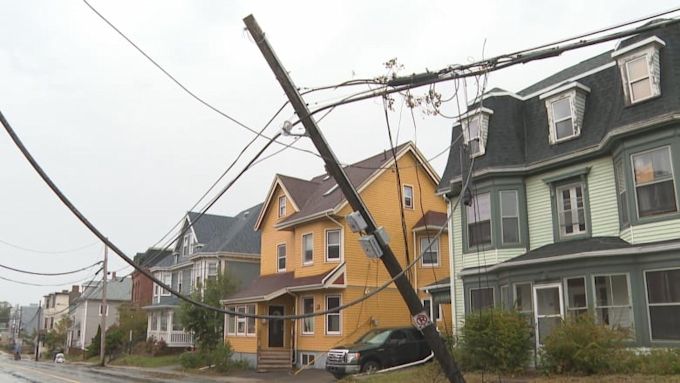 Maritime Electric says about 350 power poles were damaged. (CBC)
Crews are working 12 and 16 hour shifts, she said, but service restoration may be slower than in Nova Scotia due to the "thousands" of trees that have fallen on power lines.
"No storm is alike and no impact is alike," she said.
Prime Minister Justin Trudeau toured parts of Prince Edward Island decimated by post-tropical storm Fiona on Tuesday, getting a first-hand look at the devastation on the ground.
The storm made landfall on P.E.I. late Friday night into Saturday morning, leaving widespread devastation across the entire Island from downed trees and power lines to buildings and roads destroyed.
On Tuesday, Trudeau visited the North Shore community of Stanley Bridge, which was hit particularly hard by the storm. The visit included private meetings with community members impacted by the storm and local MPs.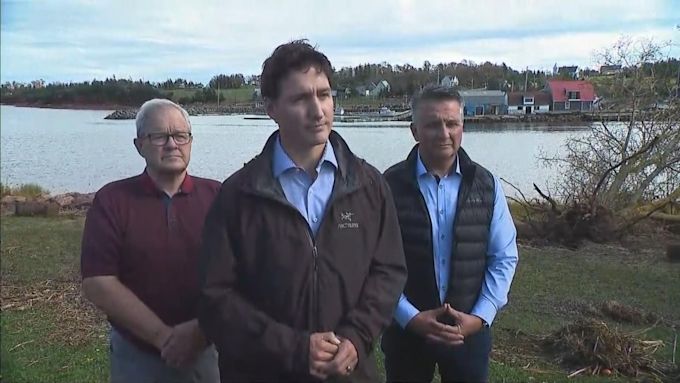 While on P.E.I., Prime Minister Justin Trudeau met with locals affected by the storm, as well as MPs Lawrence MacAulay, left, and Heath MacDonald, right. (CBC)
"It's good to be here on the ground in P.E.I. today. Obviously there's lots of devastation — not just here but we saw it driving over all across the Island. Not just fishers and wharves affected, obviously agriculture affected as well," he said.
"We were working already in advance of the storm to prepare for the worst. And, you know, the worst happened. But at the same time there are tremendous stories of resilience, of rebuilding, and there's a lot of work to do over the course of the coming weeks and months."
Trudeau met with P.E.I. Premier Dennis King in person on Tuesday to discuss the challenges in person, and start the work of looking to building more resilient infrastructure in the future. King said he asked for immediate help for the fisheries and agriculture industries, which suffered "significant loss" from Fiona.
Many dairy barns and potato storage facilities were destroyed, King said during the briefing Tuesday.
"That is a big, big concern for that industry."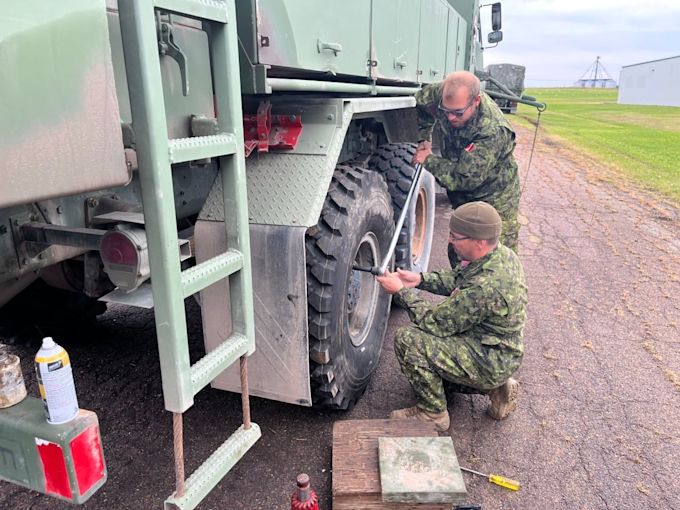 An engineering support unit from the Canadian Forces Base in Gagetown, N.B., set up headquarters in Slemon Park as part of task force P.E.I. (Brian Higgins/CBC)
Trudeau, who will also visit Sydney, N.S., while on the East Coast, said the federal government will offer whatever support it can as the province grapples with the devastation.
"People are really worried but at the same time, we've seen people come together. That's the story of Islanders and, indeed, of Canadians — that we're there for each other in times of difficulty," he said.
"Right now, everyone is going through a lot of anxiety, a lot of hard work cleaning up, but we know that it's not just right now that they need help. It'll be for weeks and months and even years to come."
King said he's not prepared to issue a stay-at-home order, especially after the COVID-19 pandemic. But once again he pleaded with Islanders to stay off the roads unless it is necessary.
Line for gas at the Stratford Petro-Canada Monday morning. Gas stations have faced long lineups since reopening. (Louise Martin/CBC)
"People have been locked up for two years with COVID and we have to allow them to move around," he said. "What we continue to ask people to do is to be careful, is to be mindful, is to be understanding."
Though there was been widespread damage to property, no serious injuries have been reported due to the storm.
This article, written by Shane Ross, Devon Goodsell, Kevin Yarr, was originally published for CBC News.