Monday, November 14th 2022, 1:18 pm - Much of southern Ontario has been able to hang on to some unusual November warmth, but a pattern change taking shape has quickly adjusted that.
A blast of wintry air flooded southern Ontario this weekend, bringing below average temperatures and the first multi-day snow squall event of the season. Some of the hardest-hit areas ended up with 20+ cm of snow.
Sunday night finally saw the city of Toronto dip down to the freezing mark -- also the first time this season temperatures have been so cold.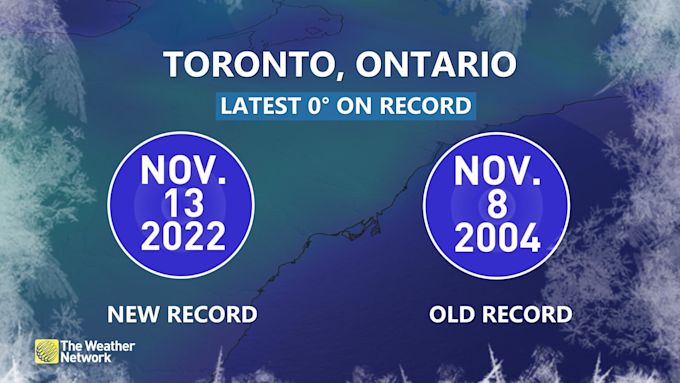 That made Nov. 13 the new record date for the latest it took the city to see 0°C or lower. That shattered the old record that stood on Nov. 8, 2004 and made for quite the contrast from the balmy 25-degree daytime high that the city hit, and set records for, on Nov. 5.
MUST SEE: Nearly all of Canada will face an icy chill due to building high pressure
While the first half of November featured well above average, and record-setting warm temperatures, a more frosty pattern is setting up for the latter half, with more snow and cold in the forecast in the days and weeks to come.