Wednesday, June 22nd 2022, 11:40 am - An active and stormy pattern continues across the Prairies, with widespread rain and thunderstorms expected.
--
An active and stormy pattern continues across the Prairies, with widespread rain and thunderstorms expected. Storms may become severe at times through Thursday with strong winds, very large hail and a potential for tornadoes in some areas. Saskatchewan and Manitoba have the greatest chances for severe thunderstorms. Cooler weather will spread east across the Prairies through the weekend, as below seasonal temperatures dominate much of next week as well. More on the storm timing and impacts, below.
---
Visit our Complete Guide to Summer 2022 for an in-depth look at the Summer Forecast, tips to plan for it and much more!
---
SEVERE THUNDERSTORM THREAT THURSDAY WITH STRONG WINDS, LARGE HAIL AND POTENTIAL TORNADOES
A large system will impact Alberta, Saskatchewan and Manitoba Thursday as widespread storms are forecasted across the Prairies. For central Saskatchewan and parts of central and southern Manitoba, there is a heightened risk of severe weather.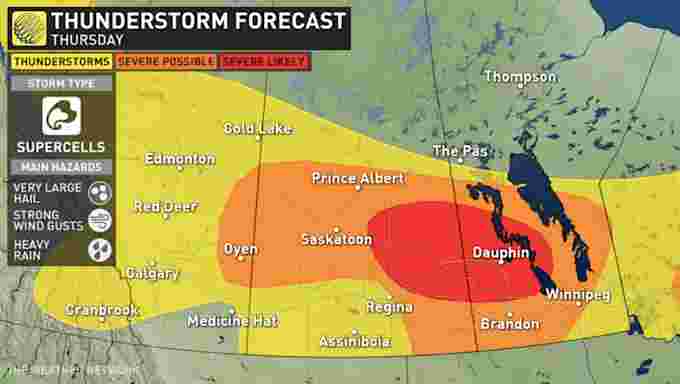 "An elongated boundary tracking across the central Prairies and associated upper level trough swinging into the western Prairies will be the triggers needed to spark widespread thunderstorms through the afternoon and evening hours," says The Weather Network meteorologist Kelly Sonnenburg.
Storms are likely to continue overnight across eastern Saskatchewan and southern Manitoba
"Non-supercell funnel clouds are possible across central Alberta with extra atmospheric spin present," says Sonnenburg. However, across central Saskatchewan and Manitoba, supercell thunderstorms are likely to develop into the evening hours.
Earlier this week, the region experienced scattered thunderstorms and hail.
Soft, ~25mm hail at 2/27 east of Olds 150PM #Abstorm @weathernetwork pic.twitter.com/zJ4Bk7H5FN

— Kyle Brittain (@KyleTWN) June 22, 2022
Thursday will have a potential for severe storms. "Very large hail, strong winds and heavy rain will be the primary threat in these regions," says Sonnenburg. Residents should exercise caution as rotating supercells also have the potential to develop tornadoes.
READ MORE: Make the sun work for YOU with these solar powered gadgets
SEE WHAT LARGE HAIL CAN DO TO A CAR
The heaviest rain with these storms is expected to be across central Alberta, central Saskatchewan and parts of southern Manitoba, with widespread totals of 25-50+ mm, and locally higher amounts likely. The showery weather continues across Manitoba into Saturday.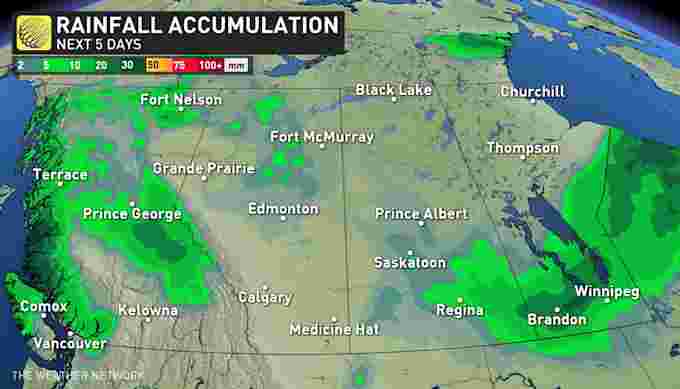 Cooler weather will spread east across the region for the weekend, with a brief warm-up early next week, followed by near to below seasonal temperatures for much of the week.
Be sure to check back for the latest updates across the Prairies.