Tuesday, August 6th 2019, 6:21 pm - It will truly feel like two distinct seasons in this part of Canada.
Yes, it is true. This province will feature scorching temperatures and snow on the same day. How can the atmosphere allow such chaos?
On Thursday, the northern fringes of the Rocky Mountains, the Muskwa Range, will accumulate snowfall, while the Okanagan and southern Alberta will bask in temperatures well above 30°C.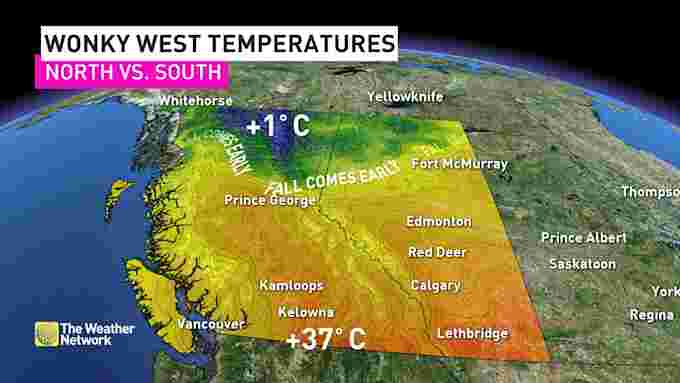 This is what happens when a robust ridge is in such close proximity to a sharp upper trough. The graphic below shows both the temperatures and the locations that could possibly see snowfall.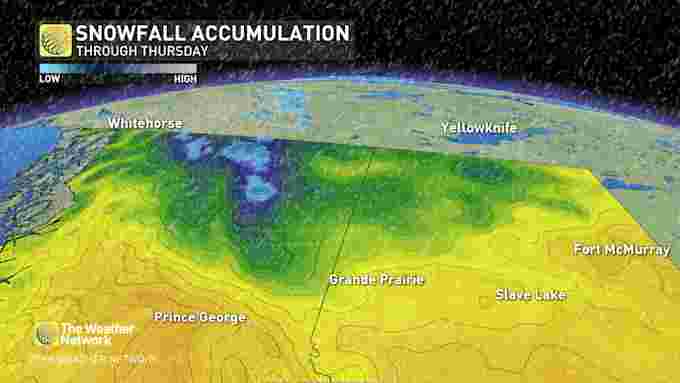 This has been the pattern through Summer 2019 - shorter wavelengths and more ridges and troughs than the previous several summers across western Canada. It has even added a significant boost to severe weather in Alberta.
Looking back at the origin of these wildly different air masses, their source region, where the air originated from, is completely different. What's fueling the unseasonably cool air in northern Alberta and British Columbia? Cold air seeping down from the Northwest Territories, providing chilly modified arctic air to move into the northern fringes of British Columbia and Alberta.
For southern sections of the provinces, it's a completely different story.
This air mass has fingerprints of latitudes much further south that stem from the southwest United States. The air in question rounded the upper ridge locked in place between B.C. and Alberta, providing temperatures a noteworthy boost.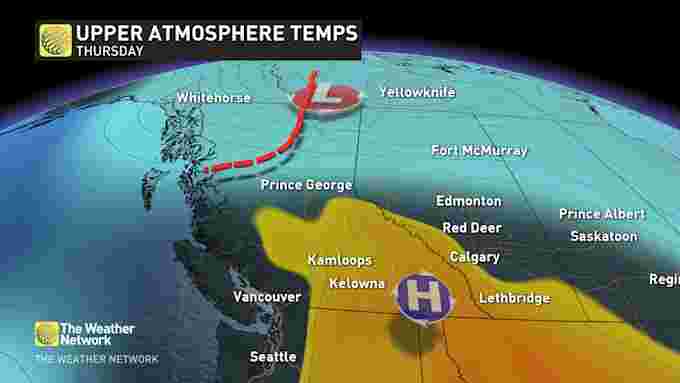 As the image above suggests, it will truly feel like two distinct seasons in the west on Thursday.
Which side of the divide would you rather be on?
WATCH BELOW: BEAR CHARGES AT WOMAN AS SHE FILMS IT IN WHISTLER, BC