Tuesday, April 6th 2021, 1:10 pm - Putting water levels into perspective, Lake Ontario is forecast to be 0.58 metres below average by the end of April. This may not seem like a big change, but it equates to 1.35 million Olympic-based swimming pools of water.
When a major city such as Toronto experiences above average precipitation during a season, it doesn't necessarily mean water levels in a surrounding lake will also be higher than usual.
However, when we look at the Great Lakes basin as a whole, this will have more of an effect on lake levels.
Case in point is Lake Ontario. While Toronto received a slightly above normal snowfall amount this winter, with below normal rainfall, the entire basin saw below average precipitation. This helped to keep water levels at bay, especially compared to prior years.
SEE ALSO: Spring flooding still a concern with Great Lakes water levels
In fact, Lake Ontario is forecast to be 0.58 metres below average by the end of April -- a shortage size equivalent to 1.35 million Olympic-based swimming pools.
Another good comparison is lakes Erie and Huron, expected to see water levels well above average, while the nearby regions only saw about 50-65 per cent of their average snowfall in the winter months.
Although lakes Erie and Huron have not dropped as quickly as Ontario, their levels are lower than prior years, meaning the lakeshores won't flood as easily or frequently this year. It goes without saying, though, that the shorelines are not out of the woods, yet, in respect to shoreline flooding.
"This shows that seasonal precipitation has an effect, amongst other factors, on water levels. Although the lakes do have an annual fluctuation, they've remained above average since 2014," said Weather Network meteorologist Kevin MacKay.
"Also, Erie, Huron, Michigan and Superior have much more similar trends than Ontario because Lake Ontario is the one lake that has a degree of manual manipulation (through) the St. Lawrence River."
Lakes Erie and Huron will have a slower response time due to there being no manipulation involved in lake levels like there is in Ontario.
While Lake Ontario is below average, Lake Erie is 0.5 metres above, so this means its water levels hold an additional 5.07 million Olympic-sized pools. Lake Huron is 0.63 metres above average, enough water to cover an extra 15.1 million Olympic-sized pools.
"Needless to say, there's plenty of water. There's a reason they're called the Great Lakes and are world renowned," said MacKay.
SECOND-DRIEST MARCH FOR TORONTO
Toronto experienced its second-driest March in the past five years. There was a significant divide in precipitation amounts over the 31 days.
From March 1-21, the city barely registered any rain or snowfall, with just 2.6 mm recorded. However, March 22-31 was quite a different story -- Toronto saw nearly a month's worth of rainfall in the last week.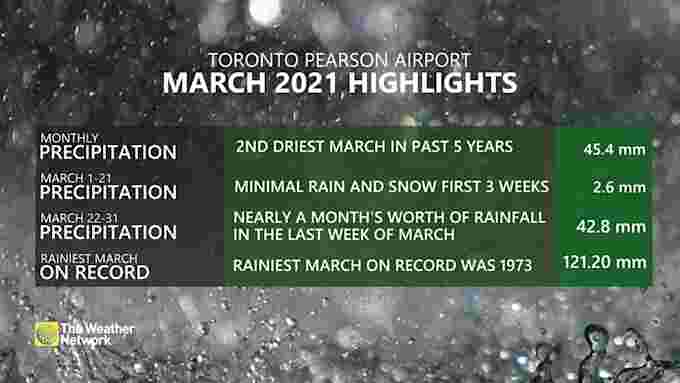 The drier conditions in southern Ontario this year are certainly helping to bring water levels in Lake Ontario down.
However, it should be noted that the water level in Lake Ontario is slightly human-regulated (by the International St. Lawrence River Board of Control) whereas lakes Erie and Lake Huron are not.
Thumbnail courtesy of International Space Station (ISS)/NASA.