Tuesday, November 22nd 2022, 12:00 am - The first-ever game of its kind in NHL history was played in bitterly cold temperatures of -18°C, feeling like -30 with the wind chill.
This Day In Weather History is a daily podcast by Chris Mei from The Weather Network, featuring stories about people, communities and events and how weather impacted them.
--
When the National Hockey League staged its first-ever regular season outdoor game, it was only fitting that it be between two storied Canadian teams – the Edmonton Oilers and the Montreal Canadiens – and that it be played in absolutely frigid conditions.
Live from Edmonton's Commonwealth Stadium on this day in 2003, after considerable planning and featuring such hockey greats as Wayne Gretzky, a sold-out crowd of 57,167 gathered for the spectacle. Those lucky spectators were a mix of season ticket holders (who were given first crack at buying more tickets), and around 7,000 whose tickets were parcelled out through a lottery system at some point attracting three-quarters of a million people.
The one drawback: Those fans were seated in very cold conditions of -18°C, feeling closer to -30 with the wind chill, such that the stands hung heavy with the tell-take silvery-white haze of their own breath.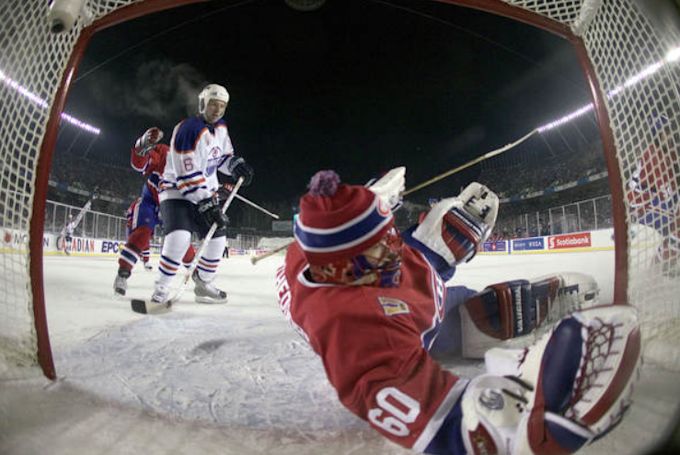 Photo Courtesy: Jeff Vinnick/Getty Images
Arguably, the opening act, known as the MegaStars Game, was a draw all on its own, featuring the biggest names in modern Montreal Canadiens legend against the only-ever Edmonton Oilers dynasty.
So for this one-time event, you had the likes of Wayne Gretzky, Mark Messier, Paul Coffey, and Jari Kurri, taking on Guy Lafleur, Larry Robinson, and several other major names from the Cup teams of the '70s, '80s and '90s. Mark Messier, who was still an active player in the league at the time, asked for and received special permission to be a part of the event.
The actual regular season game featured the classic and enduring image of Jose Theodore, goalie for the Canadiens, playing the game with a team-logoed toque attached to his face mask helmet; completing the throw-back heritage image that teams who have taken part in subsequent outdoor games have replicated ever since. As cold as it was, we doubt any hockey fans in attendance had any regrets.
Subscribe to 'This Day in Weather History': Apple Podcasts | Amazon Alexa | Google Assistant | Spotify | Google Podcasts | iHeartRadio | Overcast'
Thumbnail Photo Courtesy: Jeff Vinnick / Getty Images