Monday, March 7th 2022, 4:30 am - On this day in weather history, Ottawa received 48 cm of snow.
This Day In Weather History is a daily podcast by Chris Mei from The Weather Network, featuring stories about people, communities and events and how weather impacted them.
--
From March 6-10, 2008, a storm struck most of southern and eastern North America. The storm produced severe weather for the East Coast of the States, battering the area with heavy rain and damaging tornadoes.
However, the storm, dubbed the North American blizzard of 2008, is best known for its snow. Areas from Arkansas to Quebec received significant snow. Some areas were particularly hard hit, including Columbus, Ohio, Cleveland, Ohio, and Ottawa, Ont.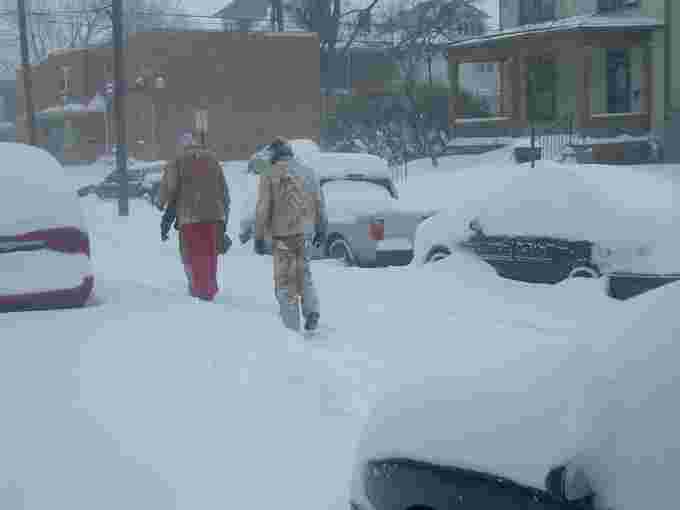 Two Columbus residents walk down Alden Avenue during the North American blizzard of 2008. Courtesy of Sholt8/Wikipedia/CC BY 3.0
On March 6, a low-pressure system developed across Texas. The system rained on Texas, which gradually turned into snow in Oklahoma. The first of 17 tornadoes touched down near Corpus Christi, Texas.
On March 7, the storm headed to Ohio and produced heavy snowfall. Tennessee and Arkansas received snow while Florida and Georgia were hit with several tornadoes.
From March 8-9, the storm really started to pick up. Cincinnati, Ohio, received 22 cm of snow and Louisville, Kentucky, reported 28 cm.
---
Click here to subscribe to This Day in Weather History
---
Areas in southeastern Ontario and southern Quebec received almost double those snow amounts. Ottawa was hit the hardest with 48 cm.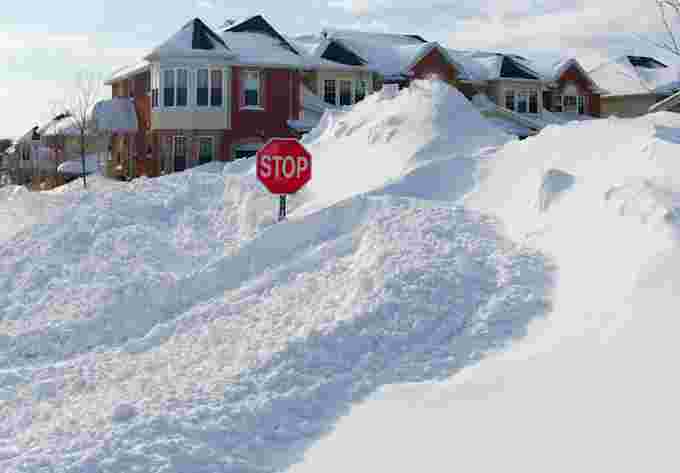 Snow accumulation in Ottawa, Mar. 9, 2008. Courtesy of John Talbot/Wikipedia/CC BY 2.0
Ottawa received more snow than it could handle. Home roofs started to collapse.
One Ottawa family was sleeping when they heard their roof creaking. The father, Chris Hesson shared that, "The whole roof is gone, basically, except for the garage," adding, "It just pancaked onto the upper part of the ceiling, I guess."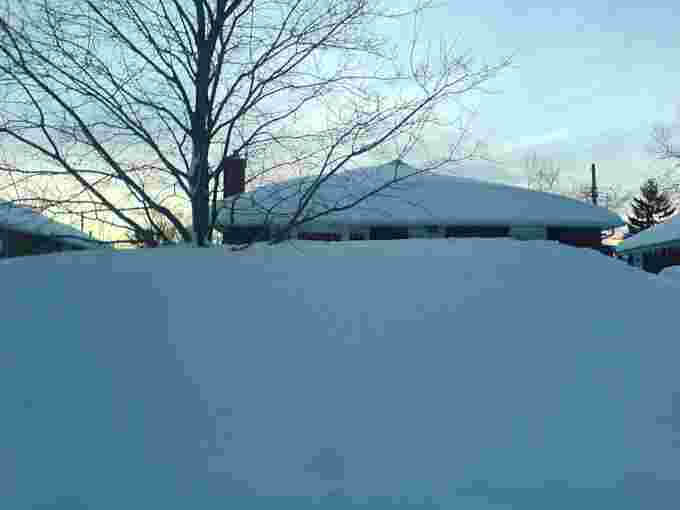 A massive snow drift in front of a house in Ottawa, Ontario on March 9, 2008. Courtesy of RadaB/Wikipedia/CC BY-SA 3.0
Many school boards and universities across the States and Canada shut down. Thousands of people were without power, namely 87,000 in Quebec.
The snowstorm occurred at the end of March Break in Quebec and the start of it in Ontario. Flights were delayed or cancelled in many airports. The Ottawa Airport ended up giving out cots to travellers who were stranded.
Overall, the storm caused 17 deaths and cost $789 million.
To learn more about the North American blizzard of 2008, listen to today's episode of "This Day In Weather History."
Subscribe to 'This Day in Weather History': Apple Podcasts | Amazon Alexa | Google Assistant | Spotify | Google Podcasts | iHeartRadio | Overcast'
Thumbnail: Snow accumulation in Ottawa, Mar. 9, 2008. Courtesy of John Talbot/Wikipedia/CC BY 2.0