Monday, May 10th 2021, 5:22 am - On this day in weather history, a tornado outbreak hit the South Central United States.
Listen to The Weather Network's This Day in Weather History podcast on this topic, here.
This Day In Weather History is a daily podcast by The Weather Network that features stories about people, communities, and events and how weather impacted them.
---
From May 10 – 13, 2010, Oklahoma, Kansas, Missouri, and Arkansas were hit with a series of tornadoes. A total of 91 twisters were confirmed during this four-day outbreak. Oklahoma was badly hit, with both the most and most aggressive tornadoes.
Out of the 91 tornadoes, there were four categorized as EF3 and two with an EF4 rating, according to the Enhanced Fujita scale. Both of the EF4 cyclones were in Oklahoma. There were three deaths reported from this outbreak, all associated with the EF4 tornadoes.
On Monday, May 10, 2010, at 5:20 p.m., a twister touched down in Moore, Oklahoma.
"Tornado damage to a house in Oklahoma County from the Moore–Choctaw tornado." Courtesy of Win Henderson/Wikipedia
It started in an undeveloped area, so most of the damage was isolated to trees. As it moved toward Oklahoma City near Stanley Draper Lake and through eastern Oklahoma County, it damaged homes as well.
Then it approached an even more developed area and caused severe damage to businesses including Love's Travel Stop and a Sonic Drive-In. Some people took shelter in the travel stop and were not hurt. However, the tornado swept through rush hour traffic on a highway, injuring motorists. Two people were killed by this tornado.
After 38 km, the tornado lifted.
---
Click here to subscribe to This Day in Weather History
---
The other EF4 tornado hit Oklahoma on the same day. At 5:32 p.m., a twister swept through Norman in Cleveland County. It also started with tamer damages, initially breaking windows and doors from businesses and homes.
The tornado gained momentum as it headed towards and crossed Lake Thunderbird. It hit Little Axe Public Schools and caused significant damage. Other buildings and homes in the area were heavily damaged or flattened.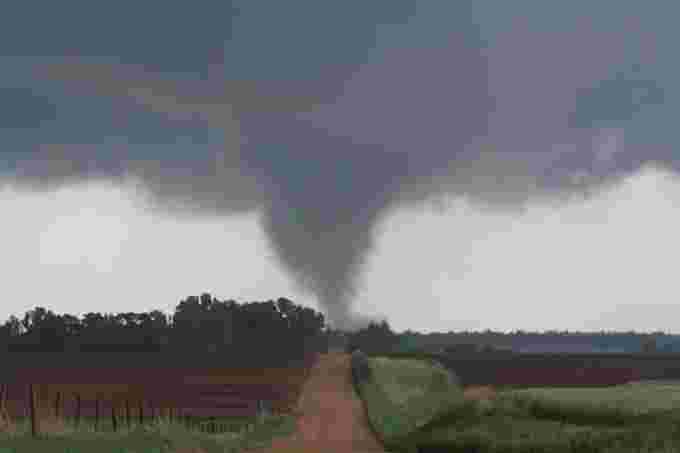 "A tornado near the Harper/Kingman county line in Kansas on May 10, 2010." Courtesy of Wikipedia
The tornado travelled for 35 km, killing a 27-year-old woman and injuring her three kids.
Overall, this outbreak killed three people, injured 127, and caused $595 million in damages.
To learn more about this tornado outbreak, listen to today's episode of "This Day In Weather History."
This Day In Weather History is a daily podcast by The Weather Network that features unique and informative stories from host Chris Mei.
Subscribe to 'This Day in Weather History': Apple Podcasts | Amazon Alexa | Google Assistant | Spotify | Google Podcasts | iHeartRadio | Overcast'
Thumbnail: "A tornado near the Harper/Kingman county line in Kansas on May 10, 2010." Courtesy of Wikipedia