Sunday, February 13th 2022, 1:04 am - Hamilton's fourth snowiest day of all-time.
This Day In Weather History is a daily podcast by Chris Mei from The Weather Network, featuring stories about people, communities and events and how weather impacted them.
--
This day in weather history is all about the February 2007 North American blizzard. It was an unforgiving storm that unleashed aggressive amounts of snow on areas stretching from the midwestern U.S. to Eastern Canada.
In Canada, the storm impacted New Brunswick, Quebec, and gave a special nod to Hamilton, Ont.
The storm lasted from Feb. 12-14, 2007. On Feb. 13, the blizzard gave Hamilton its new record for snowiest February day.
On that one day, Hamilton received 30.4 cm of snow, which beat the previous record of 27.4 cm from Feb. 28, 1984.
On average, Hamilton receives 35 cm of snow during the entire month of February.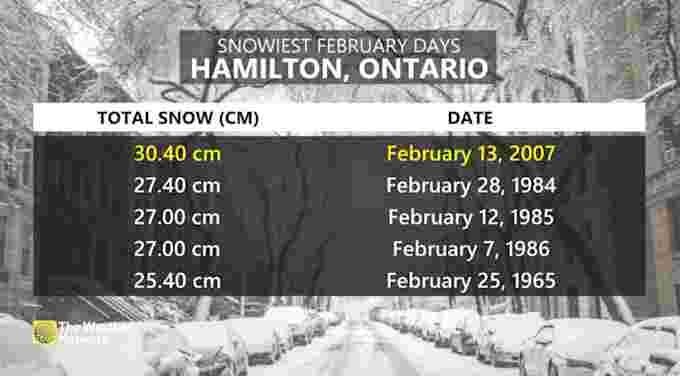 And if you're thinking, "February shmebruary...how about one-day snowfall records that include all the months?" Well, this day held its own. It's the fourth snowiest day in all of Hamilton history.
Not only is it the only February date that makes it into the top five snowiest days, but it's also the only day in the 2000s.
The snowiest day to ever hit Hamilton is Jan. 22, 1966, with a total of 43.2 cm.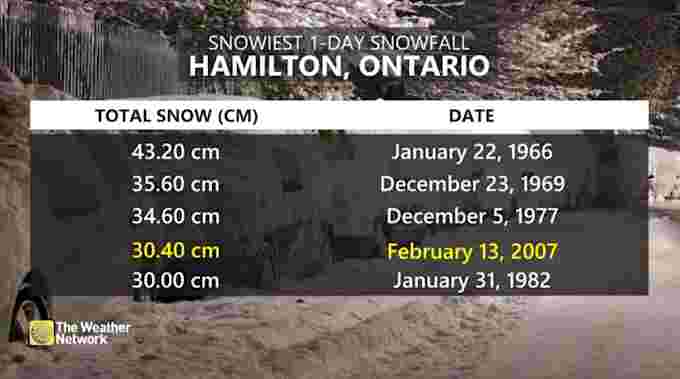 Hamilton was the hardest hit in the GTA.
On Highway 403, which extends from Woodstock to Mississauga and passes through Hamilton, a major accident essentially shut it down for hours. A tractor-trailer spun out of control and ended up perpendicular to the highway's lanes.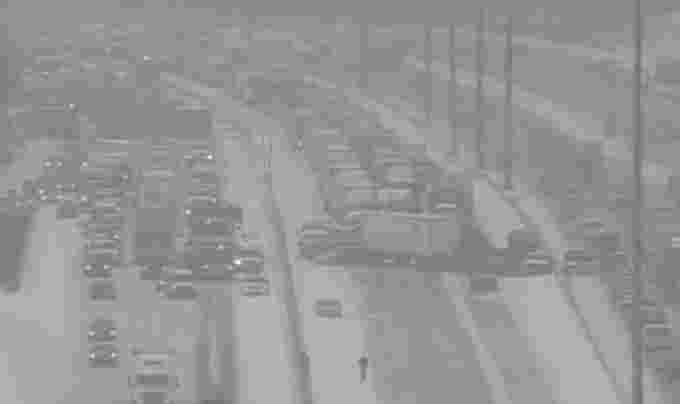 The storm killed 37 people across all impacted areas. According to the National Oceanic and Atmospheric Administration, the 2007 blizzard was a Category 3 "major" storm.
To learn more about the 2007 storm, listen to today's episode of "This Day In Weather History."
Subscribe to 'This Day in Weather History': Apple Podcasts | Amazon Alexa | Google Assistant | Spotify | Google Podcasts | iHeartRadio | Overcast'
Thumbnail image courtesy of Wikipedia