Sunday, December 20th 2020, 6:04 am - The December 2018 storm downed trees and damaged hydro equipment.
Subscribe: Apple Podcasts | Amazon Alexa | Google Assistant | Spotify | Google Podcasts | iHeartRadio | Overcast
On December 20, 2018, British Columbia was hit with a ferocious storm that caused the most hydro damage in the province's history.
The storm came in strong with more than 400 mm of rain and wind gusts that surpassed 100 km/h.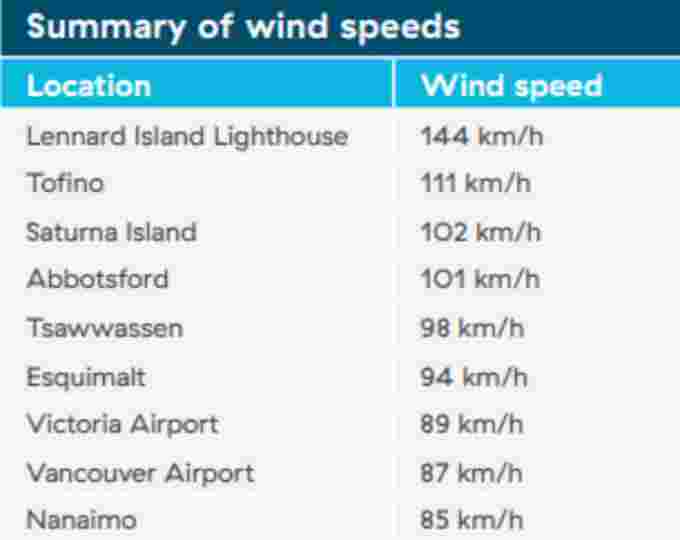 Courtesy Environment Canada
The extreme rain and wind combination caused trees to lose stability and blow over. As the branches and trees crashed to the ground, they took BC Hydro's electrical equipment down with them, too.
The damage to the hydro equipment caused 750,000 homes to lose power. Within the first 24 hours, BC Hydro was able to restore the power for more than 550,000 homes. But as seen in the chart below, 50,000 homes were still without power after 72 hours.
Courtesy BC Hydro
Chris O'Riley, BC Hydro's president and chief operating officer, said that "Responding to this storm involved our biggest mobilization of crews, equipment and materials ever." He added that "We had more than 900 field personnel working to repair damage to more than 1,900 spans of wire, 390 power poles, 700 crossarms and 230 transformers."
Listen to today's episode of "This Day In Weather History" to hear more about B.C.'s worst Hydro storm and how it compared to the province's August 2015 windstorm...check out the pictures below to see the aggressive conditions/aftermath.
Large trees are starting to come down in Shaughnessy, Kerrisdale and Dunbar. #Windstorm2018 #Vancouver @VancouverPD pic.twitter.com/Vk0zWypTmX

— Constable James Hooper (@4Echo13) December 20, 2018
Tree cleared from one southbound lane on Highway 99 north of Garibaldi Way. Huge thanks to motorists who used trucks, chains, and saws to move the tree!!! #squamish #BCstorm #BCHwy99 pic.twitter.com/5QKFocoV0n

— Squamish RCMP (@SquamishRCMP) December 20, 2018
This is a very crappy thing to happen to my neighbours just before Christmas. Hope everyone is okay. #BCstorm pic.twitter.com/AX1mtWaSjt

— 𝗦𝗮𝗶𝗱 𝗧𝗵𝗲 𝗪𝗵𝗮𝗹𝗲 🌲🌲🌲 (@saidthewhale) December 20, 2018
Getting closer to high tide. Several docks have drifted by.... one is lodged in my flower bed. Lots of logs on the lawn and sea wall #sunnytsawwassen #bcstorm pic.twitter.com/sU7FjHL2oD

— Pat Wong (@PatWong3) December 20, 2018
This Day In Weather History is a daily podcast by The Weather Network that features unique and informative stories from host Chris Mei.
Thumbnail courtesy of Mia Gordon