Sunday, December 12th 2021, 1:10 am - On Dec. 12, 2010, the Metrodome stadium's roof collapsed due to an extreme snowstorm.
This Day In Weather History is a daily podcast by Chris Mei from The Weather Network, featuring stories about people, communities and events and how weather impacted them.
--
"Fool me once, shame on you; fool me twice, shame on me," is how the proverb goes. Well, on Dec. 12, 2010, the Hubert H. Humphrey Metrodome in Minneapolis, Minn., was fooled for its fifth time.
From Dec. 10-11, 2010, there was a significant storm in Minneapolis. The wind was extreme and there was 43 cm of accumulated snow.
Because of the severe weather conditions, crews were pulled from clearing the snow from the Metrodome roof.
What seemed to be the inevitable occurred at 5 a.m. on Dec. 12, the roof collapsed.
The night before, Fox Sports had set up some cameras to record the upcoming Vikings game. The Fox crew noticed some water leaking from the roof so they left their cameras recording overnight. The cameras captured the entire journey of the roof collapsing.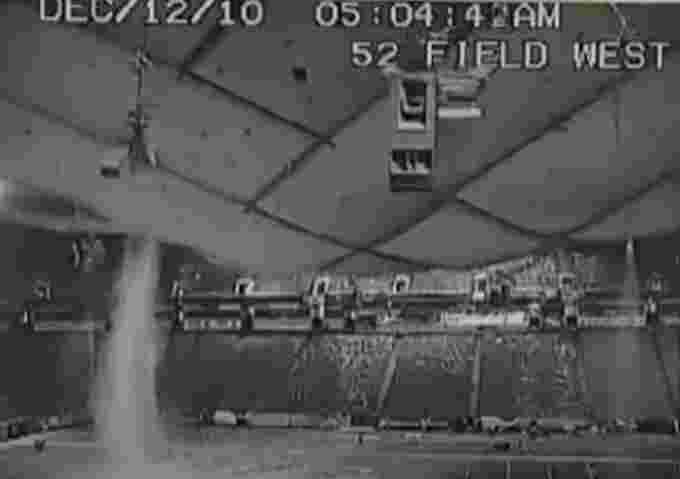 (Minnesota Sports Facilities Authority)
The Minnesota Vikings and the New York Giants were supposed to play at the field on Dec. 12, but the game was very much cancelled and rerouted to Ford Field in Detroit. That day the Vikings lost a roof and a game.

The deflated roof, a day after heavy snow and high winds from the December 11, 2010 blizzard caused the roof to tear and deflate. (Bobak Ha'Eri/Wikipedia/CC by 3.0)
Back to the concept of not learning from our mistakes. The Metrodome's roof had collapsed four previous times before its fifth and final in 2010.
The first time it collapsed was in 1981, before the stadium was even open. The second was during its inaugural year in 1982. The third collapse was in 1983. The fourth was only a partial collapse in 1986, so maybe officials thought it was learning and evolving.
Ultimately, the 2010 collapse led to the eventual demolition of the stadium, which occurred on Feb. 2, 2014.
To learn more about the inconveniences caused by the many Metrodome roof collapses, listen to today's episode of "This Day In Weather History."
Subscribe to 'This Day in Weather History': Apple Podcasts | Amazon Alexa | Google Assistant | Spotify | Google Podcasts | iHeartRadio | Overcast'
Thumbnail courtesy: Minnesota Sports Facilities Authority