Tuesday, August 11th 2020, 7:00 am - On Aug. 11, 1772, Mount Papandayan erupted for the very first time in its near 250-year history as an active volcano.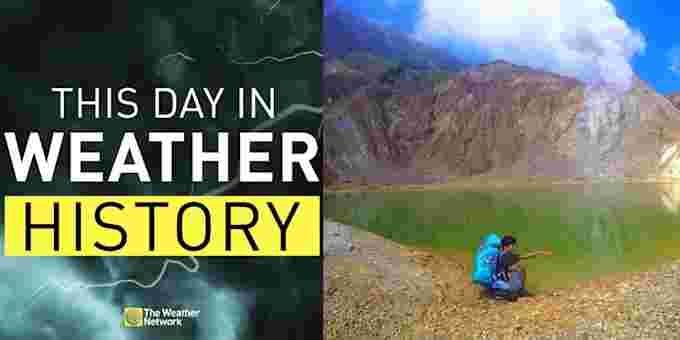 Mount Papandayan is a popular site for tourists, like numerous volcano sites around the world, for their awe-inspiring appeal to humans for their beauty and destructive, deadly power. It is a complex strato-volcano, located in Garut Regency, southeast of Bandung in West Java, Indonesia.
This particular volcano has that iconic look that we often see in movies because the lava cools and hardens quickly, building up many layers over time, creating that signature taller, steep shape. At the same time, this is the most dangerous type of volcano because of how explosive it is, producing toxic gas and flying volcanic fragments.
---
Click here to see more episodes of This Day in Weather History
---
At the summit of Mount Papandayan, there are four large craters, which are all active. It is also part of the Pacific Ring of Fire that lines the Asian Pacific Rim, as well as the west coastlines of North and South America.
One of the craters is called the "Golden Crater," aptly named for its colour that is caused by the build up of golden sulfur. Another volcanic crater with easy access in the same region is Kawah Putih. It is west of Mount Papandayan, in the nearby Bandung District.
On today's podcast, we go back almost 250 years to the first-ever Mount Papandayan eruption that occurred on Aug. 11, 1772.
"This Day In Weather History" is a daily podcast by The Weather Network that features unique and informative stories from host Chris Mei. Click here to listen and subscribe!
Thumbnail picture courtesy: by Dimas Respati (@dymsokei)