Tuesday, August 16th 2022, 12:00 am - Electric vehicles will dominate the light-duty vehicle market in the coming years but biofuel and synthetic fuels will power vehicles, ships, rail, and most aircraft for decades to come.
There will be more biofuel in your tank of gas starting next year. The federal government's new Clean Fuel Regulations that come into force in 2023 are designed to take a bite out of the transport sector's 25 per cent slice of Canada's carbon emission "pie."
The Clean Fuel Regulations' (CFR) replaces the federal Renewable Fuels Regulations that set a minimum renewable fuel content for gasoline, diesel fuel, and heating. The CFR is quite a bit more complicated, involving credit trading, but the general idea is to lower the carbon intensity of the fuels we consume three main ways:
Reduce carbon at the oil production and processing stage.
Increase the amount of biofuel (ethanol and biodiesel) blended with gasoline and diesel fuels.
Increase the number of electric vehicles.
The CFR had a 30 million tonnes (Mt) reduction target by 2030 on the transportation sector's annual emissions of 186 Mt when it was first proposed. The CFR underwent six years of consultations, lobbying, and negotiation and the final regulations were released this July. However, this will only reduce emissions three to six Mt by 2030, according to analysis by the Pembina Institute, an Alberta based non-profit supporting a clean energy future.
The CFR is a missed opportunity, says Evan Wiseman, Climate Policy Manager at the Toronto Atmospheric Fund, a regional climate agency that invests in low-carbon solutions.
"More needs to be done to drive down high-carbon fuels in transportation," said Carolyn Kim, a senior director at Pembina.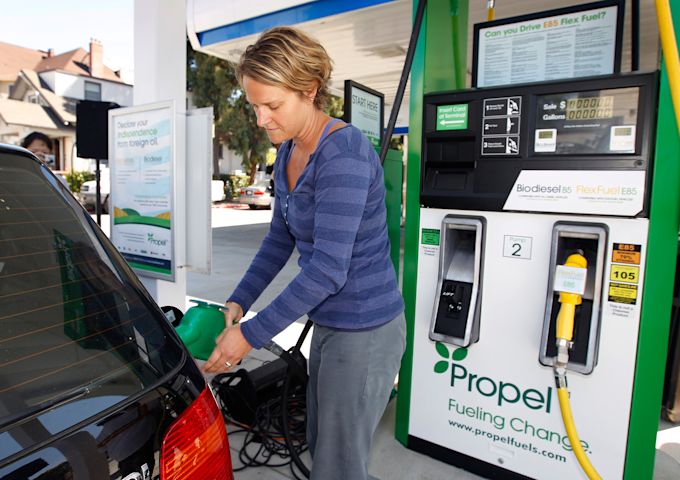 Casey Hiester fills her car with biodiesel fuel at a Propel gas station in Oakland, Calif. on Tuesday, Aug. 31, 2010. Hiester, an Oakland resident, had to drive into Berkeley to pump biodiesel until the station opened Tuesday. Propel plans on operating up to 20 stations in the Bay Area region. (Paul Chinn/ The San Francisco Chronicle/ Getty Images)
While the CFR will create a market for low carbon fuels, it does nothing to ensure auto manufacturers have electric vehicles (EVs) available for Canadians to buy, Kim said in a statement.
For the past few years, relatively few EVs have been available to buy in Canada. EV sales have averaged only 50,000 vehicles per year since 2018. The federal government has set a target of 60 per cent of new vehicle sales by 2030 must be EVs, reaching 100 per cent by 2035. That would be 1.2 million and 2 million EVs, respectively, according to Transport Canada.
To reach those targets a federal Zero Emissions Vehicle (ZEV) mandate is needed to require car manufacturers to ensure a percentage of all vehicles they sell in a year are EVs or another type of zero-emission vehicle. British Columbia and Quebec have ZEV mandates. A federal version has been in consultations for a number of years.
What the CFR will do is double or triple the production of biofuels by 2030, says Ian Thomson, president of Advanced Biofuels Canada, which is an industry association promoting the use of biofuels.
Depending on the province, most gasoline already contains five to 10 per cent ethanol. That will increase and reach an average 15 per cent ethanol blend by 2030. Cars and trucks built after 2001 can run fine with 15 per cent ethanol. Although blends reduce mileage since ethanol's energy density is about 33 per cent less than gasoline, Thomson told The Weather Network.
WATCH BELOW: Electric vehicles are only green if the power charging them is green too
Ethanol is made mainly from corn, but can also be made from wheat. More than one-third of Ontario's corn crop is turned into ethanol. Canada has 12 operational ethanol plants that made 1.28 billion litres of fuel ethanol in 2021. Canada also imported 1.2 billion litres of ethanol from the U.S. in 2021.
Biodiesel is made from soybeans or canola with some 460 million litres made in Canada last year.
There is a long and ongoing debate about the role of biofuels in reducing carbon emissions. A 2022 study in the Proceedings of the National Academy of Science concluded that corn ethanol was no better than gasoline in terms of carbon emissions when the entire lifecycle of growing, harvesting, and processing was included. In some instances, ethanol results in more emissions.
Other studies showing biofuels do reduce emissions, says Thompson, noting that lifecycle analysis is complex and the results are contingent on what's included in the analysis.
Since biofuels are made from crops that could be turned into food, there is another ongoing debate: food vs. fuel. Officials from Germany and Britain have recently lobbied for reductions in biofuel blends to help bring down high food prices. China ended its 10 per cent ethanol requirement in 2020, citing concerns over food security.
"Biofuel production doesn't affect food prices in Canada," said Thompson. "The cost of corn or soy is only a small component in the overall cost of a product."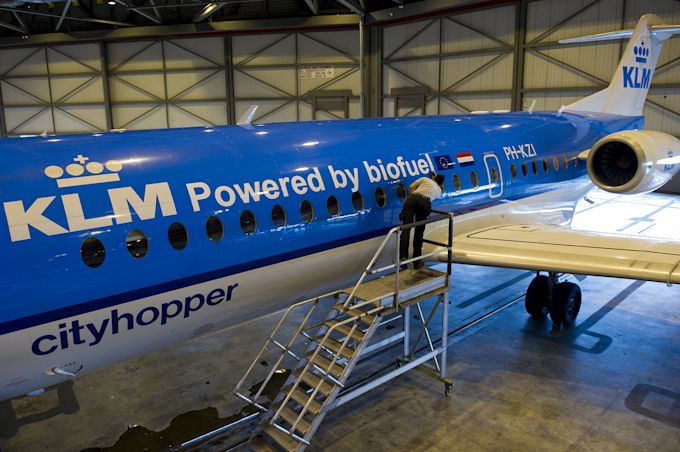 A worker prepares the KLM Fokker 70 cityhopper airplane before its first flight using biofuel, in Schiphol, on August 31, 2011. (Marcel Antonisse/ AFP/ Getty Images)
Globally, some 70 million acres of food-producing land is devoted to biofuels that provide less than five per cent of the world's transportation fuels. Plants aren't very good sources of energy as they only convert approximately 0.023 per cent of the sunlight energy they receive. A solar panel with 20 per cent efficiency converts 20 per cent of the sunshine it receives into electricity.
In addition, an EV is 400-500 per cent more energy efficient than a gasoline or diesel vehicle, stated energy expert Auke Hoekstra of Eindhoven University of Technology in the Netherlands in an email. As a result, an acre of solar panels can produce many times more energy for transportation than an acre of corn turned into ethanol.
Thompson agrees EVs will dominate the light-duty vehicle market in the near future; however, biofuel and synthetic fuels will be needed for decades to come for heavy-duty vehicles, ships, rail, and most aircraft.
Thumbnail image: Aerial view of busy road intersection and overpass. (AerialPerspective Images/ Moment/ Getty Images)