Thursday, October 13th 2022, 9:05 am - You may not have heard of 'Hemlock woolly adelgid' but it's making a serious impact on forests across parts of Canada.
These invasive species are harming eastern hemlock trees.
Hemlock woolly adelgid may be tiny, but they have no native predators and can reproduce on their own without mating. This means we just need one to cause an infestation.
These aphid-like insects are native to Asia. They have most recently been found across parts of Ontario, including the Greater Toronto Area, the Niagara region, and Coburg. After spreading through Eastern North America in the 1950's, the species were found across parts of Nova Scotia in 2018, and are still there today.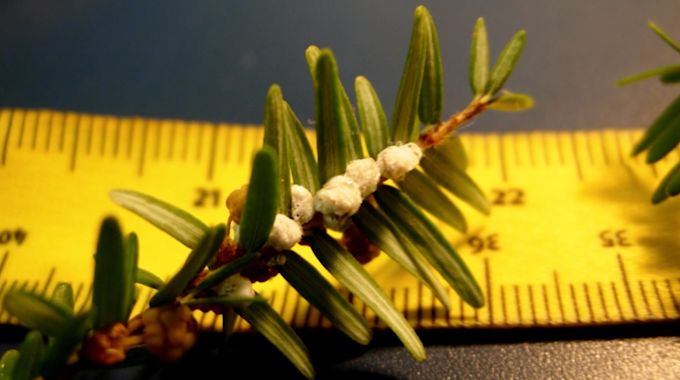 Hemlock woolly adelgid is an aphid-like insect that attacks and kills hemlock trees. (Source: Canadian Food Inspection Agency)
---
SEE ALSO: Eyes out for Ontario's only venomous snake, the Massasauga rattlesnake
---
The most shocking revelation is that these insects are likely here to stay.
"Based on the size of the populations we have in Ontario and Nova Scotia, it would be very unlikely for us to eliminate it from Canada." says Chris McQuarrie, a research scientist with Natural Resources Canada.
Hemlock Woolly Adelgid are often spotted by the wool they create. This helps protect them. Typically, if you spot the wool on a tree branch, you will find the bug. For the entirety of their lives, they cling to eastern hemlock trees; sucks the juices out of it. When it does this, it eventually kills the tree.
Hemlock trees are responsible for maintaining multiple ecosystem services. Luckily, there are ways you can help limit their spread:
Check firewood before transporting to a new location
Wash your clothing before and after visiting a forest
When exiting a forest, lint roller yourself
Report any Hemlock woolly adelgid sightings to the Canadian Food Inspection Agency
To learn more about this destructive invasive species, watch the video that leads this article.