Monday, May 3rd 2021, 5:00 am - Test alert coming to TVs, radios, and compatible wireless devices in most provinces and territories during Emergency Preparedness Week.
On May 5, 2021, a public test message will be distributed through Alert Ready, Canada's public alerting system, by most provincial and territorial emergency management organizations. Each participating province and territory will issue one test message to be distributed over television, radio, and compatible wireless devices.
WHY ARE TESTS DONE?
Regular testing of Alert Ready across the country is an important and necessary part of any public alerting system. It provides an opportunity to validate and improve the performance and reliability of the system and to ensure it operates as it is intended in the event of an imminent life-threatening situation. It also provides an opportunity to increase public awareness about the Alert Ready system and how it works on TV, radio, and compatible wireless devices.
Alert Ready Test Times - May 5, 2021 by Province/Territory: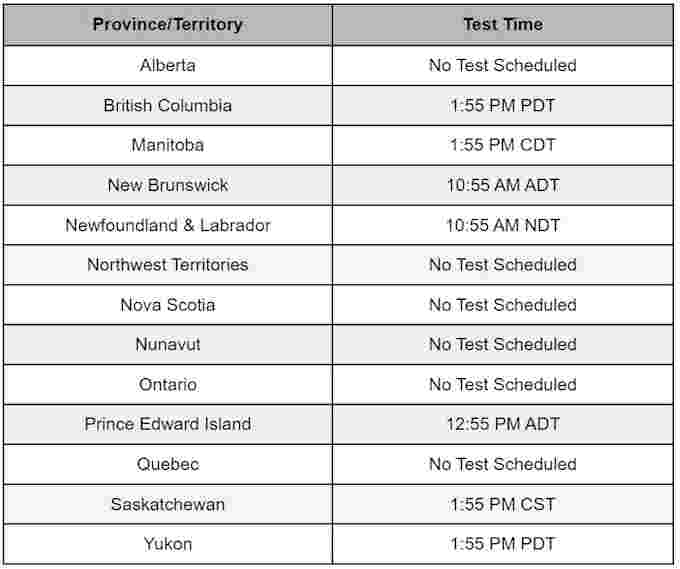 ALERT READY IS NOT JUST FOR AMBER ALERTS
In some provinces, AMBER Alerts have been a common alert that Canadians have come to expect receiving from the Alert Ready system. However, Alert Ready has been designed to deliver other critical and potentially life-saving alerts to Canadians.
In 2020, the Alert Ready system enabled government authorities to deliver 180 emergency alerts ranging from AMBER Alerts, tornadoes, floodings, fires, and civil emergencies. A comprehensive list of what type of alerts that can be distributed to the public can be found here.
CAN YOU OPT OUT?
Given the importance of warning Canadians of imminent threat to the safety of life and property, Canadians do not have the option to opt-out of this essential life-saving service. The objective of Alert Ready is to ensure Canadians are aware of a potentially life-threatening situation and distributing alerts via wireless, TV, and radio helps to ensure Canadians receive this important information directly or are in close proximity to someone receiving the alerts.
HOW THE WEATHER NETWORK PLAYS A PART
Pelmorex Corp., the parent company of The Weather Network, receives alerts from authorized alert issuers — which consists of provincial, territorial, and federal authorities — and makes those alerts available to alert distributors, including television, radio, satellite, cable, and wireless service providers.
The Weather Network is committed to keeping you safe and also distributes Alert Ready public alerts on all of its platforms. If you are watching us on TV or using our app, you will receive the test alert from us too.
ROLES & RESPONSIBILITIES
Alert Ready was developed in collaboration with federal, provincial, and territorial government agencies, Pelmorex, the broadcasting industry, and wireless service providers.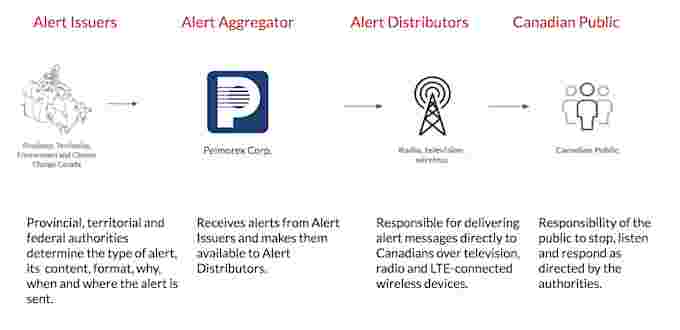 WHAT IS EMERGENCY PREPAREDNESS WEEK?
Emergency Preparedness Week (EP Week) is an annual national event that has been held for over 25 years and takes place during the first full week of May to provide an opportunity for Canadians to become better prepared for emergencies. EP Week is coordinated by Public Safety Canada, in close collaboration with provincial and territorial emergency management organizations, Indigenous organizations, non-governmental organizations, and private sector who support activities at the local level.
This year's theme is Emergency Preparedness: Be Ready for Anything. For more information on EP Week click here.