Friday, October 7th 2022, 8:15 am - Blustery, crisp and cool autumn air will be making things feel much more like November as we kick off the Thanksgiving long weekend in Ontario
It's only the beginning of the month, but it sure feels like Ontario fell asleep in October and woke up in November.
A cold front sweeping its way across Central Canada will usher in a dramatic reversal of atmospheric fortunes along its path, pushing away comfortable temperatures and allowing a late-autumn chill and even some snow to descend on the region in time for the long weekend.
---
DON'T MISS: Canada's October outlook: what you can expect this month
---
For northern Ontario, places like Timmins and Sudbury even woke to some snow Friday morning. A couple more rounds of flurries are possible for northern regions this long weekend as a few cold fronts pinwheel through colder than normal temperatures locked in an upper level trough.
High temperatures will barely push the double-digits in Toronto and Ottawa during the day on Friday, with folks up in cottage country dealing with temperatures mired in the single digits.
If Toronto only reaches 11°C on Friday, it'll be the city's first 11-degree high in 169 days: Our last daytime high of 11°C or below was a chilly 4.2°C reading on April 27.
Barrie's forecast high of 7°C on Friday afternoon is a degree of briskness one would expect to see in the second week of November instead of on the eve of the Thanksgiving long weekend.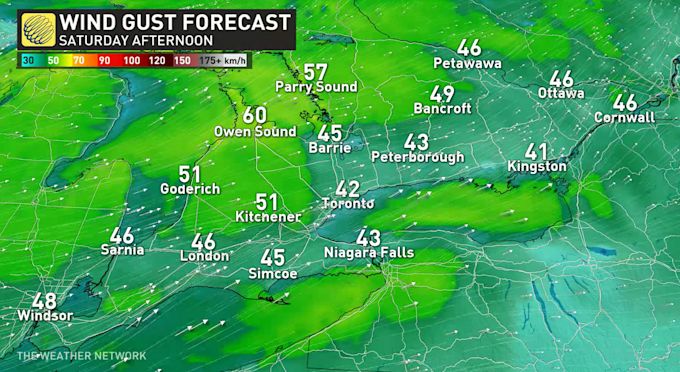 Northwest wind gusts of 40-60 km/h are forecast through Friday and Saturday, with calmer winds expected for the second half of the weekend.
Frosty air will flood into the region on the currents of gusty winds, which will make the cool temperatures feel even colder for many areas.
Clear skies and cold conditions on Friday night will allow patchy frost to develop throughout parts of the Greater Toronto Area (GTA), with a widespread frost and freeze possible north and west of the GTA.
The best opportunity to see a touch of snow on the ground will be north of Highway 17, but we could see some flakes flying as far south as southern Ontario.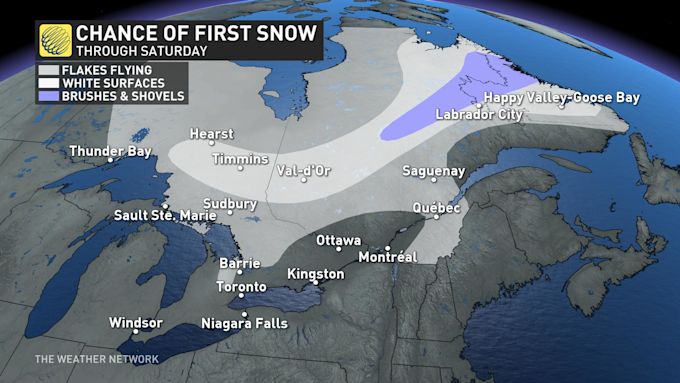 This setup will lead to lake-effect showers blowing off of Lake Huron and Georgian Bay on Saturday. If temperatures are cool enough, some of that rain could transition or mix with wet flurries. This possibility is more likely in higher elevations early Saturday morning in southern Ontario.
Chilly weather will remain for the start of the long weekend, but temperatures should rebound to near-seasonal by Sunday and Monday. We could even see a few days of milder weather come next week.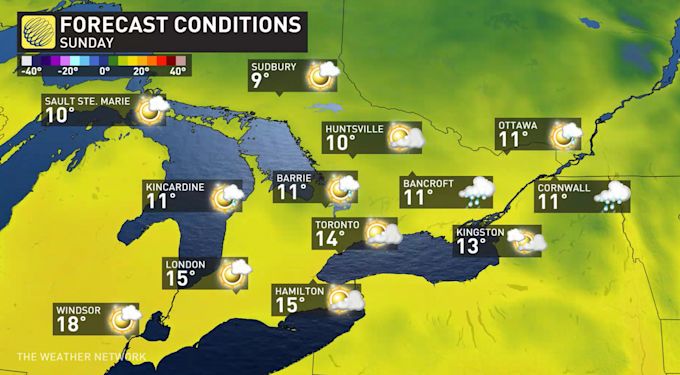 Will the pattern shift in October?
As October progresses, there are several signals in the global pattern that support a shift in the cool pattern, which would allow the warmer than normal weather in the west to spread back east into Eastern Canada, according to Dr. Doug Gillham, a meteorologist at The Weather Network.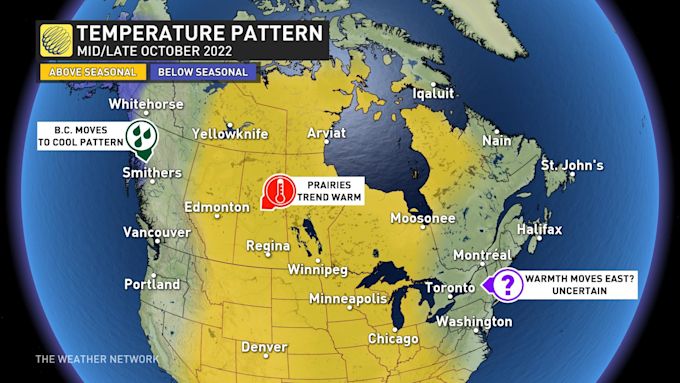 "However, our forecast confidence for the middle and end of October is lower than normal," said Gillham in The Weather Network's October outlook.
But, we still think that the second half of October will bring periods of milder weather, but we are also concerned that the early pattern will continue to show up at times during the latter portion of the month.
WATCH: The best time for you to switch to winter tires
Check back for the latest on conditions across Ontario.