Wednesday, February 24th 2021, 7:08 pm - 'I just couldn't believe what I was seeing' says P.E.I. woman who turned in the loose seal
Lillian Reynolds was about to make coffee Sunday morning when she looked out her Charlottetown kitchen window and saw a seal wiggling down the sidewalk.
Wait — a what?
"I had to take a double-take because I just couldn't believe what I was seeing," the P.E.I. woman said.
"I went into panic mode and grabbed my phone and called 911. I just said 'There's a seal travelling down Patterson Drive on the sidewalk.' "
Concerned that it might get hit by a car or attacked by a dog, Reynolds went outside to protect the seal and tried to comfort it until Charlottetown police arrived.
But the surly seal, possibly tired and disoriented, was in no mood to mingle.
"He was, I think, probably cursing at me in seal language," Reynolds laughed. "He was quite upset, but I don't blame him. I would be, too.
"I just said, you know, 'We're going to take care of you, don't worry about it.' Then he was like 'arr, arr, arr' at me."
When police arrived at Patterson Drive, which is about 800 metres away from the nearest body of water, they tried to corral the seal in an emergency blanket, which wasn't easy in snow up to their knees.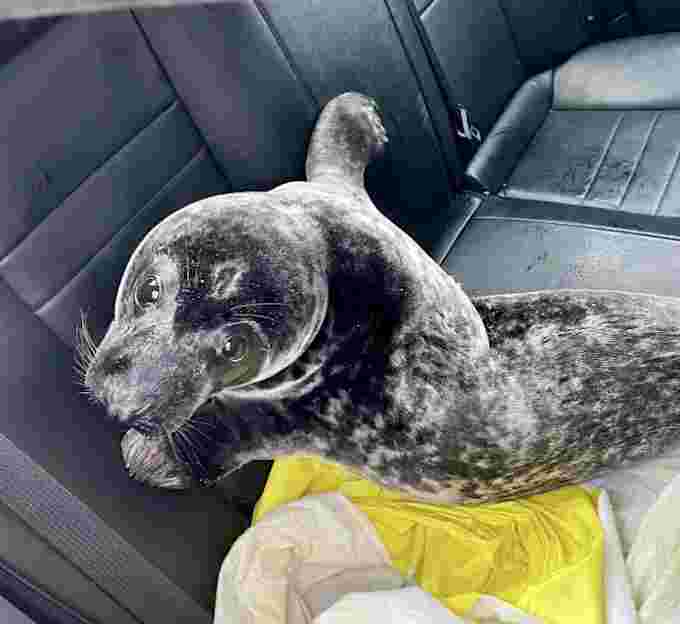 A seal found making its way down the sidewalk in Charlottetown was placed in the backseat of a city police cruiser and driven back to the water. (Charlottetown Police Services)
'IT WAS JUST LIKE A TV SHOW'
"He was slipping and sliding off the blanket," Reynolds said. "It was just like a TV show."
The officers managed to get the seal wrapped in the blanket and put it in the back of the cruiser.
"He was feisty. Yeah, he was a little feisty, not real co-operative," said Const. Justin Drake.
The Charlottetown police officer said the seal call was a first for them and they needed some expert advice.
After consulting with a representative from the federal Department of Fisheries and Oceans, the officers drove the seal to the water where it was released back into its natural habitat.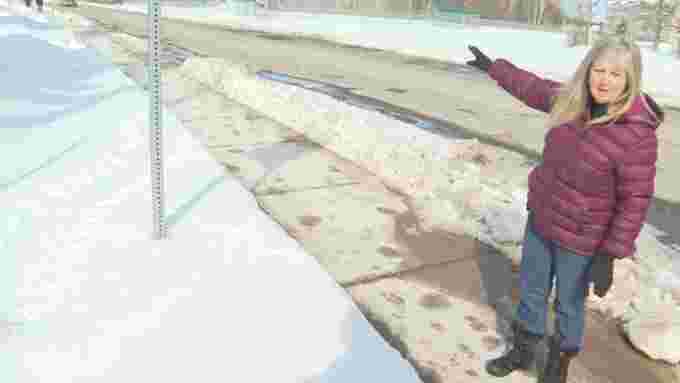 Lillian Reynolds says she saw the seal wandering along the sidewalk on Patterson Drive in Charlottetown on Sunday. (Danny Arsenault/CBC)
Wildlife officials have told CBC News within the last week that they are getting more reports of seals making it onto land because of the lack of sea ice in Maritime waters this winter.
Female seals usually give birth on thick ocean ice but that has occasionally been a scarce commodity, so many of the animals come onto land to deliver their pups.
Reynolds said she is thankful that nobody got hurt during the slippery adventure on her street.
"It makes me feel good. It was such a nice story for these times, these days, that something could be so uplifting."
With files from Danny Arsenault.
This article was originally published by CBC News and written by Shane Ross.