Monday, August 1st 2022, 8:30 pm - The majority of Alberta is under severe thunderstorm watches and warnings. Supercells have formed, triggering tornado watches and warnings for central and southern regions of the province.
Portions of the Prairies are enduring yet another day of severe weather on Monday. After a tornado was confirmed in Alberta during Sunday's severe storms, the same risk, watches, and warnings resurfaces in the province Monday. Central Alberta is where forecasters will be paying close attention to, as well as parts of western Saskatchewan, where the supercell risk is highest. One or two tornadoes are possible. More on what to expect for the first day of August, below.
---
MUST READ: Everyone needs a home emergency kit. Here's how to stock yours
---
Monday: Severe weather trend continues on the Prairies, supercell, tornado risk in Alberta
Sunday yielded multiple tornado-warned storms in parts of Alberta and Saskatchewan, including at least one confirmed tornado.
A low-pressure system developing across Alberta Monday is bringing the threat of severe storms to central and southern areas of the province, as well as parts of western Saskatchewan.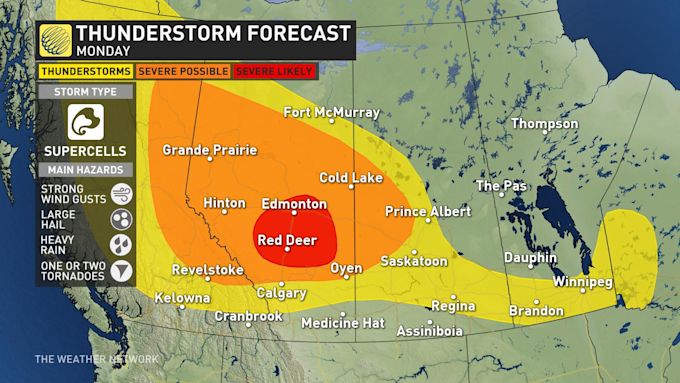 "With good dynamics in place, and ample energy available, severe thunderstorms will be likely through much of the province," says The Weather Network Meteorologist Tyler Hamilton. Storms could impact a large swath including Grand Prairie, Red Deer and Edmonton, Alta., for example.
Severe storms are popping up Monday evening, capable of producing large hail. Some regions of central and southern Alberta have already experienced supercells and consequential tornado watches and warnings. Lloydminster and North Battleford in Saskatchewan is at risk of experiencing the same severe weather.
As well, a squall line is more likely to develop for towns in eastern Alberta and near the Alberta-Saskatchewan border as the storms progress through the evening.
Daytime highs remain well above normal for southern areas of the Prairies, with temperatures into the mid-30s and heat warnings still in place.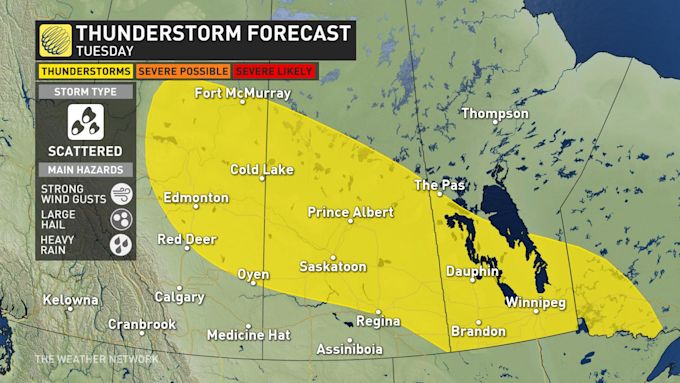 The heat breaks Tuesday as a ridge slides farther south and out of the region. The thunderstorm risk for Tuesday slides into central Saskatchewan and Manitoba, also remaining in northern Alberta.
Temperatures drop back to near seasonal across most of the Prairies on Tuesday.
For the full Prairies forecast, watch the video above.