Sunday, March 27th 2022, 12:22 pm - Travel conditions can quickly deteriorate when snow squalls strike.
Although April is just around the corner, southern Ontario will face icy temperatures on Monday due the bottom side of the polar vortex dipping over the Great Lakes.
This surge of chilly Arctic air will push temperatures more than 10°C below normal for the end of March and will likely surpass some daily record low temperatures. In fact, it's likely that the GTA will be colder than parts of Nunavut.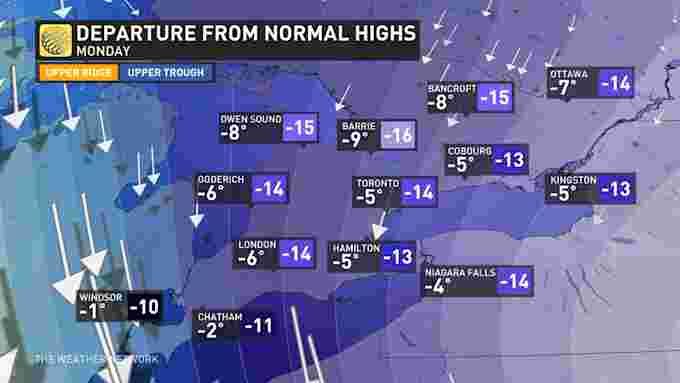 Monday morning's low temperatures across northern Ontario will dip into the -20s, while parts of southern Ontario will be into the minus double digits and teens.
With some lingering gusty northwest winds, wind chills will make temperatures feel even colder, approaching -20 by early Monday morning. These temperatures will likely be a bit of a shock to the system as it has been a couple weeks since temperatures have been this cold.
Northwest winds will remain locked in place over Lake Huron until Monday afternoon and two strong squalls between Goderich and Port Elgin will likely lead to road closures thanks to the blowing and drifting snow.
An additional 10-20 cm is expected in areas where the bands of snow persist. The squalls will be strong enough to reach Highway 401 between London and Woodstock before dissipating in the evening.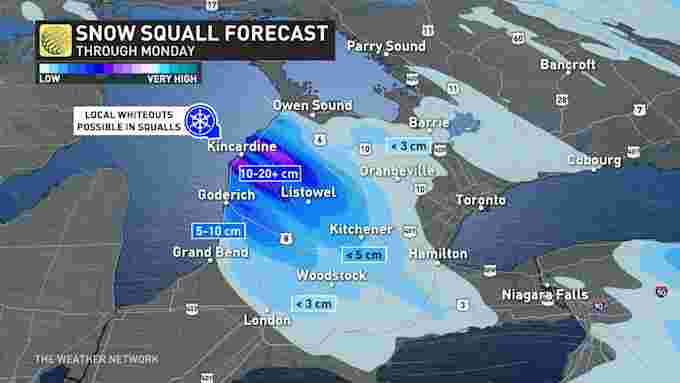 "Prepare for quickly changing and deteriorating travel conditions. Surfaces such as highways, roads, walkways and parking lots may become difficult to navigate due to accumulating snow. Visibility will be suddenly reduced to near zero at times in heavy snow and blowing snow," states the Environment Canada and Climate Change weather advisory for York - Durham.
"Snow squalls cause weather conditions to vary considerably; changes from clear skies to heavy snow within just a few kilometres are common."
---
Visit our Complete Guide to Spring 2022 for an in-depth look at the Spring Forecast, tips to plan for it and much more!
---
While this temperature dive will prove to be short-lived, chilly temperatures will persist into the beginning of April, with no sustained warm weather in sight.
A low pressure system system will track into the region on Wednesday, as March goes out like a lion. The storm track favours rainfall and a brief warm-up across southern Ontario, but at this point it looks like freezing rain will be possible in some of the same regions that saw the ice on Wednesday.
If this storm takes a track as far to the north and west as the models currently show, then we would see a brief warm-up into the teens in southern Ontario on Thursday.
Be sure to check back for the latest updates on the changing conditions across Ontario.
---
Subscribe to 'This Day in Weather History': Apple Podcasts | Amazon Alexa | Google Assistant | Spotify | Google Podcasts | iHeartRadio | Overcast