Thursday, July 11th 2019, 7:20 pm - Residents across southern Manitoba are advised to monitor the forecast closely as severe weather is expected to continue through Thursday evening. A tornado watch is in effect for parts of southern Manitoba, including Winnipeg.
Thunderstorms are firing up over parts of the Prairies as a cold front marches south to meet hot, humid air. Environment Canada has issued a tornado watch for much of southern Mantiboa, including Winnipeg, as strong storms are expected to persist and drift eastward through the evening. Residents are advised to montior the forecast closely and to take shelter immediately when severe weather approaches. More details on the threat for large hail and potential tornadoes through the day Thursday, below.
---
WEATHER HIGHLIGHTS:
Thunderstorm threat stretches across western Canada Thursday, most severe weather expected in southern Manitoba
Torrential downpours, large hail, strong winds the biggest threats
Unsettled, active pattern persists through the weekend and into early next week
Stay up-to-date on the weather ALERTS in your area
---
A powerful low that produced at least one tornado in northwestern Alberta on Monday continues to chug eastward with parts of southern Saskatchewan and Manitoba in its sights on Thursday.
Environment Canada issued a tornado watch for a swath across southern Manitoba and northwestern Ontario, including Winnipeg, around 2:30 PM CDT, in anticipation of the storms. Numerous severe thunderstorm warnings have since started to spring up across the southern Interlake region, southwestern Manitoba, and even across the border into Saskatchewan as the front pushes south.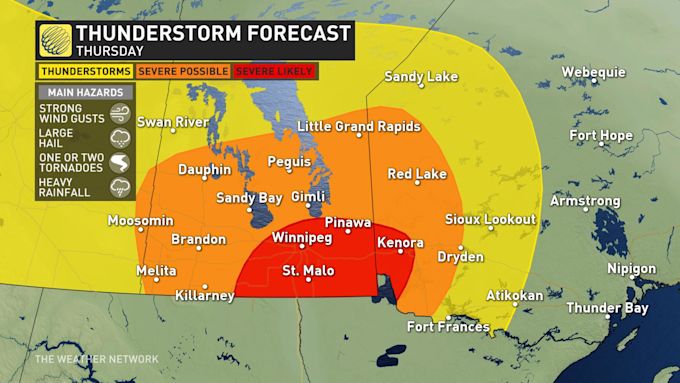 The main hazards with these storms will be torrential rain and large hail -- up to ping-pong ball size for extreme southern Manitoba. Isolated tornadoes are also possible through the early evening hours.
A tornado watch does not mean a tornado has been spotted, however, it is issued when atmospheric conditions are favourable for the development of thunderstorms that could produce tornadoes.
Residents are advised to monitor the forecast closely and prepare to take shelter immediately if and when severe weather strikes.
By Friday, the system will have moved off into northern Ontario, giving a bit of a break to the storm-riddled Prairies.
WATCH BELOW: TRACKING THIS WEEK'S WEATHER-MAKER
WEEKEND AND BEYOND - UNSETTLED WEATHER CONTINUES
This unsettled, active pattern is set to persist for the near future, as disturbances continue to make their way over the Rockies and spark storms across the Prairies.
There is some good news for hot weather fans, however; most of the fronts -- including this week's -- will have a hard time drawing much true cold air down from the north, meaning temperatures stay balmy and recover quickly.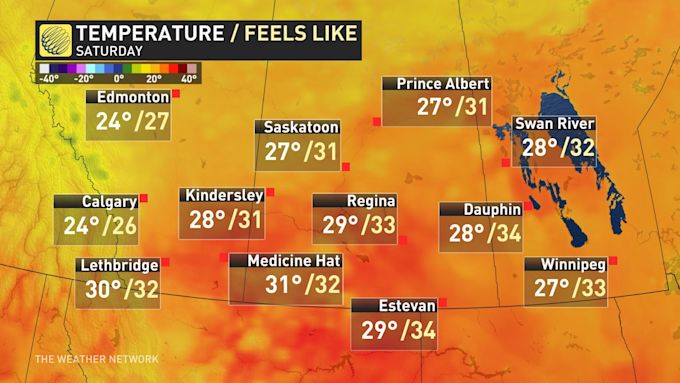 WATCH BELOW: A CHILLING WEATHER PHENOMENON (TURN UP YOUR SPEAKERS)