Monday, August 3rd 2020, 6:13 am - After a stormy Sunday afternoon in eastern Ontario, the potential for severe storms will shift to the southwest Monday.
Long-lived showers and the occasional severe thunderstorm marked the midpoint of the Civic Holiday long weekend, along with possible tornadoes in eastern Ontario. For Monday, the most severe storm risk shifts to the southwest up to the western edge of the GTA, while beyond, temperatures dip markedly into the midweek before creeping up again into next weekend. For a closer look, see below.
---
WEATHER HIGHLIGHTS:
Threat for severe weather shifts to southwestern Ontario Monday
Seasonal temperatures linger Monday
Storm risk remains Tuesday, but non-severe, with slightly cooler temperatures
Keep an eye on weather ALERTS in your area
---
MONDAY: SEVERE RISK LINGERS, TEMPERATURES REMAIN SEASONAL
Monday will have a similar unsettled pattern, with a boundary holding over western New York and Lake Erie. This will help enhance the lake breeze convergence through the afternoon hours. The setup is likely to spark training and slow-moving storms in the southwest, from Lake St. Clair to the western GTA.
These areas will be at risk of seeing storms reach severe limits, with the main hazards being torrential rainfall and localized flooding.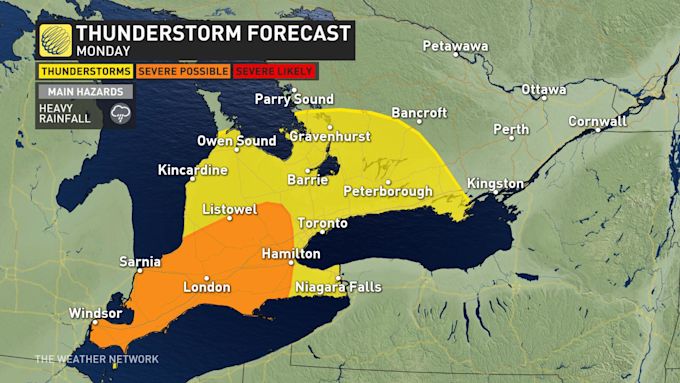 Temperatures will remain near seasonal, with daytime highs in the low- to mid-20s across the south. Humidity won't be much of an issue, with humidex values around the 30-degree mark.
TUESDAY: RAINFALL, LINGERING STORM RISK, DIP IN TEMPERATURES
Beyond the long weekend, temperatures may dip below a few degrees below seasonal on Tuesday in southern Ontario as the front is expected to usher in slightly cooler air. Daytime highs will be in the low- to mid-20s.
As well, there will be a lingering non-severe storm risk across the south, stretching from the southwest to along the Lake Ontario shorlines, extending into cottage country and eastern areas along the Quebec border. It is a result of a lingering boundary, with the front still chugging along.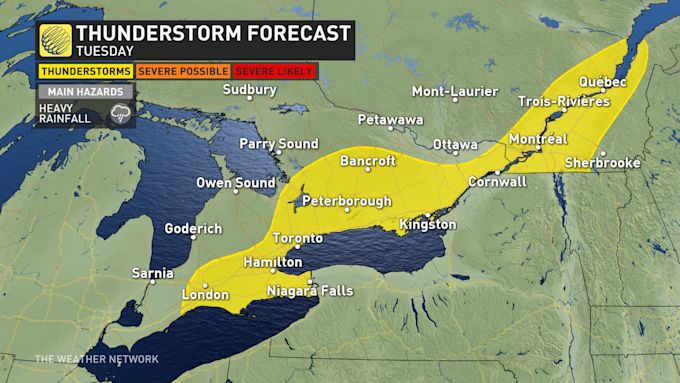 Through Tuesday, rainfall totals could be hefty in some areas of Ontario, with up to 40 mm for the Nickel Belt region, while a general 10-30 mm is expected across the south.
Meanwhile, good news for those who love the heat: It is expected to return by next weekend.
Check back as we continue to monitor the forecast.
RECAPPING A SEVERE SUNDAY IN ONTARIO