Wednesday, May 25th 2022, 8:49 pm - Widespread instability across the Prairies will lead to another risk for thunderstorms on Thursday. Some of the storms could be severe.
The warm air parked over the Prairies will lead to another widespread risk for thunderstorms across the region as we head into the day on Thursday. Some of the storms could even reach severe limits in Manitoba. Heavy rain will continue on the northern Prairies into the weekend. More on the timing and impacts, below.
MUST SEE: Deadly derecho hits Central Canada
THURSDAY: ANOTHER ROUND OF STORMS POSSIBLE
Warm, unstable air across the Prairies will lead to a widespread risk for thunderstorms throughout the region again on Thursday.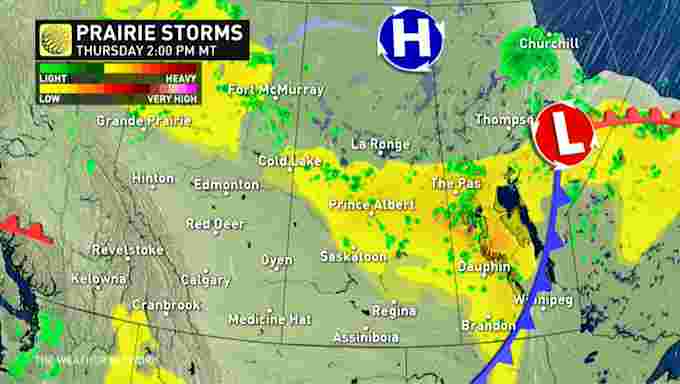 This widespread risk for storms will stretch from the Yukon to northwestern Manitoba, including northeastern British Columbia, northern Alberta, and sections of Saskatchewan and Manitoba.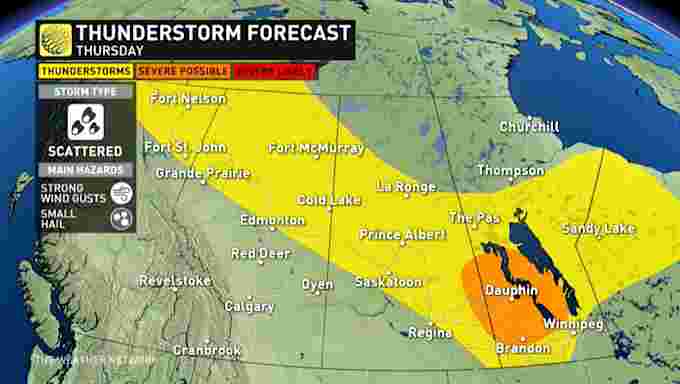 Elevated instability close to the centre of low-pressure will lead to a risk for severe thunderstorms in parts of southern Manitoba, including Dauphin and much of the Manitoba Lakes. The strongest storms that pop up in this region could produce strong wind gusts and small hail.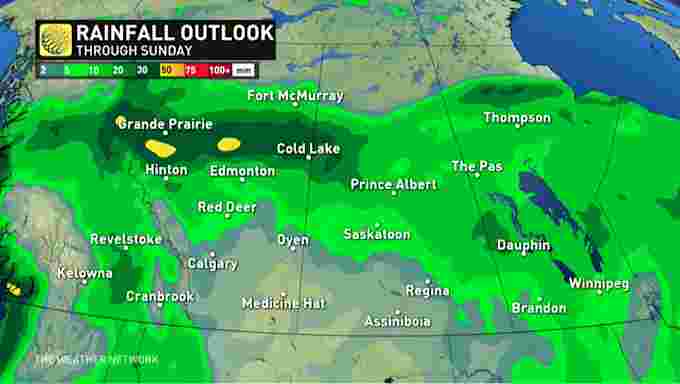 Rain will continue adding up on the northern Prairies, with 30-50 mm of rain expected through Sunday across portions of northern Alberta and northeastern B.C. General totals of 10-20 mm are expected across wide swaths of Saskatchewan and Manitoba.
LOOK AHEAD: MUCH COOLER WEATHER SETTLES IN
Much cooler weather will spread across the region this weekend and through the first half of next week, with a wet and unsettled pattern expected to return Friday night, continuing through the weekend and into early next week as well.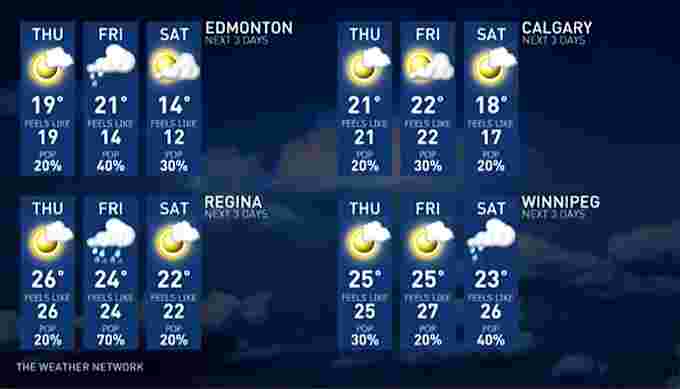 Be sure to check back for the latest weather updates across the Prairies.