Sunday, July 3rd 2022, 10:51 am - The risk for severe thunderstorms will resurface in parts of southern Alberta and Saskatchewan Sunday, with hefty amounts of rainfall for some in the former through mid-this week.
--
Another day, another chance of severe weather for parts of the Prairies. The stubborn, stormy pattern is in place due to an unstable air mass, upper-level blocking pattern and a system. On Sunday, we will see the threat of severe storms bubble up in parts of southern Saskatchewan and Alberta, though a less potent risk does exist in southern Manitoba. More on the timing, storm risks and what you can expect into this week, below.
---
READ MORE: The best coolers for you and your drink this summer
---
SUNDAY: THREAT OF SEVERE STORMS BUBBLES UP AGAIN ON PARTS OF THE PRAIRIES
Unstable air flowing over the southern Prairies will lead to another chance for thunderstorms across the provinces Sunday. The greatest threat of severe storms will bubble up in parts of southern Saskatchewan and southeastern Alberta.
The recent stormy pattern is the result of an upper-level blocking pattern that's wedged itself in place over Western Canada. Not only is this atmospheric block responsible for the storms rumbling across the Prairies this long weekend, but it's also why they have avoided extreme heat lately.
MUST SEE: Make the sun work for YOU with these solar powered gadgets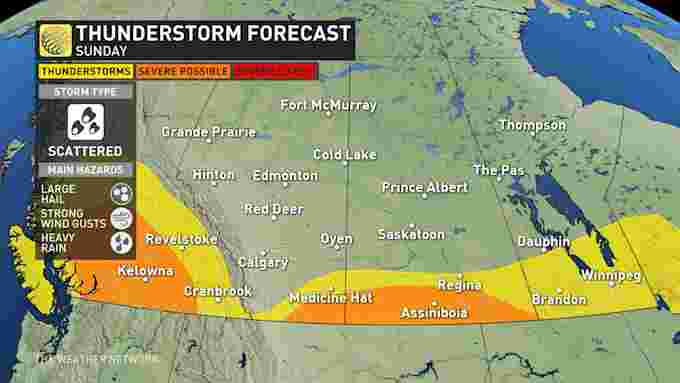 Any severe storms that do initiate will be scattered, but could bring large hail, heavy rain and strong wind gusts.
Rainfall through Wednesday will come in around 10-30 mm across the southern half of the Prairies, though higher amounts likely in thunderstorms, with heavier totals likely for the Alberta foothills.
Some areas could see 50 mm of rain through Wednesday.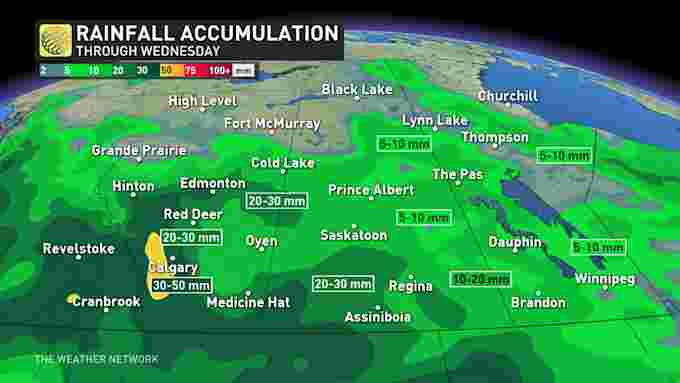 Beyond the weekend, warmer weather will begin to build across the region again next week as the blocking pattern breaks down. We'll see a stretch of days with high temperatures in the mid- to upper-20s, with the potential for temperatures and humidex values in the low 30s across southern regions.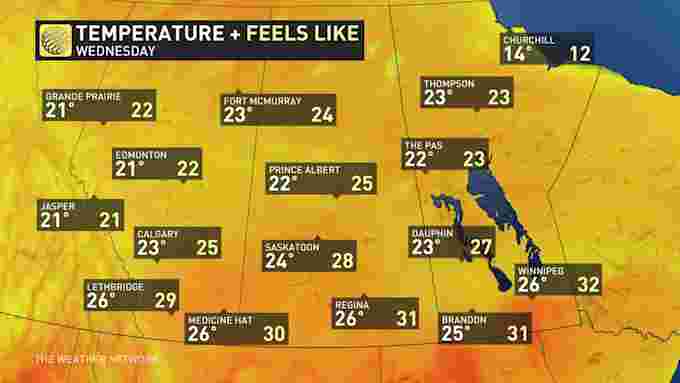 Extreme heat should remain south of the border for this first full week of July.
Thumbnail courtesy of Lee Asplund, taken in Brooks, Alta.
Stay tuned to The Weather Network for the latest on the storm risk on the Prairies.