Saturday, May 28th 2022, 8:57 pm - A widespread risk for severe thunderstorms will end the weekend on the Prairies. Heavy rain with a risk for flooding will threaten already hard-hit areas.
An unsettled pattern is here to stay across the Prairies as we round out May and look ahead toward the first week of June. A risk for severe thunderstorms will cover the eastern Prairies on Sunday, serving as a bumpy prelude to yet another round of heavy rain for flood-stricken Manitoba. More on what to expect Sunday and the week ahead, below.
---
DON'T MISS: Mosquitoes swarming? 6 things to keep them from bugging you
---
SUNDAY: RENEWED STORM RISK KEEPS FLOODING POTENTIAL ELEVATED
Widespread instability will lead to a risk for thunderstorms across all three Prairie provinces during the day on Sunday. Conditions are favourable for these storms to turn severe across the eastern provinces, with Manitoba and northwestern Ontario facing the greatest severe risk.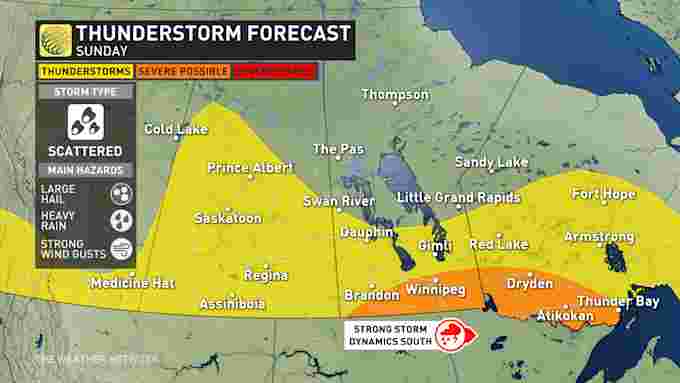 The strongest storms that form could produce heavy rainfall, large hail, and strong wind gusts. Some rotation isn't out of the question, especially near the international border, as the most favourable dynamics for severe weather will unfold stateside.
The threat for heavy rain in thunderstorms is particularly unwelcome news for southern Manitoba, which has experienced considerable spring flooding.
RELATED: Winnipeg River, already flowing at a record volume, slated to rise even higher
LOOK AHEAD: COOLER AND UNSETTLED WEATHER ON THE WAY
Much cooler weather will spread across the region this weekend and through the first half of next week, with temperatures sitting 5-10 degrees cooler than seasonal.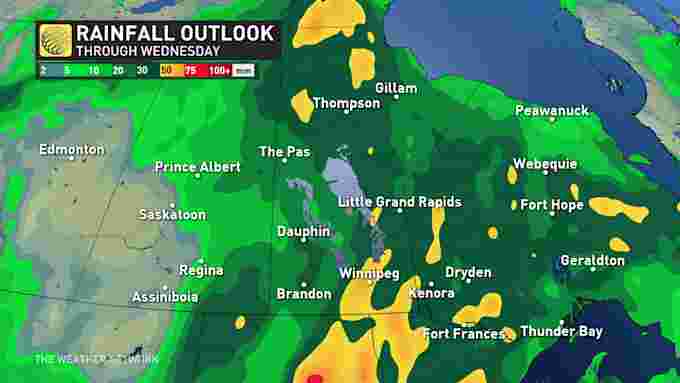 A stronger system will bring widespread rain and thunderstorms late Monday through Tuesday, resulting in more serious delays in spring planting, which is already a couple weeks behind schedule. May 31 is a critical deadline for many farmers to decide if they will attempt to move forward with the season or cash in on crop insurance.
A disappointing forecast for southern Alberta farmers over the next week as the widespread rain will stay south of the border. With just scattered showers, most will miss out on the much-needed soaking rain. Model data does show a rather favourable pattern for beneficial rain for the second week of June, but we have seen a lot of false hope turn into a dry forecast, so this is just something that we will watch closely for now.
Be sure to check back for the latest weather updates across the Prairies.