Sunday, June 26th 2022, 8:52 am - Sunday looks to be another hot and muggy day for southern Ontario. A cold front will send temperatures falling, but not without a risk for afternoon and evening thunderstorms.
--
The conclusion to the final weekend in June will be hot and sticky in southern Ontario, accompanied by the chance of thunderstorms before a cold front cuts away the heat and humidity for Monday. The risk will be scattered and not everyone will see rain, however, so the day won't be a writeoff. Just be weather-aware when heading outside. This week will start off cooler, but temperatures will get progressively warmer as we approach Canada Day. More on what you can expect Sunday and beyond, below.
DON'T MISS: The best fans to make it through summer heat waves
SUNDAY: HEAT COMES WITH STORM RISK BEFORE TEMPERATURES DROP
Heat warnings remain in effect through the day on Sunday for the city of Toronto, and the Halton-Peel and Windsor-Essex-Chatham-Kent regions as hot temperatures and high humidity remain. Daytime highs will climb into the low 30s for most of the area.
It will be the last day for the hot, muggy conditions as a cold front drifting south across the province will bring the opportunity for scattered showers and thunderstorms through the latter half of the day.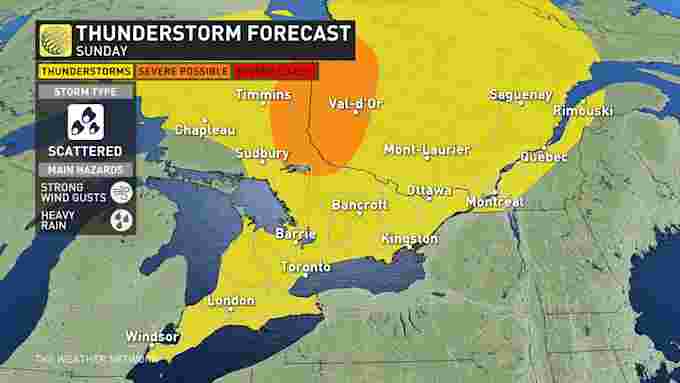 However, Sunday won't be a washout by any means, and not everyone will see a storm, but the front plowing into the muggy air will create a risk for pop-up storms here and there.
The threat for thunderstorms will begin to rise around noon for parts of southern Ontario, continuing into the evening until the front pushes through. Any storms that do initiate could produce locally heavy rainfall and strong wind gusts.
After dinner hour and into the late evening, much of cottage country and eastern Ontario will see thunderstorms and heavy showers.
While storm activity will be scattered across southern Ontario, we'll see more widespread activity across cottage country and in the northern sections. The greatest chance for organized severe weather will fall across far northern Ontario towards James Bay, extending into northwestern Quebec.
TIPS FOR HEADING OUTSIDE IN THE HEAT
--
LOOK AHEAD: REPRIEVE FROM HEAT AS TEMPERATURES COOL OFF, BUT COULD RETURN FOR CANADA DAY
Temperatures and humidity levels will fall behind the front, leading to a much more comfortable Monday for southern Ontario. As well, winds out of the northwest will pick up across the region, gusting between 40-60 km/h in the afternoon and early evening.
Cooler weather will linger through early this week, with temperatures coming in several degrees below seasonal. Daytime highs will fall into the low 20s to start the last week of June.
Temperatures will then trend closer to near seasonal for the middle of this week with a risk for thunderstorms.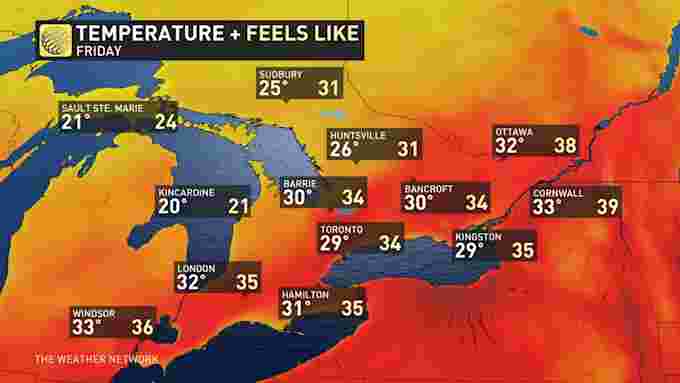 Forecasters are also watching the potential for one or two days of hot and humid weather late week, most likely by the arrival of Canada Day. Heat is most likely for southern Ontario but there is lower confidence for the Ottawa Valley.
However, an approaching cold front is expected to bring a threat for thunderstorms followed by cooler weather for the rest of the long weekend.
Stay tuned to The Weather Network for the latest forecast updates for Ontario and Quebec.