Tuesday, April 27th 2021, 11:12 am - The mostly unsettled nature of this month has pushed St. John's, Newfoundland into record-setting territory.
This may not be the type of "congratulations" you would hope for, but either way, a new monthly record has been established in St. John's, Newfoundland, even with three full days still left in the month.
After a mostly soggy month, and periods of unrelenting heavy rain, the latest batch of strong winds and rain have pushed the city into record-breaking territory. As of April 27, St. John's has officially set a new all-tim record for the rainiest April ever.
"With the heavy rain last night and into this morning, St. John's has now had their rainiest April on record, with 279.8 mm recorded as of Tuesday morning!," said Matt Grinter, a meteorologist at The Weather Network.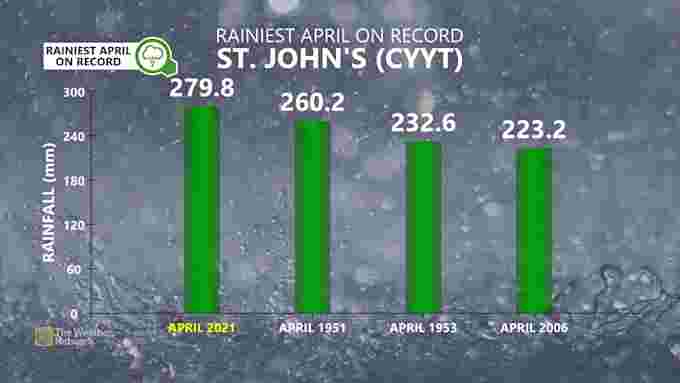 The previous record to beat was 260.2 mm of rain, which fell throughout the entire month of April back in 1951.
MULTIPLE BLOCKING PATTERNS THIS MONTH
A lot of Atlantic Canada has spent the past month with wet and gloomy conditions. It's normal for the region to see back-to-back systems over the course of the month, however, this April brought multiple blocking patterns. This caused some systems to linger for several days, bringing persistent rain, drizzle and fog.
"Blocking patterns are when a large weather feature, like troughs, ridges, highs and lows, are nearly stationary, essentially blocking other highs and lows from a particular area," Grinter explains. "In this case for Newfoundland, the Greenland high was especially strong this April and was parked over Greenland multiple times stopping low pressure systems from advancing forward."
Unfortunately, that put Newfoundland right underneath the low, bringing plenty of rain throughout the month.
Will this soggy and unsettled pattern persist into next month? Be sure to check back on Saturday, May 1 for the release of our exclusive May outlook.