Tuesday, March 2nd 2021, 9:45 am - With fluctuating temperatures, the ice that has formed on waterways is beginning to melt and is becoming unstable. Venturing out on the ice may not be a good idea and it's important to check with locals before doing so.
Getting out onto an icy pond or lake is exciting and can be extremely fun if safety precautions are taken. But there are a few things you need to know and have with you before doing so.
"Water is water, whether it's frozen or flowing. It's dangerous at any time of the year," says Shannon Scully-Pratt, a first aid and water safety expert with the Canadian Red Cross. "During the winter months it seems a little bit more exciting to people. They want to get out there and explore, and I don't blame them. It's beautiful, it's gorgeous out here, but it's also very dangerous."
Water is constantly moving. It's state is changing every day. In the springtime, fluctuations in temperature means melting and freezing.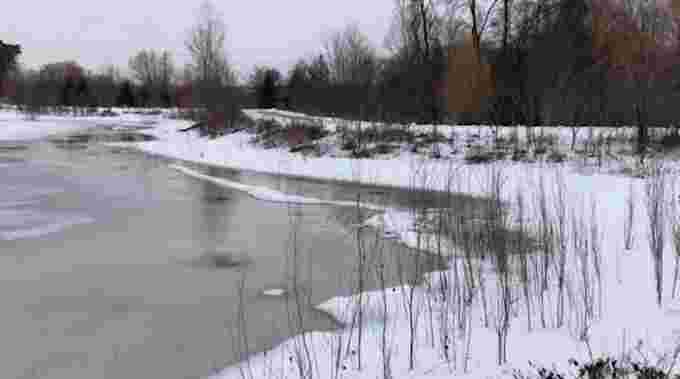 Photo shows melting ice along one GTA waterway in late February. Courtesy: Wayne Hardie/The Weather Network
---
Visit our Complete Guide to Spring 2021 for an in-depth look at the Spring Forecast, tips to plan for it and much more!
---
"When you have freezing and thawing and freezing and thawing, the ice becomes very weak because you get a lot of air into the ice," she adds.
Not only does the thickness of ice matter, but so does the type.
"White ice is very oxygenated. It's got bubbles in it and it's very soft. The drills chew through it really easily," explains Rob Crosbie, the manager at Jay's Fish Hut Rental in Lefroy, Ontario. "Blue ice is a lot more solid. The molecules are tighter together and it's a lot stronger."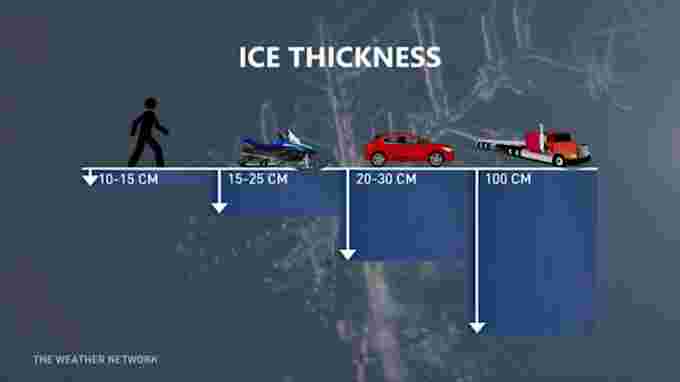 Graphic: This image shows the thickness of blue ice needed to safely do each activity.
Fish hut operators don't begin their season until there is at least five inches of blue ice.
"When you are walking as a single person on to the ice, you're looking for at least 15 cm of thickness to that ice," says Scully-Pratt. "White ice, when you have the air in there, it's actually only half the strength."
Crosbie, who also specializes in ice rescues, says the season opened around February 10 this year, and as of February 19, he had already done more than five rescues. Unfortunately, the season also started with a handful of fatalities too. Crosbie said they all could have been avoided.
"These are all preventable, [with just] a little bit of education on ice [and] ice conditions," Crosbie says. "It doesn't matter who you are, the ice can change at any given second, and if you're not 100 per cent sure, you're going to drive into a bad situation."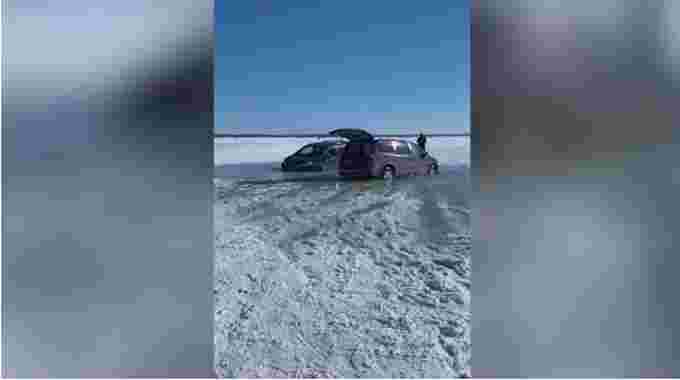 This photo was captured during one of several ice rescues Crosbie and his crew performed this winter. Courtesy: J's Fish Hut Rentals/Rob Crosbie.
He said people should stay away from rivers because of thin ice. Rivers are moving at a faster speed and that means the ice won't freeze to be thick enough to support heavy weight.
Crosbie also adds that ice is more unpredictable in the springtime.
"When the water runoff from the roads, the salt, the rain, the warmer weathers, the shorelines are the first to deteriorate. When the shores deteriorate, the ice floats in itself, and it can transfer from east side to west side and come back and forth, and it actually starts breaking apart and smashing up on the shores, which can be really dangerous because if it opens up, you don't know where it has opened up from one day to the next."
Crosbie adds that like anything in life, a little bit of research can help go a long way and it could potentially save your life. He encourages people to ask the locals in the area about the ice conditions before heading out.
"I speak on behalf of every single operator on the lake, please, we don't mind if you guys call and ask for ice conditions because at the end of the day we are protecting you."
To find out what you need before heading out on the ice and how to best determine if ice is safe, watch the video above.