Monday, September 9th 2019, 9:18 pm - Humidex values in parts of southern Ontario will be near 40 on Wednesday
After brief frost advisories were in place for parts of southern Ontario Monday, we'll see quite the comeback by the mid-week mark. Some computer models are showing daytime highs near, and even above, 30°C in the south. Heat warnings are in effect in the southwest. More on this quick blast of late summer heat, plus a look at the storm threat that accompanies it, below.
---
WEATHER HIGHLIGHTS:
Summer-like warmth will briefly return mid-week
Chance for thunderstorms Wednesday as temperatures, humidity increase
Temperatures will drop closer to seasonal values by Thursday
Stay on top of ALERTS in your area
---
WATCH BELOW: TRACKING THE NEXT RAIN, STORM RISK
RAIN AND THUNDERSTORM RISK TUESDAY AND WEDNESDAY
An approaching system from the northern plains of the U.S. will bring the risk for rain showers to parts of northern Ontario, east of Lake Superior and down through cottage country on Tuesday morning and afternoon. While most of the day will remain dry across southern and eastern regions, the risk for thunderstorms extends into the GTA and Ottawa area by Tuesday night.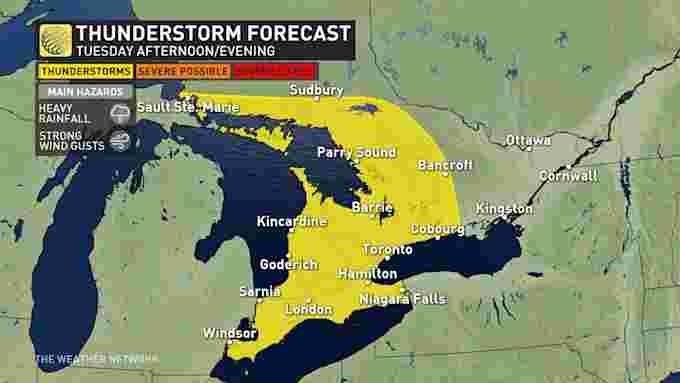 The risk for more rain and thunderstorms returns to the region Wednesday night after soaring temperatures could top 30°C throughout the day. Heat warnings are currently in place for southwestern Ontario, where humidex values could approach 40.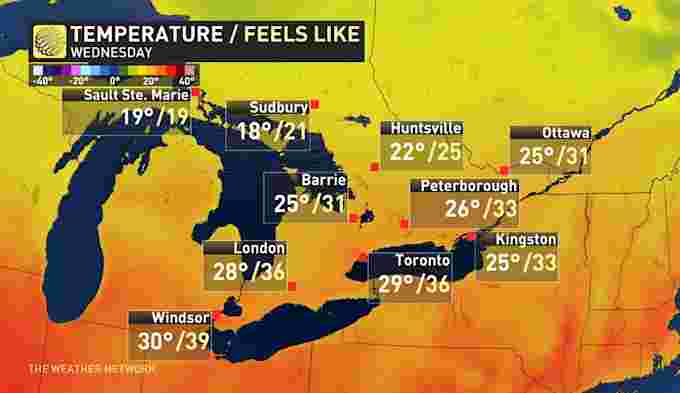 "We'll see a sharp temperature divide across the province on Wednesday," says Weather Network meteorologist Kelly Sonnenburg. "We've got temperatures climbing towards the high 20s and low 30s, especially across parts of southwestern Ontario."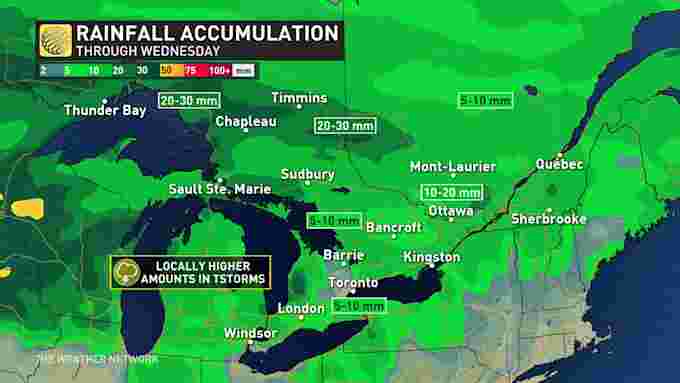 Temperatures will likely hit the 20s across parts of southern cottage country, but areas north of that, it will be a struggle to even climb above 10°C.
"So, it's definitely an interesting temperature divide across the province on Wednesday before the next system arrives on Thursday," Sonnenburg says.
Temperatures will cool back to more seasonal values by Thursday as another system from the U.S. central plains tracks into the region. This will bring a widespread heavy rain across northern Ontario with the next chance for thunderstorms across the south.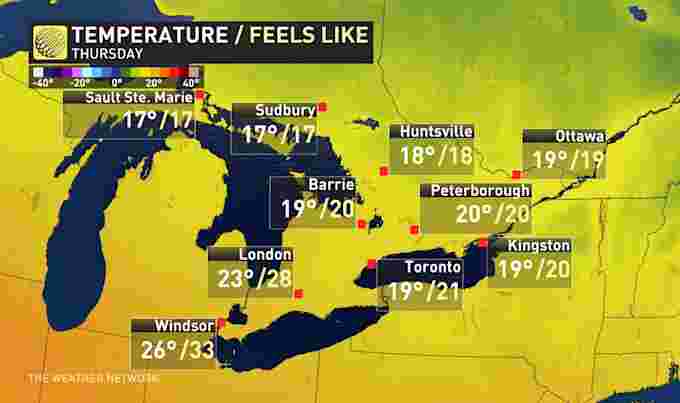 WATCH BELOW: LATE WEEK SYSTEM BRINGS RAIN AND THUNDERSTORMS TO ONTARIO
Pleasant weather looks to dominate the weekend forecast as mostly sunshine and near seasonal conditions align.
WHERE DID OUR WARM SEPTEMBER WEATHER GO?
We have been spoiled with warm Septembers for the past several years and you'd actually have to go back to 2013 to find the last September that was cooler than normal.
The north Atlantic Ocean is currently in a warm cycle and early fall is when ocean water temperatures peak for the year. This extra heat in the Atlantic Ocean helps to strengthen the large region of high pressure (the Bermuda high) just off the U.S. East Coast.
"This often results in a stronger southwesterly flow of warm and humid air into southern Ontario. That is one of the key reasons to why we have been in a pattern of summer weather lasting into September during recent years," Weather Network meteorologist Dr. Doug Gillham explains.
This year however, the jet stream pattern across Canada has also been delivering an abundance of chilly weather into central and eastern Canada.
"So far during September that has been the more dominant pattern and has overwhelmed the warm air that has often been nearby just south of the border," adds Gillham.
WATCH BELOW: ENTIRE HOME FLOATS AWAY AS HURRICANE DORIAN HITS ATLANTIC CANADA