Friday, June 17th 2022, 3:39 pm - 30 cm of snow in the middle of June? Just another Canadian start to summer. And that's not all the atmosphere had in store for us this wild week.
We're no stranger to wild weather during the transition from one season to the next, and this past week was no exception. Heavy snow blanketed parts of the west even as sizzling summer heat cranked over the east. This week's storms treated the Greater Toronto Area to a dazzling display of undulating clouds, and another round of storms even produced a possible tornado. Take a look at Canada's fast-paced week of extreme weather, below.
---
PHOTOS: Damaging severe thunderstorms sweep through Ontario and Quebec
---
SOME AREAS SAW UP TO 30 CM OF SNOW
This June is certainly getting off to a different start than the west saw one year ago. Last year's searing heat seems like a distant memory compared to the below-seasonal air that's gripped Western Canada in recent weeks.
A low-pressure system that meandered over the western half of the country locked in below-seasonal temperatures for parts of British Columbia and Alberta. Not only is this stretch of cooler weather impressive on its own—Comox had yet to hit 20°C as of June 15th!—but it also led to plenty of snow for higher elevations across the interior.
Snow in the mountains in June isn't unheard of by any means, but the recent snowfall was a bit much even by most standards. Portions of the southern Rockies saw up to 30 cm of snow between June 13 and June 14.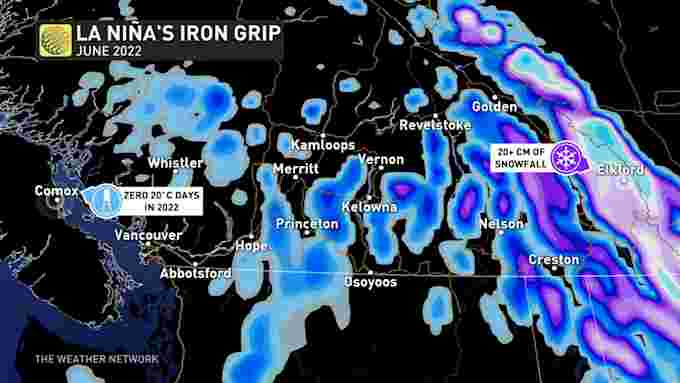 FARTHER EAST, THE HEAT IS ON
One extreme begets another, and folks in the eastern half of the country are dealing with constant pushes of steamy air from south of the border.
Toasty daytime temperatures well into the 30s have occasionally bathed portions of Ontario and Quebec in recent days. Sarnia notched the distinction as Canada's hot spot on Wednesday, June 15, with a high temperature of almost 35°C. Humidex values climbed into the 40s the same afternoon.
The same wavy upper-level pattern that brought stubbornly cool temperatures to the west is responsible for the repeated intrusions of summertime mugginess back east.
Not only have persistent heat waves roasting much of the U.S. nudged north of the border, but the ridges of high pressure responsible for that heat also act like a monorail that transports powerful storms up into Canada.
WATCH: SEVERE STORM TEARS OFF BUILDING'S ROOF IN ONTARIO
POWERFUL STORMS SWEEP SOUTHERN ONTARIO AND QUEBEC
Thursday ended with a bang across southern sections of Ontario and Quebec as a dynamic storm system swept across the area.
Folks across the region spent Thursday tuning in to tornado watches and warnings as powerful storms stretched from the Greater Toronto Area all the way north toward Quebec City.
The storms took advantage of a soupy airmass to produce torrential downpours, damaging wind gusts, large hail, and possibly even a couple of tornadoes.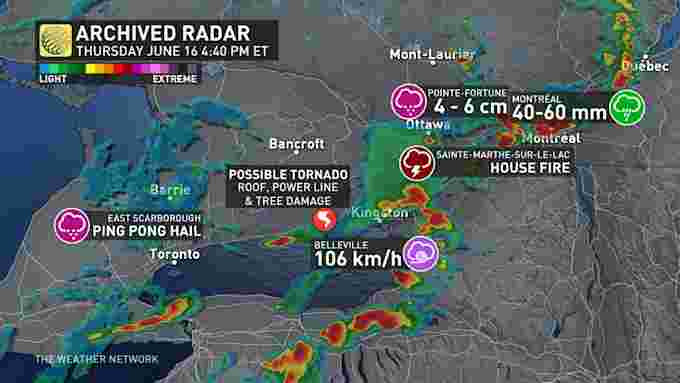 One particularly rough storm hit Belleville, Ontario, producing damage in the area. Winds grew strong enough there to knock down trees and power lines, with several buildings sustaining damage when the roof of one building tore off and damaged a neighbouring building.
Investigators with Western University's Northern Tornadoes Project will spend Friday taking a look at the damage to see if Thursday's storms produced any tornadoes.
WILD CLOUDS BLANKETED THE GREATER TORONTO AREA
Some of this week's storms, though, were more bark than bite. One such cluster of thunderstorms descended across southern Ontario during the morning of June 15th, reaching the Greater Toronto Area (GTA) with a truly impressive display of asperitas clouds.
---
CHECK IT OUT: Dramatic 'wave' looking clouds develop over parts of the GTA
---
These otherworldly clouds form when warm, saturated air flows up and over a layer of cooler, more stable air at the surface. This results in a sky full of wavy, undulating clouds that look as if you're gazing up at a rough sea from beneath the waves.
NO SIGNS OF SLOWING DOWN
You might have to wait a while if you're looking for a break from the active weather.
DON'T MISS: Everyone needs a home emergency kit. Here's what to stock yours with
Storms will continue on the Prairies through Father's Day weekend, with a chance for severe thunderstorms popping up each day through Sunday.
Hot temperatures and high humidity will creep into Ontario and Quebec again by next week, with a chance for more thunderstorms that could thrive on the muggy, unstable air. Rainy conditions will even spread over portions of the East Coast into next week.
Then, of course, we have to turn our eyes toward the tropics, as hurricane season will slowly begin to heat up as we creep toward July. Forecasters expect an above-average Atlantic hurricane season again this year.