Monday, December 28th 2020, 8:45 pm - Lake-effect snow remains in the snow belt region on Tuesday, but another system enters southern Ontario on Wednesday, the possibility of freezing rain on New Year's Day.
Some left-over lake-effect flurries could still be falling pre-dawn Tuesday for the GTA. By late morning, all precipitation should clear for the Toronto and Hamilton areas. Some snow could hang around in the Grey County area. The next system makes its way across southern Ontario on Wednesday, bringing rain and snow. A low coming from Texas should make its way north toward southern Ontario, potentially creating freezing rain for New Year's Day.
---
WEATHER HIGHLIGHTS:
Tuesday snow remains north of the GTA in the snow belt region
Another system makes its way to southern Ontario on Wednesday
Rain for part of New Year's Eve, the potential for freezing rain on New Year's Day
---
TUESDAY: ONE SYSTEM LEAVES AND THE NEXT QUEUES UP
As the lake-effect flurries depart from southern Ontario, another system is right behind it. The cooler air overriding open lake waters, paired with strong winds out of the west and northwest, will allow for yet another round of lake-effect snow to develop.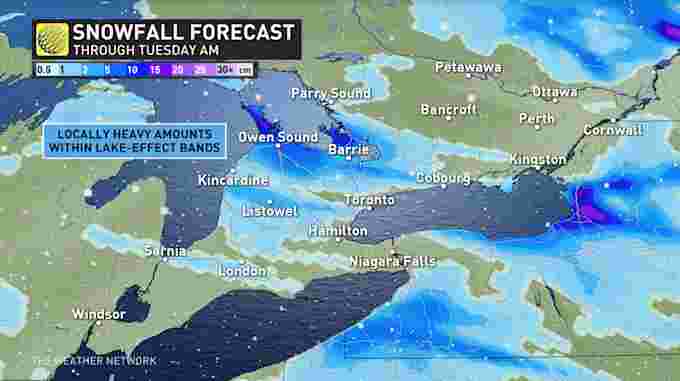 The remainder of Monday's system will stay well north of the GTA and in the traditional snow belt regions. Localized heavy amounts possible within lake-effect bands.
The snow squalls should taper off by Tuesday afternoon.
LOOK AHEAD: RAIN AND SNOW ON WEDNESDAY, FREEZING RAIN RISK FOR NEW YEAR'S DAY
The active weather returns to the region by Wednesday as a Colorado low is expected to track across northern Ontario, bringing snow for those regions and rain for southern areas. The latter region may see snow to start the day but then will change over to rain as it progresses. Rain will linger into early Thursday morning.
Behind it, a second stateside system will develop and trek in for New Year's Day, bringing a freezing rain potential for southern Ontario. With Arctic air to the north and temperatures plummeting, there will be the possibility of ice with the Friday low.
Watch the system make its way across the region.
Because we're still far out, models will vary and there are a couple of scenarios that could play out. It is too early to discuss impacts and track, but there is a possibility of freezing rain on New Year's Day, depending on the eventual track of the low.
Stay tuned to The Weather Network for the latest forecast details.