Monday, January 25th 2021, 8:41 am - Woman in her 20s was rescued at Lake Minnewanka and treated for hypothermia
Parks Canada is warning skaters who take to frozen lakes to monitor lake thickness very carefully after four skaters fell through the ice at Lake Minnewanka in Banff National Park over a two-day period.
According to the government agency, three of the skaters were able to self-rescue, while one required a rescue response.
Russ Geyer, deputy chief of the Banff Fire Department, said the department responded on Saturday to a report of two people who had fallen through the ice at Lake Minnewanka.
Geyer said a female in her 20s fell through the ice while skating.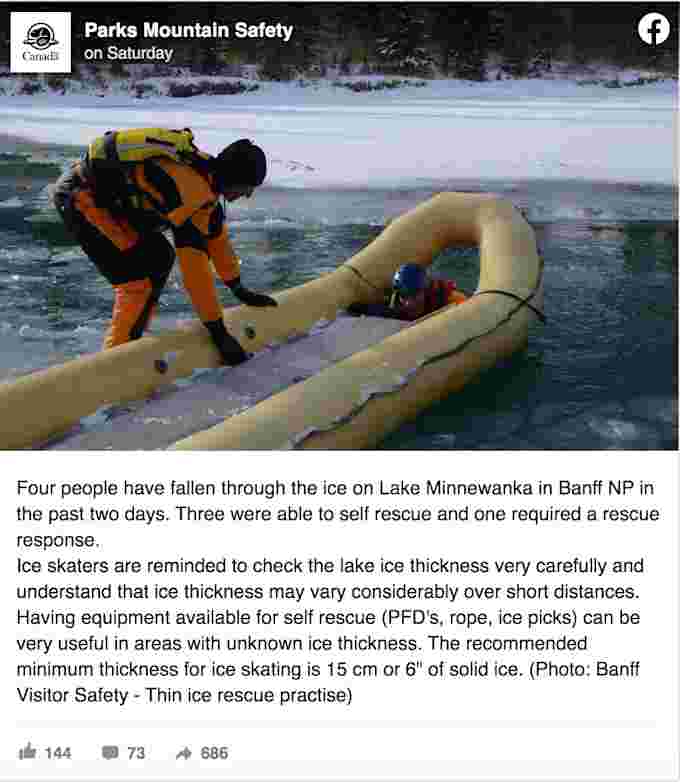 Parks Mountain Safety/Facebook
RELATED: How to survive a fall through the ice this winter
"She was trapped out on the thin ice, was probably there for 30 minutes in the water, or partially in the water," he said. "Then, a male that was with her in his 20s tried to rescue her, and he ended up breaking through thin ice."
People have been skating on areas near shore on Lake Minnewanka for a month, Geyer said.
"Unfortunately, further out in the lake, some of that water is open," Geyer said. "People are venturing further and further out and that ice is definitely not safe enough further out. And that's unfortunately what the consequence was when they skated out there."
The female was taken to Banff Mineral Springs Hospital with hypothermia and the male was examined and released on scene.
No information on the other skaters was immediately available.
Parks Canada said skaters should understand that ice thickness varies considerably over short distances. The recommended minimum thickness for ice skating is 15 centimetres, or six inches of solid ice.
Skaters should have equipment like ropes, PFDs or ice picks available for self-rescue, the agency said.
This article was originally published for CBC News on January 24.