Monday, September 28th 2020, 8:30 pm - Ontario welcomes fall as we set forth into seasonal temperatures.
Ontario is welcoming a cold front on Tuesday, bringing us back to seasonal temperatures. That front will trigger showers for many, especially heavy in the Nickel Belt, while forecasters are already looking at the late week for the chance of 2020's first true fall storm -- complete with a dash of snow for the north. Look ahead, below.
---
WEATHER HIGHLIGHTS
Ontario's fall temperatures start Tuesday
Thunderstorms possible for some on Wednesday
Chance of snow in the north late-week
---
WEEK AHEAD: FALL TEMPERATURES, SOME RAIN, TOUCH OF SNOW IN THE NORTH
Though that cold front will put an end to that last taste of summer, it won't necessarily mean an early winter chill for the south. In fact, the rest of the week looks quite seasonal, with daytime highs comfortably in the teens.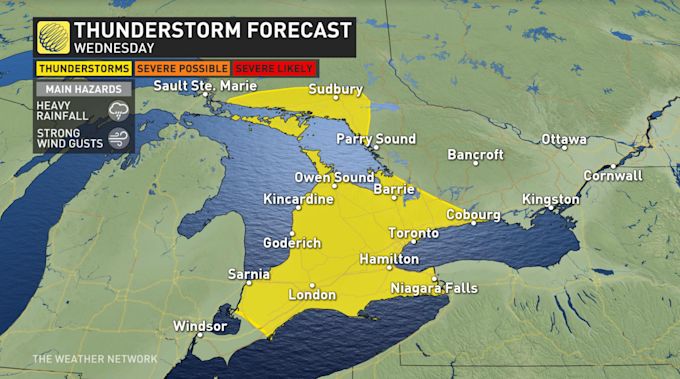 Later in the week, however, a fall-like storm looks to set up, bringing rain to the south and a few flakes of "nuisance snow" to parts of the north Thursday into Friday -- not completely out of the realm of reasonable expectations for the region in the dawning days of October, but still a probably unwelcome sign of things to come.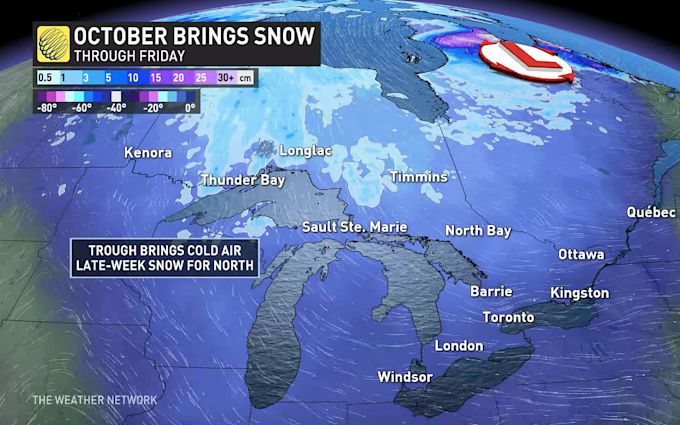 "Temperatures will be a few degrees below seasonal for the first several days of October. However, a milder pattern should return during the second week of October," Weather Network meteorologist Dr. Doug Gillham says.
Check back for updates as we continue to monitor the forecast.