Thursday, March 17th 2022, 3:00 pm - Temperatures are up and down in the spring, but sooner or later, there will be enough consistent warmth that it'll be time to think seriously about setting your lawn up for success.
The Weather Network / MétéoMédia is reader-supported. When you buy through links on our site, we may earn a commission.
Whatever the calendar says, spring – or at least spring-like weather – is just around the corner, and as welcome, consistently warm weather gradually seeps into Canada, it's time for yard owners to turn their thoughts to their lawns. A bit of effort at the beginning of the season will pay off big throughout the spring and summer, and here are some products that will help you give your lawn the healthiest start you can.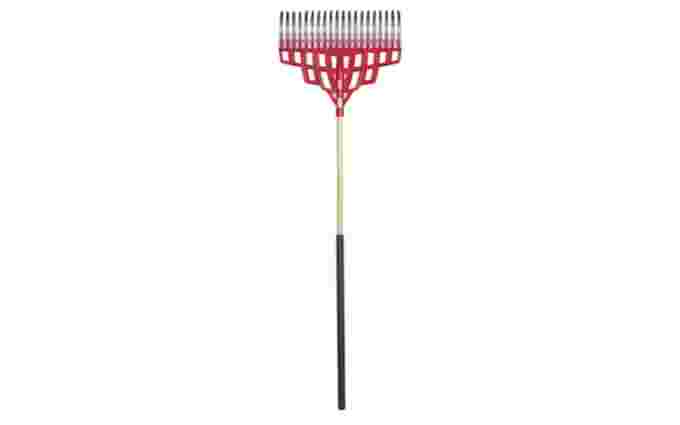 Canadian Tire
When you're clearing debris off your lawn in the spring, there's no escaping the need for a rake, and the Garant Multi-Purpose Steel Tine Rake is our choice for that onerous but necessary task. As far as rakes go, it's on the higher end of the affordability scale, but its design makes it ideal not only for leaves and twigs and suchlike, but also for clearing thatch as spring and summer wear on, something most other rakes struggle with by comparison.
Why we'd order it:
Wooden handle has a comfort grip – ideal for avoiding splinters
Made from poly steel, sturdy and long-lasting
Rated 4.4 out of 5 by Canadiantire.ca users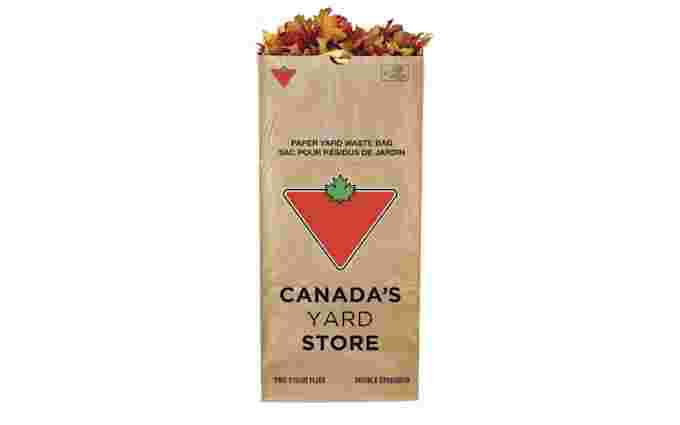 Canadian Tire
There's something deeply, deeply satisfying about spending a gruelling couple of hours clearing leftover yard waste, then seeing the fruits of your labour stuffed into one or two yard waste bags. Over the course of the season, and especially when fall returns, you'll need more than one or two, so you might as well stock up now, and in terms of what to stock, there's a reason Canadian Tire's Yard Waste Bags are such a common sight.
Why we'd order it:
Sturdy two-ply design
Very resilient even in wet weather
Rated 4.5 out of 5 by more than 380 Canadiantire.ca reviewers
---
Like what you see? Check out our Shop the Weather articles for more must-have product recommendations.
---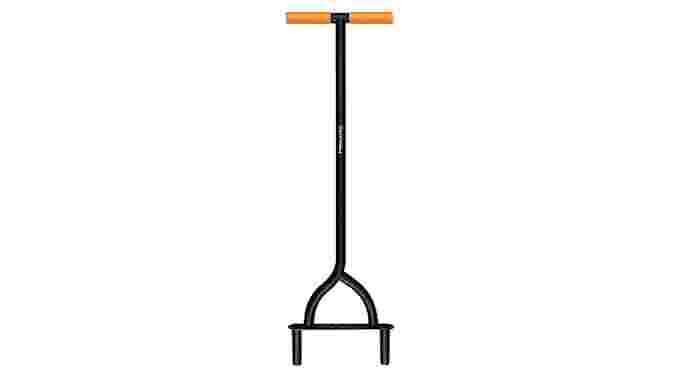 Home Depot
One major component of lawn care is aeration, with spring an ideal time to do it as the ground thaws and spring rains get going. If that's on your task list this season, we recommend this Fiskars Steel Extended Reach Coring Aerator. Unlike other, more complicated (and considerably pricier) alternatives, it's simple to use and store, provided you're prepared to put in some elbow grease.
Why we'd order it:
Extended 38-inch handle, helps avoid excessive bending
Two coring cylinders leave aeration holes 4 inches deep, and three-quarter-inch wide
Rated 4.3 out of 5 by users on Home Depot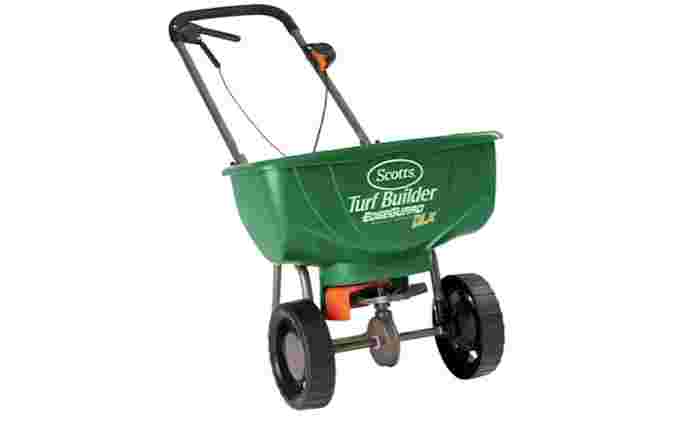 Canadian Tire
A spot of fertilizer can do wonders for your lawn, so long as the application is timed right and spread properly. A bit of mechanical assistance can help with that last requirement, and for that, we recommend the Scotts™ Turf Builder Deluxe Edgeguard Spreader. It's manually operated, and this deluxe version has slightly more features to control the spread, justifying the slightly higher price tag compared to other versions from the same manufacturer.
Why we'd order it:
Simple controls include a precision dial to determine your fertilizer spread
Cushioned handle for comfortable grip
Rated 4.1 out of 5 by Canadiantire.ca users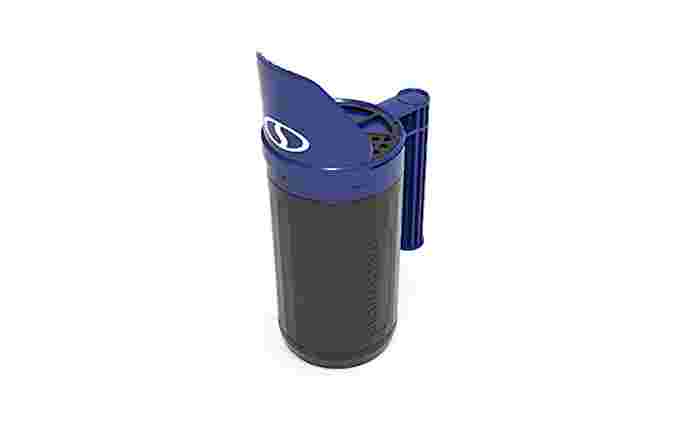 Amazon.ca
That wheeled spreader up above is good for larger lawns, but if you've got a smaller one, or would like something handy to help touch up a few spots with some grass seed, try this Snow Joe Handheld All-Season Multi-Purpose Spreader from Snow Joe. We liked it enough to recommend it for spreading salt ahead of icy weather, and it can do the job just as well when spreading fertilizer or seed.
Why it made the list:
Adjustable dial for finer or more coarse materials
2.5-litre capacity
Rated 4.5 out of 5 by Amazon reviewers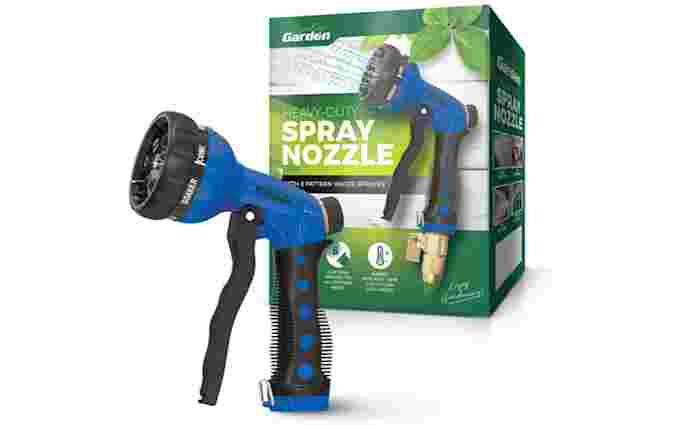 Amazon.ca
Your lawn needs regular doses of moisture each week to grow properly, and the fact is those proverbial spring showers just aren't always reliable. When you have to take matters into your own hands, we have the Signature Garden Heavy-Duty Spray Nozzle, with its comfortable design and multiple spray settings, depending on how much of a soaking the grass will need.
Why we'd order it:
Metal construction with a baked enamel finish, more durable than plastic
Eight spray settings, depending on the task
Very popular among Amazon.ca users, with a 4.4 out of 5 rating based on more than 4,200 reviews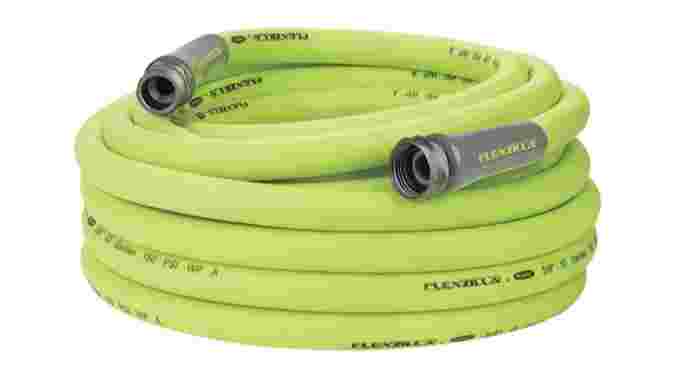 Canadian Tire
While we're on the subject of watering, maybe take a second look at your hose when you get it out of the shed in preparation to hook it back up to your house. If it looks like it's seen better days, we'd recommend the Flexzilla Garden Hose as a replacement. It's pricier than others of its kind, but its flexible design makes it far easier to use.
Why we'd order it:
Hybrid polymer construction makes it resistant to kinks, and it lies flat and coils more easily than rubber
Available in 50-foot and 100-foot lengths
Rated 4.3 out of 5 by Canadiantire.ca users who reviewed it online
---
Like what you see? Check out our Shop the Weather articles for more must-have product recommendations.
---
Our trusted Product Specialists recommend high-quality items that we think will enhance your experience with Canadian weather conditions. Prices and availability of items are accurate at the time of publication and are subject to change.