Tuesday, April 5th 2022, 8:10 am - With the snow melting and spring rain in the forecast, we're headed for that messy time of year for pets we call mud season. Our product specialists are recommending everything from the typical rain jackets to a dirty dog shammy to ensure your furry friend doesn't track muck into your house.
The Weather Network / MétéoMédia is reader-supported. When you buy through links on our site, we may earn a commission.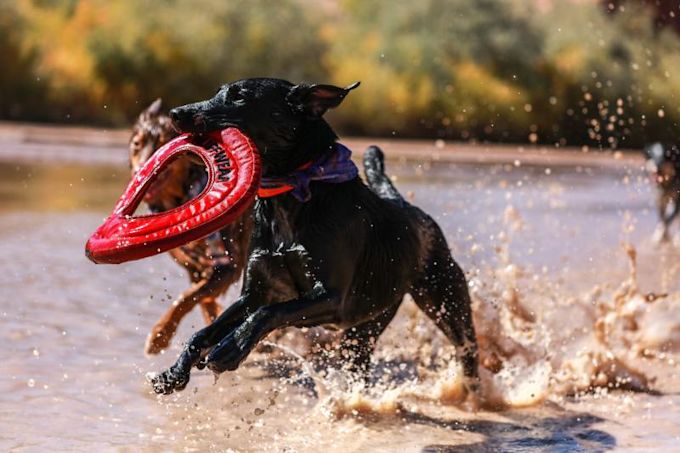 Photo: Patrick Hendry/Unsplash
You won't find any booties on this list! If your dog is anything like mine, rain boots cause a lot of unnecessary prancing and will only lead to extra laundry in mucky conditions. Research indicates that rolling around in the mud is instinctual for dogs and is rooted in a history of masking their scent so they could sneak up on prey more efficiently. Whether you have a dog, cat, bunny, or guinea pig, this catalogue of pet products will help combat muddy puddles so you won't miss out on any springtime cuddles!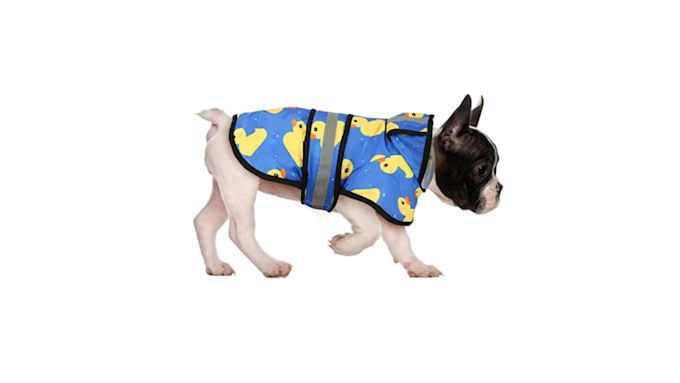 Amazon.ca
Here's Sparky modeling the HDE Dog Raincoat in a rubber ducks pattern. For pups that will tolerate a jacket, this one is waterproof and lightweight to pack for day trips or hikes. Customers say it's good value for the price, easy to harness, and if you're planning to order one you should note the material is fairly thin as indicated in the product description.
Why we'd order it:
A dog coat is the first line of defense for keeping your pet comfortable and dry
Features include reflective material for added safety, an adjustable strap for a secure fit, and availability in 17 colours and patterns
Rated 4.4 out of 5 based on more than 10,500 Amazon.ca reviews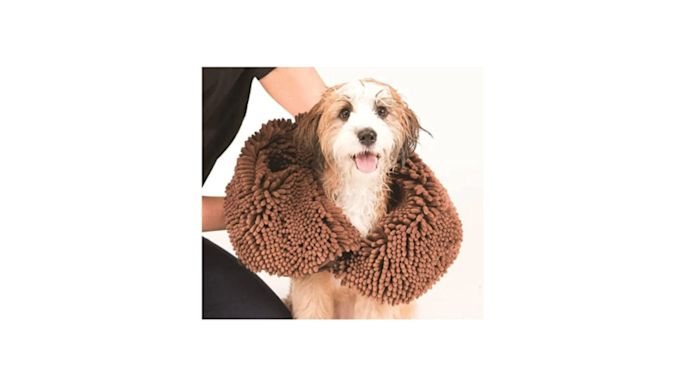 Amazon.ca
Of course, you can use this shammy after bathtime at home but you can also take it with you to the dog park, beach, or hiking trails. The Dog Gone Smart brand claims the super-absorbent microfibre soaks up 20 times more water and mud than other shammies on the market. One customer indicates she used it on her German Shepherd that typically needs three or four towels to properly dry off and was extremely satisfied with the results.
Why we'd order it:
A useful product to try before loading your muddy mutt into your car (click here for tips on spring cleaning your vehicle!)
Features include millions of soft microfibre strands that absorb water and mud like a large sponge, can soak up to eight times its weight in water, dual hand pocket for a better grip, and machine washable
Rated 4.6 out of 5 based on more than 700 Amazon.ca reviews
---
Like what you see? Check out our Shop the Weather articles for more must-have product recommendations.
---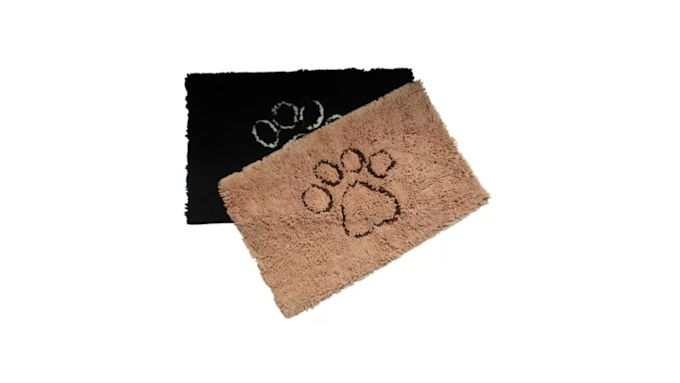 Canadian Tire
Place this mat at your back door to sop up water and mud from soggy paws. Ideal for cats or dogs, the Wet Pet Mat is quick-drying and made from 100 per cent non-toxic microfibre chenille fabric. Customers say it helps prevent mud in the house when their backyard is mucky and that it's both practical and cute with the big paw design.
Why we'd order it:
A quality mat can be the buffer for mud tracks throughout your house
Features include durable non-slip backing, machine washable and dryer safe, availability in two colours
Rated 4.5 out of 5 based on Canadiantire.ca reviews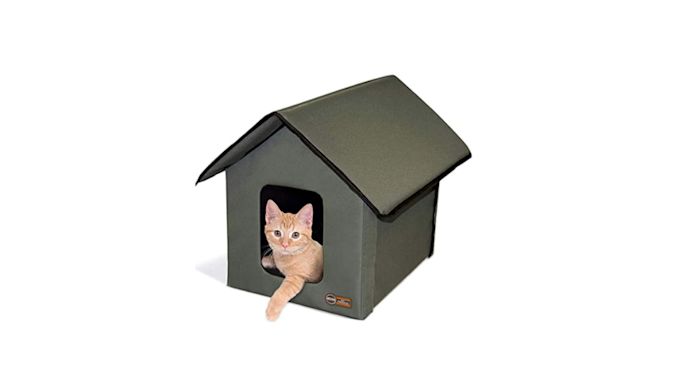 Amazon.ca
Does your cat go hissterical in the rain? This kitty house provides a cozy shelter for outdoor cats. It's water-resistant and insulated, which will help your pet avoid the mud if a downpour strikes when you're not home. One of the main points in the customer reviews is that the cat house is smaller than advertised, so take that into account if you have a large breed.
Why we'd order it:
A cat house not only provides shelter from the elements to your own pet but to community cats as well
Features include a removable water-resistant cushioned floor pad, double doors with removable flaps so your cat never gets trapped, and a one-year limited warranty
Rated 4.6 out of 5 based on more than 1,600 Amazon.ca reviews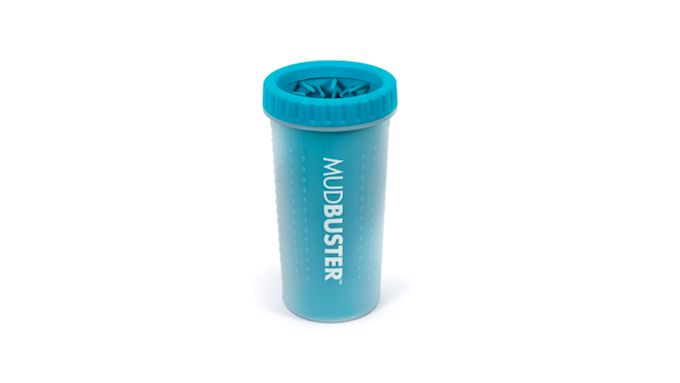 Amazon.ca
We first included this product in a list of five things you'll need for your dog's winter walk. This multi-seasonal item will help clean up your pup's paws after they've been traipsing through dirty snow or met a mud pile they can't resist. All you have to do is add a little water, insert the muddy paw, twist, and dab the paw dry with a towel. The gentle silicone bristles will remove the dirt and mud. Customers say it works exactly as you'd expect!
Why we'd order it:
A portable solution to cleaning muddy paws before getting in the car, cottage, or house
Features include simplicity, BPA-free, and top-rack dishwasher safe for easy cleaning and sanitization
Rated 4.4 out of 5 based on more than 8,000 Amazon.ca reviews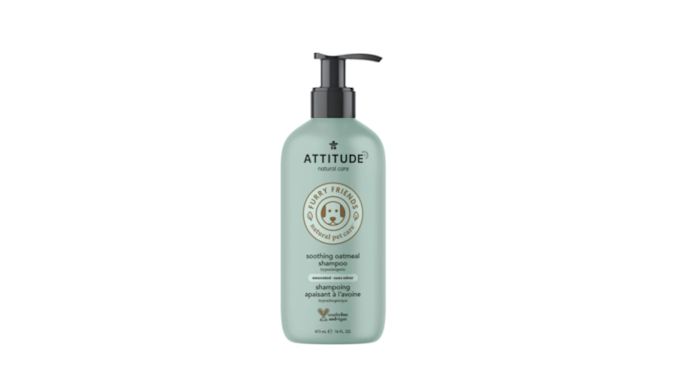 Amazon.ca
When all else fails, it's bathtime! This gentle, all-natural pet shampoo is suitable to use on dogs, cats, and other furry friends. Enriched with oatmeal, this soothing formula moisturizes and protects your pet's coat and skin. All you need to do is wet their fur, apply the shampoo, lather, rinse thoroughly, and use the dog shammy mentioned above to dry off! While there aren't many customer reviews on Amazon.ca, all ratings provided are 5-star.
Why we'd order it:
When you need to wash your pet, you'll want to use something as natural and gentle on their coat as possible that still gets the job done
Features include cruelty-free, vegan, certified by PETA and Canadian-made
Rated 5 out of 5 based on personal use!
---
Like what you see? Check out our Shop the Weather articles for more must-have product recommendations.
---
Our trusted Product Specialists recommend high-quality items that we think will enhance your experience with Canadian weather conditions. Prices and availability of items are accurate at the time of publication and are subject to change.
Thumbnail image courtesy Raz Kumar/Unsplash