Monday, August 5th 2019, 9:30 am - Thunderstorms that do occur could feature heavy rain and hail
Sunday featured a relative lull in severe weather for the Prairies, with most severe storms firing in neighbouring northwestern Ontario, but the risk returns for the region on Monday, with parts of north-central Alberta bearing the greatest chance for isolated severe storms. Beyond, more northern regions see heavy rain into Tuesday. For more details, read on.
---
WEATHER HIGHLIGHTS:
Greatest chance of severe storms for parts of north-central Alberta Monday
Heavy rains last into Tuesday for more northern areas
Cooler temperatures beckon for Monday, heat lingers longest in Manitoba
Stay up to date on ALERTS in your area
---
WATCH BELOW: TRACKING THE THUNDERSTORM ENERGY
After a relatively calm Sunday, the Prairie region sees storm risk return for the holiday Monday.
"A sinking trough from an upper level low in Hudson Bay will move over northern B.C. and northern Alberta Monday, bringing scattered, non-severe storms, and some stronger storms to the northern foothills," Weather Network meteorologist Kevin MacKay says.
Such storms that do turn severe will be marked by heavy rainfall and small hail.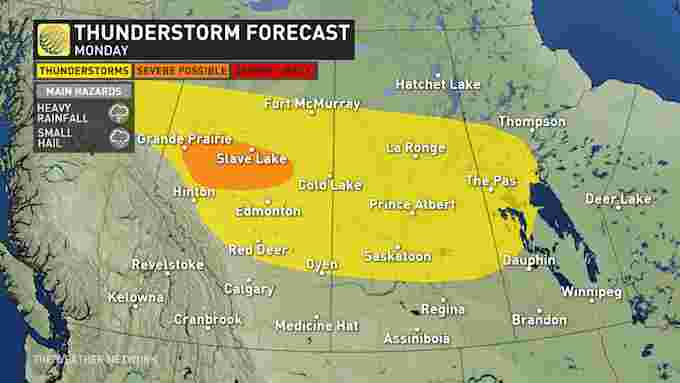 That same trough will sink southward for Tuesday, bringing a widespread chance of showers, ranging from moderately heavy on the northern regions of Saskatchewan and Manitoba and the northern foothills, to light and brief for Calgary.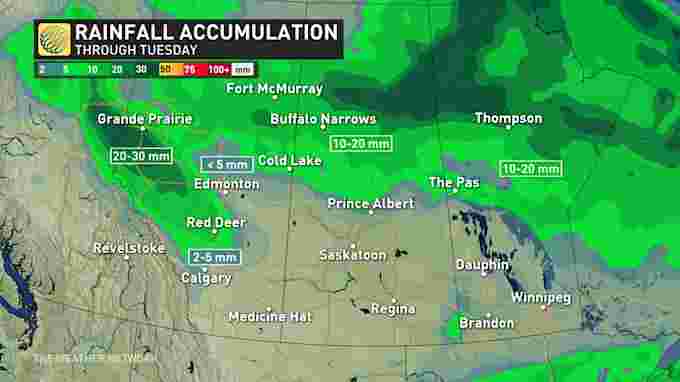 Much of the Prairies returned to seasonal values by Sunday, save for Manitoba, which will see a return to seasonal Monday, with heat warnings already ended Sunday.
WATCH BELOW: STACKING PLATES IN ALBERTA SKIES