Friday, July 1st 2022, 9:05 pm - A system trekking across the Prairies will continue east on Saturday with a chance for severe thunderstorms in parts of Alberta and Saskatchewan.
--
The same system that brought a stormy Canada Day to some folks on the Prairies will continue moving east through the weekend. A renewed chance for thunderstorms will cover the southern Prairies as we head into our Saturday, with a chance for severe storms for some. More on the timing and what you can expect into next week, below.
---
CANADA'S JULY FORECAST: Summer sizzle or does the heat fizzle? Your monthly outlook, here
---
SATURDAY: SEVERE RISK FOR PORTIONS OF ALBERTA AND SASKATCHEWAN
Unstable air flowing over the southern Prairies will lead to a chance for thunderstorms across much of the region during the day on Saturday. While thunderstorms are possible from the southern Rockies toward Manitoba, the greatest threat for severe weather will cover portions of Alberta and Saskatchewan.
There could be enough instability for thunderstorms to reach severe limits in the Alberta foothills, including the Calgary metro area. Dynamics are also favourable for severe thunderstorms to bubble up over southern Saskatchewan, including the Regina area.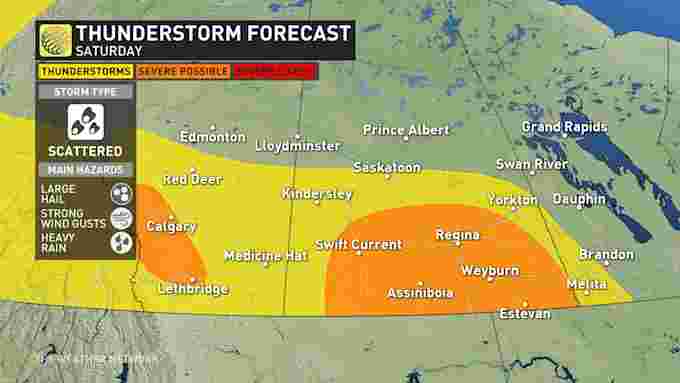 Saturday's strongest thunderstorms could produce large hail, strong winds, and heavy rainfall.
MUST SEE: Make the sun work for YOU with these solar powered gadgets
This stormy pattern is the result of an upper-level blocking pattern that's wedged itself in place over Western Canada. Not only is this atmospheric block responsible for the storms rumbling across the Prairies this long weekend, but it's also the reason we've avoided extreme heat lately.
Rainfall totals over the next five days will come in around 10-30 mm across the southern half of the Prairies, with heavier totals likely for the Alberta foothills. Some areas could see 50+ mm of rain through Wednesday.
Temperatures on Saturday will come in right around seasonal for much of the southern Prairies, with temperatures a tad cooler than seasonal heading into Sunday.
Warmer weather will begin to build across the region again next week as the blocking pattern breaks down. We'll see a stretch of days with high temperatures in the mid- to upper-20s, with the potential for temperatures in the low 30s across southern regions. Extreme heat should remain south of the border for this first full week of July.
Stay tuned to The Weather Network for the latest on the storm risk on the Prairies.
Thumbnail Credit: Kyle Brittain, The Weather Network