Friday, May 27th 2022, 10:54 am - Isolated storms across southern Ontario and Quebec could turn severe in some areas on Friday. Stay alert.
Steamy air streaming north from the Gulf of Mexico will keep the storm threat alive across much of Ontario and Quebec as we end the workweek. Scattered thunderstorms are likely across southern portions of the two provinces on Friday, with a severe threat along and east of the St. Lawrence River in Quebec. Keep an eye out for warnings as you go about your day. While the risk for some lingering storms continues into the weekend, most of it looks to be mainly rain-free. Hot weather will close out the final days of May early next week, with the humidex pushing the feels-like factor into the upper 30s for some places. More on what to expect Friday and beyond, below.
---
DON'T MISS: Rain warnings, rising Gatineau River has residents bracing for flooding
---
FRIDAY: ANOTHER ROUND OF SCATTERED STORMS POSSIBLE
An unsettled pattern will continue for one more day as warm, humid air gets stirred up by a low-pressure system trekking through Central Canada.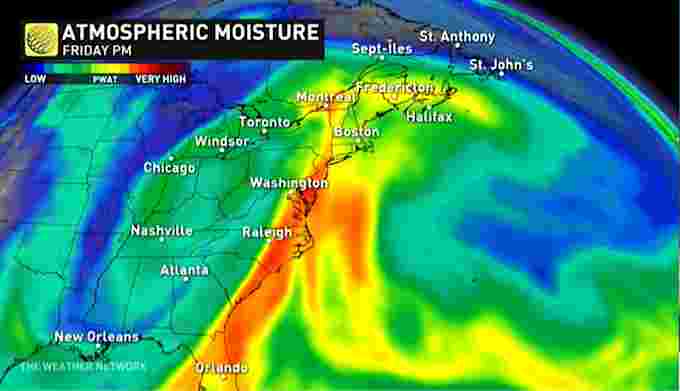 Just like Thursday, plenty of tropical moisture will provide fuel for thunderstorms to bubble in the heat of the day.
The strongest storms on Friday could produce powerful wind gusts, small hail, and heavy rainfall. The greatest opportunity for severe thunderstorms will fall across Quebec's Eastern Townships, where there's also the risk for some rotating storms.
Keep an eye out for warnings if you're in the area.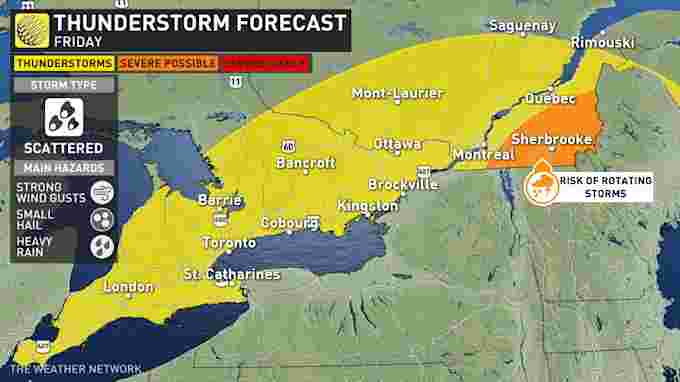 All told, you could wake up to 10-20 mm of rain in the backyard gauge by the time we reach Saturday morning. Heavier totals are possible north into cottage country, with heavier totals still pushing into interior Quebec.
The thunderstorm risk continues for southern Quebec on Saturday.
WATCH: WHY THESE STORMS DIFFER FROM DESTRUCTIVE LONG WEEKEND DERECHO
THIS WEEKEND AND BEYOND: HIGH HEAT AND HUMIDITY END THE MONTH OF MAY
Temperatures will drop a bit behind the cold front, with temperatures in the low 20s common across southern Ontario by Saturday. However, it's going to be a short-lived cooldown.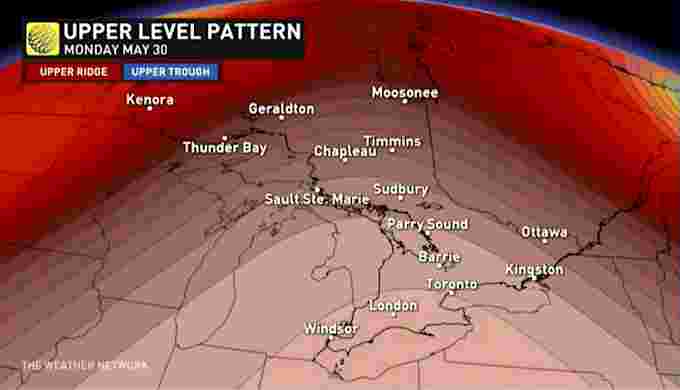 While there's a chance for some lingering rain showers and thunderstorms into the day on Sunday, most of the weekend looks to be rain-free.
Hot and humid weather will build through early next week, with temperatures reaching the 30-degree mark, with a humidex into the mid to upper 30s.
Savour the warmth while it lasts, though, because temperatures will moderate as a cold front tracks through the region by mid-week, bringing cooler weather for the first weekend of June.
WATCH BELOW: WHY SHOULD YOU NOT SEEK SHELTER UNDER AN OVERPASS DURING A SEVERE STORM
Stay tuned to The Weather Network for all the latest on conditions across Ontario and Quebec.