Wednesday, June 29th 2022, 10:35 am - A round of severe thunderstorms is possible across the southern Prairies on Wednesday. Some storms could produce very large hail and even a conditional tornado threat.
--
TORNADO WARNINGS IN EFFECT:
Duck Mountain Prov. Park and Prov. Forest
R.M. of Mountain including Cowan and Camperville
Mossey River Mun. incl. Winnipegosis and Fork River
Mun. of Ethelbert incl. Garland
Keep on top of weather ALERTS in your area
At 9:10 p.m. CDT, Environment Canada meteorologists are tracking a severe thunderstorm that is possibly producing a tornado. Damaging winds, large hail and locally intense rainfall are also possible.
Doppler radar indicates a cluster of thunderstorms east and southeast of Swan River that may be producing tornadoes. These storms are moving eastwards towards Lake Winnipegosis.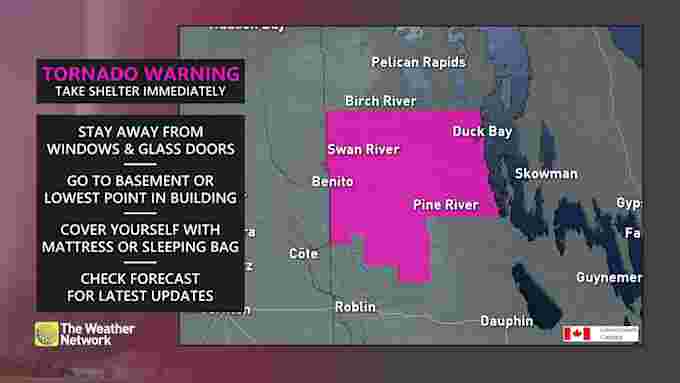 Tornadoes are dangerous and can create life-threatening situations. If threatening weather approaches take cover immediately, especially if you hear a roaring sound, see a funnel cloud, swirling debris near the ground, or flying debris.
Seek shelter indoors, ideally in a room on the lowest floor that is away from outside walls and windows such as a basement, bathroom, stairwell or closet. Leave mobile homes, vehicles, tents, trailers and other temporary or free-standing shelters and move to a strong building if possible. As a last resort, lie in a low spot and protect your head from flying debris.
WATCH BELOW: ENORMOUS TORNADO TOWERS OVER SASKATCHEWAN TOWN
See below for more details about the forecast for the Prairies.
WEDNESDAY: SEVERE STORMS, CONDITIONAL TORNADO THREAT
Dynamics are favourable for severe thunderstorms across southern Saskatchewan, southern Manitoba, and northwestern Ontario. This threat includes Saskatoon, Regina, and Winnipeg.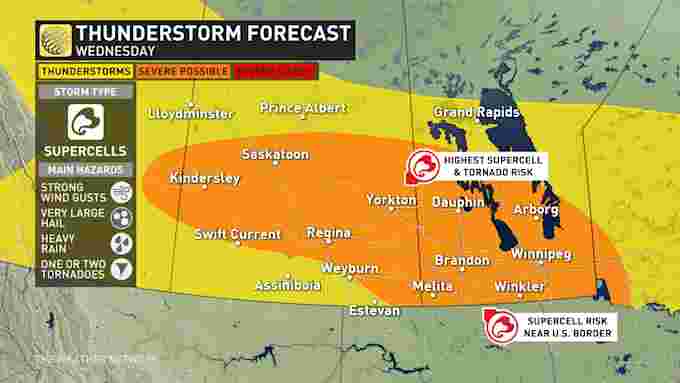 The strongest thunderstorms that form could produce very large hail—the size of golf balls or larger—along with a risk for strong wind gusts and heavy rainfall. Tornadoes are also possible.
Tornado watches have been issued for Kamsack - Canora - Preeceville and Yorkton - Melville - Esterhazy in Saskatchewan.
In Manitoba, tornado watches have been issued for Dauphin - Russell - Roblin - Winnipegosis and Swan River - Duck Mountain - Porcupine Provincial Forest.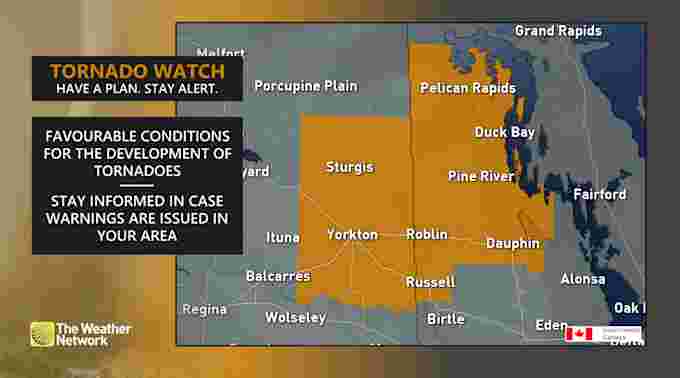 Stay alert for severe weather watches and warnings on Wednesday. Nighttime severe thunderstorms are especially dangerous.
--
LONG WEEKEND: COOL CANADA DAY, SEASONABLE THIS WEEKEND
Things are looking much quieter as we look ahead toward the long weekend.
Cooler conditions behind this latest storm system will bring below-seasonal temperatures to the region on Canada Day. Folks in southern Manitoba will certainly feel the relative chill, with temperatures hovering around 20°C—several degrees below seasonal—through the weekend.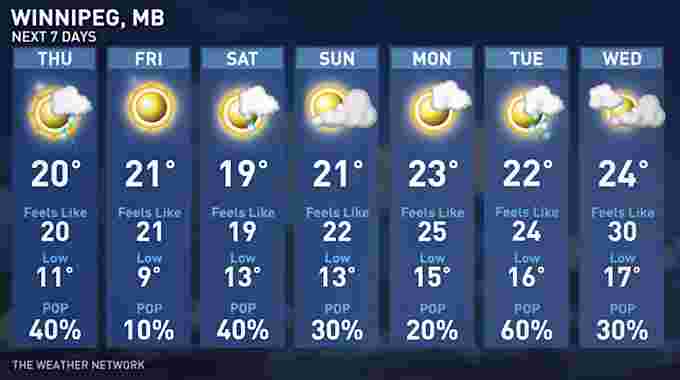 We'll see a warmup heading into the first full week of July. Daytime highs across the region will reach the mid- to upper-20s for much of next week, which is warm but not excessive by any means for this point in the summer.
Scattered showers and thunderstorms are possible across the Prairies this weekend into next week, with the greatest opportunity for some pop-up precipitation falling over Alberta on Sunday and Monday.
Check back for the latest on conditions across the Prairies.