Thursday, June 30th 2022, 2:52 pm - The heat will build across Central Canada heading into Canada Day.
--
Northern regions of Ontario and Quebec will soon feel the effects of a low-pressure system that spawned severe thunderstorms across British Columbia and the Prairies earlier this week, including multiple confirmed tornadoes in Saskatchewan on Wednesday.
Heat and humidity building across the region will provide enough instability to fuel widespread thunderstorm activity across the two provinces over the next couple of days.
The greatest chance for severe weather on Thursday will fall across northern sections of Ontario, stretching from the northern shores of Lake Superior to James Bay, including Timmins and Moosonee.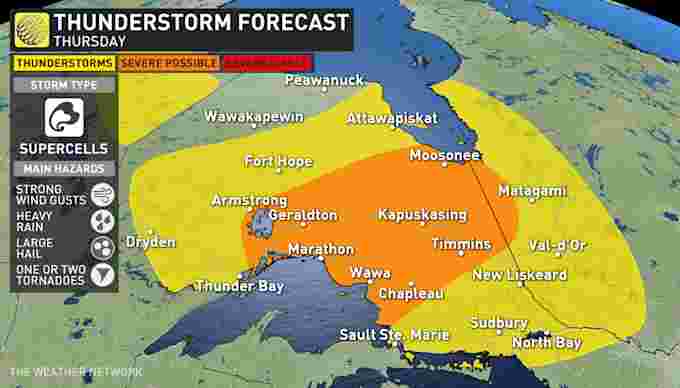 There's enough wind shear present in the atmosphere to allow the strongest storms in this region to organize into supercells. These rotating thunderstorms could produce strong wind gusts, large hail, heavy rainfall, and even the risk of one or two tornadoes.
Pay close attention to severe weather alerts throughout the day and have a plan to get to safety in a hurry if a warning is issued for your location.
WATCH: LIGHTNING IS DANGEROUS. HEED THESE TIPS TO STAY SAFE
--
Stay tuned to The Weather Network for the latest on the storm risk in Ontario and Quebec.